Mens Results
| | | | | | |
| --- | --- | --- | --- | --- | --- |
| Date | Fixture | Time | Home Team | Away Team | Result |
Mon 4 Oct MDL Div II Oxford Warwick W 16-10
A return to winning ways for Oxford with a strong second half of the game deciding the outcome. The first quarter went up evenly with goals by Colin G, Ash and Chris R giving the home side a slender 3-2 lead. Oxford pulled ahead in the 2nd quarter with 3 goals by Chris R, James and Sam L giving us a 6-3 cushion into the second half of the game. Chris and Sam both completed their hattricks in the third quarter with wunderkind Norbi adding to the total to give a 5 goal cushion. Warwick did rally in the final quarter to narrow the gap to 11-8 before stand in captain Ash bagged 3 goals along with James and Sam W to secure the result and 2 points. Chris Ray earned both man and miss of the match while Ash's 4 goals not good enough for him to avoid TYT of the match. A fine performance by Luke in goal to restrict opposition like Matt Wardle to just a single goal.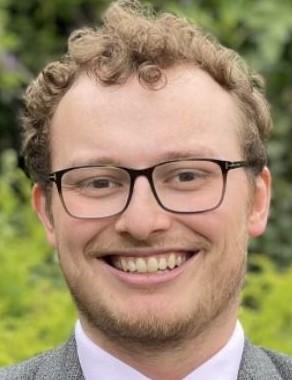 Chris Ray - both Man and Miss of the Match vs Warwick
.
on 27Sept MDL Div II Camp Hill Oxford L 15-7
City of Oxford have lost their first away game of the new season after securing a 5-0 walk over in first home game when Warley could not raise a team to come down. The 11 man squad burnt precious fuel travelling up the M40 where many of Oxford's overseas players experienced what it is like to play polo in in pools without a double deep end - welcome to our world guys. Oxford were without Sergey or Luke in goal which would have ensured a closer result. The visitors kept it level until half way through the first quarter after which Camp Hill found the back of the next 3x unanswered. The Brummies raced to 5-0 in the second quarter until Sam got a brace to keep Oxford in the running, but we were still 8-3 down at half time. Chris Ray got 2 in the 3rd quarter but by the end we were staring at 13-5. On a bright note, we kept level in the final quarter at 2-2 with captain Gurney getting a goal and Sam completing his hattrick. We'll see if we can move from 2 points to 4 if we win at home vs Warwick on Monday 4th,
.
on 21 Jun Town vs Gown 2021 Oxford City Oxford Uni L 12-16
Oxford's first men's match in 16 months was the Town vs Gown fixture, an annual tightly fought game held every year bar 2020 when it could not be held due to Covid. The rustiness of not having played for so long as well as a first Oxford game for newly joined members showed in the first quarter with the students storming 2-5 ahead. Two goals by Colin kept us in the game. Town chipped away at the deficit in the second quarter with goals by James, Norbi, John C and Chris R to narrow the gap to 5-7. The latter 3 along with Colin produced a flurry of 5 goals to level the game 11-11 at the end of the 3rd quarter in what was Oxford City's best quarter, setting the stage for a dramatic final quarter. Oxford City took a cheeky 12-11 lead in the final quarter courtesy of a Chris R goal but this probably only made the students angry, The Uni #5 added 2 more goals to his 8 goal tally to lead the students to a 12-16 win, With the ladies having won their TvG match, honours are even with a potential for the B team game in the autumn. City missed the scoring touch of Ash with his cracked ribs, but he gallantly refereed the game. A welcome return to water polo matches after over a year without games.
.
Sun 23 Feb Friendly Oxford Vets Coventry Vets W 12-10
Many thanks to Captain Stuart for organising this welcome match for Oxford's vets 40+ team. We played an experienced Coventry side who kept the early stages close with just a 2-1 lead for the home side after the first quarter. Oxford then slowly increased their lead to 9-4 before the visitors closed the gap to a slender 10-9 in the final quarter. However, Oxford's vets steadied the nerves to see the game out 12-10. Many thanks to Ash for reffing and also to Nico and Justine for doing the table. Chris Gurney was Oxford's top scorer with 3 goals with Cardy, McArdle and Sinka all getting a brace. Team: Winter, Buckley, Golley, Patterson, Karoly, Cardy, Gurney, Koster, Sinka, McArdle
.
Wed 22 Jan Friendly Oxford Uni Oxford City Lost
An impromptu friendly fixture at the University's Rosenblatt pool to give City a welcome fixture in the months and the University a chance to prepare for their upcoming varsity game vs Cambridge. As such the captains agreed that each man up (so vital in today's games) be played twice regardless if the first set up resulted in a goal or not. Clearly the Uni guys were well-drilled in this aspect and ruthlessly often scored twice while City were rusty in this area. A very useful friendly rubber.
.
Sun 2 Nov Veterans 40+ Hampshire Oxfordshire L 7-6
Oxfordshire started this match at the Aquadrome well - goals from John Cardy, Norbo Sinka and Stuart Winter giving us a 1-3 lead at the end of the first quarter. We squandered a number of man up advantages in the second quarter with only a single Sinka goal to let the home side take the lead 5-4. The home side extended their lead to 6-4 in the third quarter and would have been more had it not been by some excellent saves by Sergey in goal. The Cardy Gurney show kept everyone in suspense with a 2 man up front advantage but Chris managed to make it 6-5 with 0.7 of a second left on the clock. With a man up in the final quarter, Captain Stuart called a time out, instructed the team to set it up properly for once, resulting promptly in another Gurney goal in the last quarter to level the scores at 6-6. Hampshire had one more goal in them to win the game with seconds left. Stuart thanked the 10 man team for a spirited performance in a close game. Team: Winter, Sinka, Cardy, Gurney, Patterson, McArdle, Brundukow, McNamara, Koster, Golley,
.
Wed 16 Oct Friendly Oxford Uni Oxford City L 16-5
Oxford Uni's new academic year started with the new team needing some friendly games to prepare for university league and varsity preparation. An understrength City 9 were complemented by the loan of 2 students to face the younger, fitter and taller student team. The home side surged 3-0 ahead in no time but the arrival of American John settled the visitors who matched the uni from then to the half time score of 7-4. However, the difference in speed and stamina started to show as the uni team pulled ahead 10-5 and final 15-6. The students would have scored a lot more had it not been for the superb goalkeeping skills of Sergey, clearly our man of the match. Nick Paterson got on the score sheet with a rare City man up goal but it will need our strongest side to have any chance of winning town vs gown vs this student side.
.
Mon 7 Oct MDL2 Oxford Hinckley W 5-0
Oxford last 2019 Midland league game a walk over as the visitors could not raise a team.
.
Sun 6 Oct MDL2 Worcester Oxford L 11-10
Oxford lost their penultimate match of the Midland League 2 by the narrowest of margins. The scores went up evenly, with Worcester holding a slight lead at times in the first two quarters, while Oxford had the advantage at times in the third. The score was tied 10-10 in the 4th until Worcester scored a goal that ultimately proved to be the match winner. Oxford goals came from a wide range of players with Nico, Chris, Norbi, Jose, Ash and the prodigal son Ed all finding the back of the net. Final game at Radley on 7 Oct.
.
Mon 8 Jul MDL Div 2 Oxford Worcester 16-10
Oxford started the game deciding who goes 3rd in the table poorly at Radley pool. Once again a sluggish start for the home side trailing 2-4 at the end of the first quarter. New captain Nico's team talk at the end of quarter must have inspired the team, along with the safe hands of Chris in goal to turn things around in the 2nd quarter to lead 8-6. The team slowly extended the lead to win 16-10 and secure that 3rd spot, equal on points with Worcester but with a better goal difference. Both teams have 2 games to play, one of which at Worcester in October. Ash was on fire again with 6 goals while Sam just behind with a tally of 4. Others on the score sheet included Jose, Chris, Stuart and Jeff. While we sadly miss Alberto, John B remembered his love of intensity points and gathered 3 in his memory.
.
Sun 30 Jun Friendly Witney Oxford B/Vets D 7-7
An 8 man squad turned up at Windrush Leisure centre to get necessary practice in playing a shallow end pool. Oxford still struggle with this type of pool, only scoring one goal in the 2 quarters attacking the shallow end. The game was evenly matched for the first half and then Oxford had a successful 3rd quarter to take a 4-7 lead. However, in ability to penetrate a tightly packed Witney defence in the shallow end and failure to respond to their breaks let the home side draw level. An enjoyable friendly nonetheless
,
Sun 23 Jun MDL Div 2 Boldmere B Oxford W 5-12
Boldmere always a tough team to play, especially at their pool, and to form it did not start well for Oxford as the visitors trailed 2-1 at the end of the first quarter. But strong performance in the 2nd and 3rd quarters turned the lead around with Oxford leading 3-10 and allowed us to take the foot off the pedal in the final quarter. A good performance for a bare 8 and while a few on 2 majors, no one picked up the dreaded third. Ash (5) and Sam (4) on fire with goals while Nico, John C and Norbi also adding to the tally. The result pushes Oxford to 3rd in the tables, equal on points but better goal difference than Worcester who visit Oxford on 8th July.
.
Thurs 13 Jun MDL Div 2 Northampton Oxford L 15-13
Once again a slow start was the deciding factor in which Oxford lost a closely fought match. The visitors trailed 3-0 in the first quarter and that was the edge Northampton needed. Oxford martched their opponents in goals in the 2nd and 3rd quarter and were one better in the final quarter, but could not overcome that 1st quarter deficit. Jose our top scorer with 4 while both John Cardy and Simone bagged 3 each. The opposition felt Ed was simply too good-looking and tried to rearrange his face just towards the end of the game, but ladies have no fear, he is okay.
,
Wed 5 Jun Town vs Gown
Oxford Uni A Oxford City A L 17-8
Oxford Uni B Oxford City B W 9-12
While Oxford fielded one of their strongest possible sides in Alberto's last game for the club, they were no match for the well-drilled students. Poor passing was the key culprit in the first two quarters which allowed constant University counter attacks to lead 4-1 and 11-3 by the end of the first and second quarters - it would have been more had it not been for some superb saves by Alberto in goal. City played much better in the 2nd half (only losing those quarters by 6-5) but the gap was too big to close.
In the seconds match, Oxford started well with a 0-2 lead but a constant stream of comedy caper moments by a few (you know who we mean) let the students draw level and even take the lead. It was looking like a night of defeats with Uni leading 9-8 in the final quarter until City finally got their act together with a flurry of late goals to ensure one win on the night.
More pix on our Facebook page.
Mon 3 Jun MDL League II Oxford Camphill W 15-12
After the recent spell of comebacks in European football where sides overcame 3 goal deficits, this time it was Oxford to show how it can be done with a superb final quarter. Both sides matched each other evenly for the first half of this game but then the experienced Camphill side took a 7-10 lead in the 3rd quarter. Oxford did not want to let their departing captain Alberto finish his last Midland League game without a spirited fight and the home side put in 6 goals in the final quarter to secure the win and move to mid-table. Alberto took over from Sergey in goal and left it to the goal scorers to do their bit: Ash (4), Nico (3), Sam Andrew Chris (2) and John Norbi (1).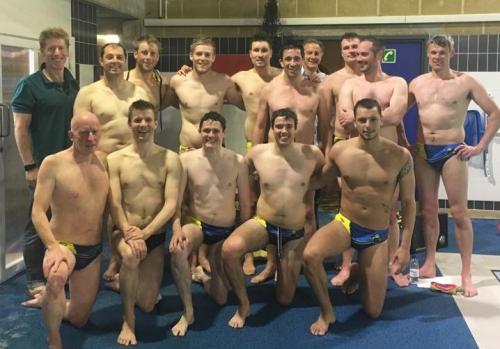 .
Tues 28 May MDL League II Hinckley Oxford L 15-11
Oxford started this fixtures extremely well taking a 0-4 lead but the home side came back to lead 9-5 and they never gave up that cushion.
.
Sat 18 May SE Counties Tournament
Oxford's first game was an exciting thriller vs Brighton, a team who had trounced is in the past. While the first quarter went up evenly, Brighton took 7-4 lead in the 2nd quarter until Oxford levelled it at HT to 8-8. The 3rd was Oxford's turn to shine with a 9-14 lead before a hectic final 4th quarter where we just about hung on with 3 guys majored out and clung on to the 14-15 win without a full 7 in the water. The efforts of winning that first game appear to have taken their toll as we lost that game to Kingston and ended the 2 weekend tournament Div 2 in 4th place.
.
Wed 15 May KO Cup Warley A Oxford L 25-22
Oxford had a 8 goal advantage over Division 1 champions Warley A at their pool but despite giving it a go, they succumbed by just 3 goals in the end. Nico and Jose got their 3 intensity point badge of honours each, albeit the 3rd late in the game.
.
Sat 13 Apr SE Counties Tournament at Basingstoke
Oxford started the Southern Counties 2019 league, run on a two Saturdays tournament basis, with a mixed performance. In the first game against Hastings, the team trailed 6-1 after two quarters before getting the act together with a stronger second half but ultimately losing 12-5. In the second game against Basingstoke, Oxford started significantly better and led 6-4 after 2 quarters. However a collapse in the second half partly down to poor conversions of opportunities and partly down to the Basingstoke goalkeeper's blinding saves, we lost the game we should have won 13-6. The second tournament in May should see the turn of our Italian Stallion duo, Sergey, Norbi and some others missing in the first fixtures.
.
Sun 31 Mar KO Cup Warwick Oxford W 10-13
Oxford progress to the next round in the KO Cup with a fine 10-13 away win at Warwick, last season's division 2 winners. Oxford started with a 1 goal handicap advantage that wasn't needed as the visitors stormed ahead to 3-11 lead in the third quarter. A string of exclusions and penalties against Oxford (17 vs just 2 for Warwick) let the home side get close, but not close enough. Ash on fire with 7 goals, hattrick for Sam and both still in the water at final whistle as Oxford finished with just 6 men. Andrew and Jose also hitting the back of net while red cards for Andrew, Alberto, Stuart and Norbi. Sergey continued his excellent performance at Basingstoke by ensuring 3 penalties were either saved or missed due to his Belarus stare at the penalty taker.
.
Sat 30 Mar Men's Vets 40+ Tournament 2nd
Oxford's men's team finished a credible 2nd in a 4 team vets tournament at Basingstoke. In the first match, the Oxford team found themselves trailing 4-1 at the start of the second half before a 3 goal rally levelled the game to 4-4 until a late Kent goal with 23 seconds left on the clock gave them the victory. In the second game, Oxfordshire battled to a hard fought 3-3 draw with Hampshire. Our final game against bottom team Middlesex was tougher than expected. Firstly 0-0 at half time but then a 3-0 lead was let slip to 3-3 before a late goal gave us the win and second place due to more goals scored than Hampshire who finished 3rd.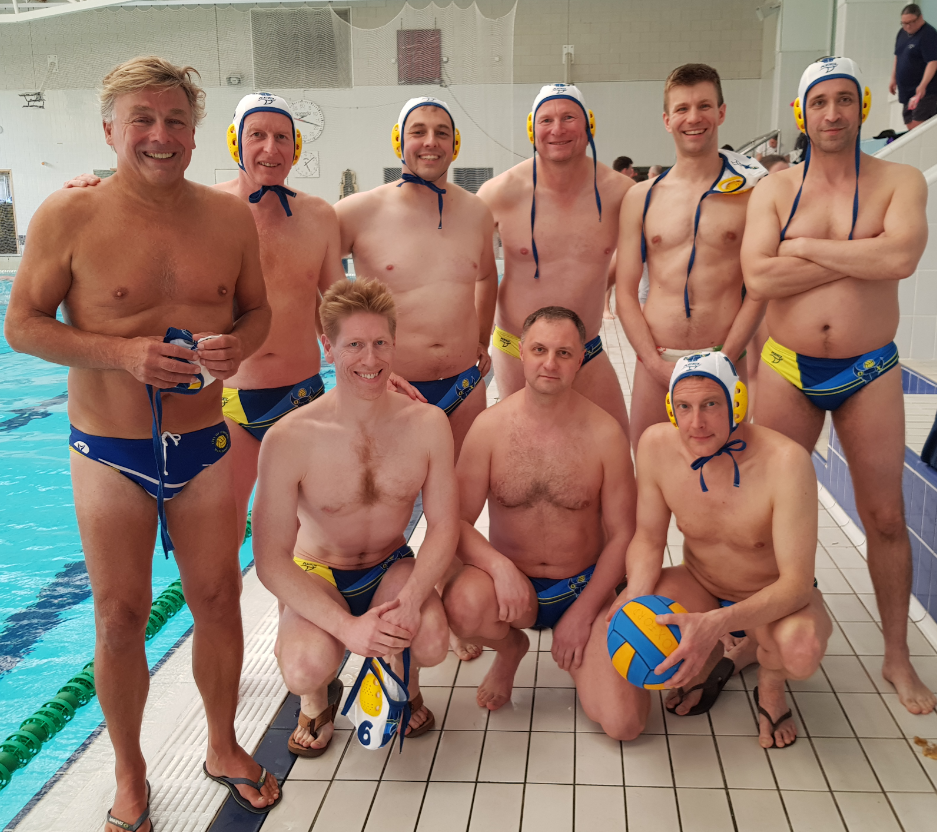 .
Mon 25 Mar MDL II Oxford Boldmere B W 17-7
Oxford posted their first win of the 2019 season with a resounding home win vs Boldmere. While the match started evenly, 3-3 halfway through the first quarter, goals from Nico, Simone and Alberto gave Oxford a clear lead which the team was never in danger of letting slip. Sergey kept it tight in the back and a clean sheet in the 2nd quarter gave a 10-3 lead halfway through. Alberto gave a captain's performance by example with a 4 goal tally with other scorers Nico and Ash on hattricks, Sam (2), Andrew (2) as well as Simone, Stuart, Chris. The result pushes Oxford up to 4th in Division II.
.
Mon 18 Mar MDL League II Oxford Northampton L 15-16
Oxford continue their shaky start to the 2019 Midland League campaign with a narrow loss at home to newly promoted Northampton. This time it was not down to a rusty start of the game with the home side comfortably 6-4 up at the end of the 1st quarter, increasing this to 7-4. However, a mad 3 minute spell of power play by Northampton's goal-scoring numbers 2 and 4 saw them flip the advantage their way to a 7-9 lead. Oxford briefly restored parity at 10-10 in the 3rd quarter but the lead slipped away into the 4th. No less than 4 Oxford players got hattricks (Nico, Ash, Norbi and Sam) with other goals by John C., Alberto and one by Stuart. Next week we have Boldmere B - tough at their pool but a bit like Guinness on the road.
.
Mon 11 Mar MDL League II Camphill Oxford L 19-14
Oxford started the 2019 campaign to win Division II with a setback. Despite taking a full squad of 13 players up the M40 to deepest darkest Birmingham, the home team retained the points. A slow start (first game since November, rusty?) let Camphill take a 7-3 lead. Oxford seemed to wake up in the 2nd quarter and reduced the deficit to 1 goal with 9-8 at HT. However, the Brummies resumed control in the 3rd quarter to a 15-10 lead which they never relinquished. Goals game from Ash (5), Sam (3) Simone (3) with Norbi Colin and Andrew also on the score sheet. Perhaps the team missed the driving force of captain Alberto, who by his absence avoided the 3 little X "intensity points" next to his name on the score sheet. Next up Northampton with the home crowd advantage.
.
Wed 21 Nov MDL League Play-offs Warley B Oxford 18-18 D
Well, it may be a draw or - who knows - a table error may have given an Oxford goal at the end of the 3rd quarter to the wrong team - if so, it would be 17-19?!
For sure, Oxford's knack of 3 good quarters with 1 bad one thrown in the mix was present again, this time the first quarter where we let Warley take a 4 goal lead to surge ahead 8-4. However a massive goal rush from Sam (5), Jose (4), Nico and Norbi (3 each) in the next 3 quarters added to the initial tally from Ash and Alberto to draw level
.
Mon 12 Nov MDL League Play-offs Oxford Warley B 10-11 L
Oxford's experienced team against the well-drilled Warley team started a bit cautiously but kept pace for the first 2 quarters. Alberto's men settled into a nice rhythm in the 3rd quarter taking a 9-6 lead which would have been a great buffer to take into the second away leg. However, the nice flow of goals (no less than 7 of the Oxford team finding the back of the net) simply dried up in the final quarter while Warley made effective use of their counters to squeeze a one goal lead to take back up the M40. Only half way through this play off two leg decider.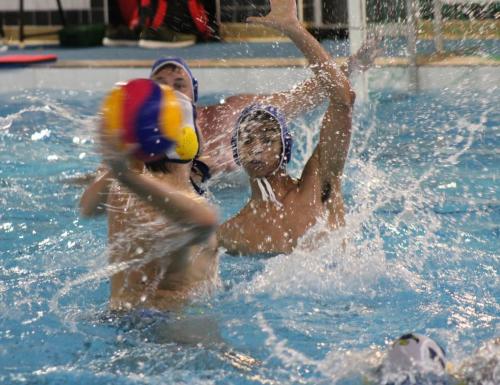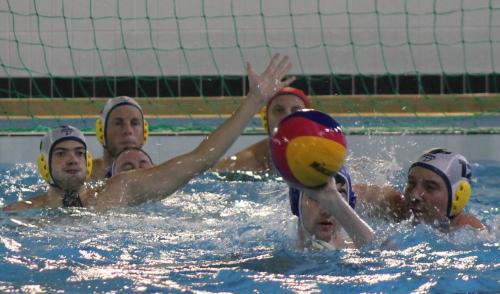 Sun 14 Oct Vets 40+ Tournament @ Radley Pool
| | | | |
| --- | --- | --- | --- |
| Results | | | |
| Oxfordshire | Norfolk | 7 | 8 |
| Hampshire | Coventry | 6 | 7 |
| Coventry | Norfolk | 9 | 5 |
| Oxfordshire | Hampshire | 7 | 6 |
| Oxfordshire | Coventry | 4 | 6 |
| Norfolk | Hampshire | 9 | 9 |
| | | | |
| Final Table | | | |
| Position | Team | Points | GD |
| 1st | Coventry | 6 | 7 |
| 2nd | Norfolk | 3 | -3 |
| 3rd | Oxfordshire | 2 | -2 |
| 4th | Hampshire | 1 | -2 |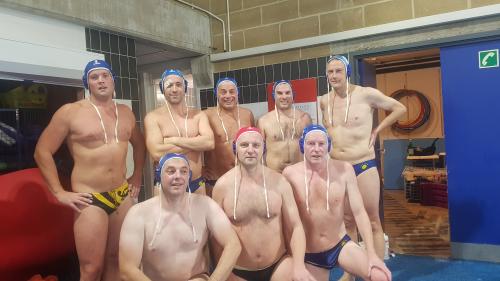 Mon 8 Oct MDL Div II Wednesbury Oxford D 9-9
Oxford travelled up the M40 for their final Midland League Division 2 fixture in top of the table position to face 3rd place Wednesbury at their pool. Oxford started the game well, taking a 2-4 lead early on in the game until the home side drew level at 5-5. Oxford again took the lead to 5-7 only to see the Midlands home side race ahead to 9-7, so a spirited late rally was needed to rescue a point late on with Ash scoring his 5th goal with 3 seconds left on the clock - followed by his third major a second later. John Cardy, Sam and Stuart were also on the score sheet. Warwick need only 2 points from their last 2 games to overtake Oxford for the title. However, Oxford have secured 2nd place and could challenge 2nd from bottom of Division 1 for promotion, and that could be either Warley B or Camphill with their final games not ending until 24th of October.
.
Mon 24 Sept MDL Div II Oxford Warwick W 12-7
Oxford avenged the earlier loss to Warwick in the summer with a fine 12-7 home win, the first time Warwick have dropped points this season. The result puts Oxford on top but it may not be good enough to win the league as Warwick have a game in hand.
Oxford started the game steadily with 2-1 lead but extended it to 7-3 gap by half-time. Warwick narrowed the lead in the 3rd quarter to 8-5 but the home team pulled away to win 12-7. Ash (5) and Sam (4) were on fire with the goals with other goal contributions from Ed, Chris and Simone. Oxford have final away game vs Wednesbury and hope Warwick trip in up in their final 2.
.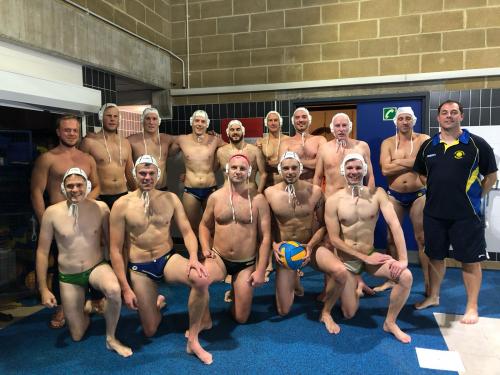 Thur 6 Sept MDL Div II Worcester Oxford L 15-12
A below strength - in quality and quantity - Oxford team travelled to Worcester, never an easy side to face in their shallow end pool. For long spells, Oxford kept in touch with 4-4, 5-6, 10-9 scores at the end of the first 3 quarters. Worcester pulled ahead in the final quarter and took a several goal lead they never gave up. The Division II title chance is slowly slipping away, but still possible.
.
Mon 3 Sept MDL Div II Oxford Hinckley W 14-13
A lucky escape with the visitors holding a lead over Oxford until deep into the 4th quarter and then a close finish with Oxford winning by a single goal.
.
Thurs 26 Jul Friendly Oxford/Warwick Vets Coventry Vets W 11-8
A combined team of Oxford 40+ players and those from Warwick of similar age played a friendly at the Banbury outdoor pool against the Coventry vets team. The crafty Coventry team took an early 0-2 lead while their goalkeeper and the posts stopped Oxford from any reply. A second quarter saw the home team draw 2-2 level but it was the 3rd quarter when the damage was done and a lead of 7-3 taken. Coventry were not going to give up easily and clawed their way back to just one goal in at 9-8 with less than 2 minutes left on the clock and our best goalscorer in goal for us. However, 2 late goals put the game beyond doubt in a highly enjoyable friendly on a warm summer evening.
.
Thurs 19 Jul MDL2 Warwick Oxford L 11-10
Both teams turned up for this outdoor pool game on a lovely summer evening with a perfect 6 out of 6 win record to determine which team would go top of Division 2. Despite missing some key players and suffering from a bad cold, captain Alberto inspired the troops before playing in goal. His inspirational talk led to a great first quarter with Oxford taking a 4-2 lead. However, Warwick used their strength and speed in the big pool to claw their way back to end the 2nd quarter 8-6 up and extend to 11-7 by the start of the last quarter. A final quarter rally saw Oxford peg back 3 to make it 11-10 but not enough seconds on the clock to see it through to take any points. A return fixture at our pool in September with a full squad may see a different result and then it could all be down to goal difference. Image below of Oxford penalty taker who took two, missed two, at pub after. Norbi showed him how it could be done with a perfect peno late on.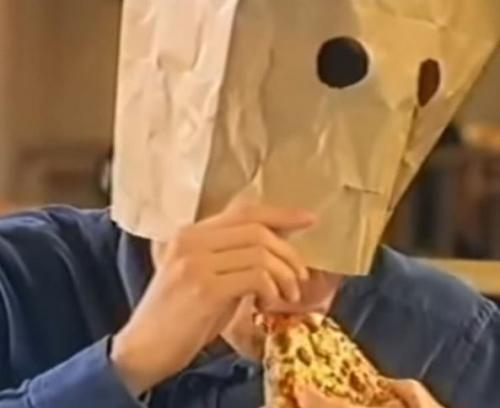 Mon 9 Jul MDL 2 Oxford Boldmere B W 8-7
A much closer result and tougher game than expected, but still a win to keep the 100% record and stay level with Warwick.
.
Mon 25 Jun Oxford Army W 9-7
A late organised friendly match vs the British Army team before there inter services games. Both sides turned up with full squads and cagey first quarter had the teams level 1-1. Army capitalised on the home teams defensive errors and stormed to a 5-1 lead in the 2nd quarter. At this point Alberto called for double marking of the pit and team awareness to respond to any change of possession. Oxford slowly clawed their way back into the game to take a late 9-7 lead which was not expected in the depths of the 2nd quarter. Goal of the match as to be the Army goalie scoring from his goal line with a second left on the clock in the 2nd quarter.
.
Thurs 14 Jun Friendly Combined Oxford/Warwick RAF L 4-10
Useful and enjoyable friendly vs the air force team where Conn reckons the score was about above in their favour.
.
Mon 11 Jun MDL League II Oxford Stafford W 18-6
Oxford return to winning ways with a solid 18-6 win over Stafford. Rumour has it that John Buckley kept a clean sheet in this fixture but that is to be confirmed.
.
Sat 19 May SE Counties Div 2 Brighton Oxford L 13-12
Having comfortably won their opening two fixtures in the previous tournament leg at Basingstoke's Aquadrome, Oxford travelled down the A34 with good expectations. However, Brighton and Kingston were going to be tougher sides to beat. Oxford started the game vs Brighton well and took a 2-0 lead via goals from John B and Simone, It did not last long and the southcoasters cruised to a commanding 13-7 lead in the final quarter. But a late flurry from Oxford saw us get back to 13-12 and a conversational finish where a point would have been deserved.
Kingston Oxford L 9-8
To lose one game by a one goal margin is unfortunate - to lose two in a row is downright careless (paraphrasing that great waterpolo star Oscar Wilde). In this game Kingston started well and took at 5-2 lead at one point. Ash was on fire in this game, scoring 6 of our 8 goals, the 6th one levelling the score at 8-8 with 90 seconds left on the clock. Kingston capitalised from a man up in the final 15 seconds to take the points.
.
Wed 16 May Town vs Gown Oxford Uni 2nds City of Oxford 2nds D 9-9
An exciting and evenly matched fixture at the Rosenblatt pool. City took an early 3-1 lead but the younger and fitter students broke through several times to take the lead, extending this to 8-5 in the final quarter. However under Stuart Winter's guidance and tactics, the City side managed to draw level from a man up with about a minute to spare. Miss of the match was from Chris, who decided throwing the ball their goalie's face was preferable to notching a 5th. T*t may go to Fabian for shooting within 2 seconds after a timeout despite the tactic being to pass it around. Special mention to Dave Golley for his polo "genius" in taking a major to stop them scoring. My personal men of the match torn between great saves by Sergey and Stuart's captaincy + 2 goals.
.
Mon 14 May KO Cup Oxford Boldmere A L 21-25
Oxford started with a 9 goal handicap start and actually increased the lead early on. However, it was a steady erosion after, keeping the lead until the last quarter when Boldmere came past us with 4 minutes left to play.
.
Friday 4 May Town v Gown 2017 Oxford Uni Men's A Oxford Men's A L 21-7
Alberto's long winning streak as a captain comes to an end with a thumping by the students, who fielded one of their strongest sides in years.
.
Tues 1 May Midland League II Hinkley Oxford W 8-11
While Oxford lost the away game to Hinkley in the play-offs half a year ago, the improved team under capitano Alberto made no mistakes in this tricky away fixture. Ash was on fire again with 5 goals while JC and Sam both scored a brace with Alberto and Nico finding the back of the net too. The team took a 3 goal lead in the second quarter and kept that margin to the end, making it 4 wins out of 4 in Midland League II.
.
Sat 21 Apr SE League Basingstoke Oxford W 6-13
Oxford Hastings W 14-9
Oxford mirror their stellar form in the Midland League with going top in the SE league following two wins in the first leg of the two tournament sessions at Basingstoke. In the match vs Hastings both Ash and Sam were on fire with 5 goals each, with the Italian Stallions Simone and Alberto bagging a brace each.
.
Sun 15 Apr Midland League II Boldmere B Oxford W 9-13
Oxford Water Polo reach the dizzy heights of top of Division II with a perfect 3 wins out of 3, with 2 of those away matches. Ash and Sam bagged 4 goals each in this tough away fixture, while other goals came from John Cardy (2), Norbi, Jeff and Simone. Chris Gurney took an early shower after making a noise on being excluded. reducing his total pool time to about 6 minutes.
.
Mon 26 Mar Midland KO Cup Oxford Kettering W 22-9
Oxford progress to round two of the Handicap KO Cup with a fine win over the visitors from Kettering who started with a one goal start. Goals galore with Chris, Nico and Ash scoring 3 or more and braces from Jeff, Ed, Simone, and Alberto. Better still, no one seeing the red flag for 3 majors so Alberto's religious appeal for not sinning appears to have worked.
.
Mon 19 Mar Midland League II Oxford Worcester W 24-19
Alberto's regime as Captain stays on form with wins as Oxford stay top of the table with a fine 24-19 victory over Worcester. The saints of the previous match with no majors there, Ash and Simone, redeemed themselves as sinners with both clocking 3 majors as well as Alberto. Simone's dive in after a major reversal worthy of a Tom Daley effort. Plenty of scorers on match sheet with 4 goals each from Norbi, Sam, Ash and MotM Nico.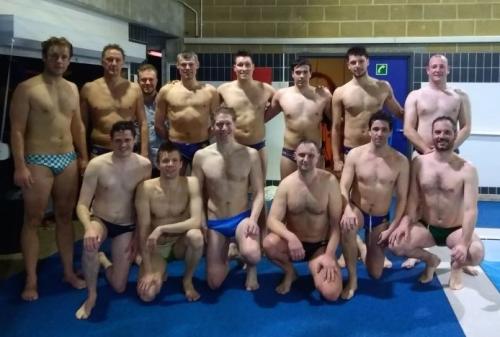 Mon 12 Mar Midland League II Stafford Oxford W 8-11
Excellent start to the 2018 league, where in the past our form away from home has been poor.
Simone was bellissimo scoring 4 for us while other goals came from Ash (3), Nico (2) as well as Norbi and Rob.
.
Sun 18 Feb Inter-County Vets Hampshire Oxfordshire L 11-10
Oxfordshire played its first 40 and over match vs neighbouring Hampshire with a team made up with players from Oxford, Witney as well as Warwick players living in the county. Both county teams kept level in the early stages but Hampshire pulled away to start the final quarter with a 10-7 lead. Oxfordshire vets fought their way back to level the score 10-10 but a late home goal by Hampshire left them with the spoils.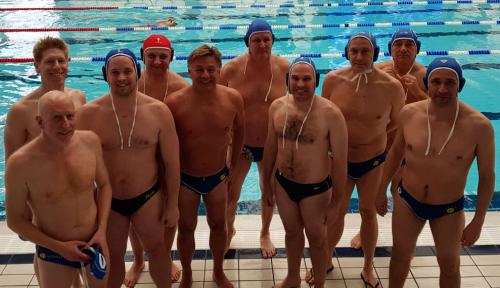 L-R: John Cardy, Andrew Stewart, Matt Wardle, Sergey Brundokow, Reg Koster, Pete Charlton, Phil McArdell, Jeff Karoly, Brett Phipps, Stuart Winter.
.
Sun 21 Jan Friendly Basingstoke Oxford W 5-10
Alberto keeps his 100% winning record since taking over from Dave as Oxford continue their fine pre-season form with the league campaign now only a couple of months away. With a travelling contingent of 12, Oxford were always in control of this match, having established a 3-1 lead by the end of the first quarter. Some poor finishing in the second left the home side thinking they were in with a chance of turning things around until two counter attacking goals early in the third effectively killed off the tie. The match ended with a 10-5 Oxford win, the goals coming from Ash (5), Nico (3), Alberto and Fabian. Special mention also to Sergei who put in a performance worthy of the man of the match award between the posts.
.
Mon 4 Dec Friendly Oxford Basingstoke W 14-7
New Captain Alberto keeps his 100% win record intact with a convincing win at home.
.
Sun 26 Nov Friendly Witney Oxford W 5-16
A very useful friendly game vs Witney to get our continental players, unaccustomed to shallow end pools, into how to play without looking like your feet touch the bottom. The goals game from just about everyone of the 8 Oxford players including Stuart "Legs" Winter with some good teamwork and solid defending. The start of the Alberto captaincy begins with a win.
.
Mon 6 Nov Play off Match 2 Oxford Hinckley W 15-9
Oxford pulled out the big guns to field their strongest side to take on the home challenge from Hinckley, and only a win would see Oxford stay up in Division 2. The home side started well but failed to convert a multitude of opportunities and only had a slender 3-1 lead after the first quarter. The team talk before Q2 seemed to have done the trick as the players found the back of the net with shots and stormed ahead 8-1 by the 5th minute. However, looks like team thought the job was done and foot off pedal meant Hinckley crept back to 9-6 by the start of the last quarter. A re-energised Oxford found form again and several players getting their hatrick (Sam 4 goals, John C, Ash Norbi) while Chris Gurney in goal used his hands, arm and face to get the result captain Dave Golley was waiting to hear at the end of the phone line.
.
Tues 31 Oct Play off Match 1 Hinckley Oxford L 15-14
A 9 man team travelled up the M1 to play in the first of the two play off games vs challenge from2nd place finishers in Division 3. Oxford started well with an early 1-3 lead, but the home side clawed their way back from the 2nd quarter an never relinquished the lead. Oxford's aim was to damage limitation in the away leg as confidence in the home leg and overall aggregate higher score would only be possible if any deficit was minimal. Hinckley did have a 4 goal lead but late goals by top scorer of the night Alberto reduced the deficit to just one goal. All Oxford need to stay up is to win by 1 goal in the home leg on Monday.
.
Wed 25 Oct Friendly Oxford Uni Oxford City W 10-11
A last minute friendly and a real shame we could only muster 5 players in our home down and a fantastic pool. Oxford uni did lent us a few players including their main goalkeeper who made some superb saves. While we took an early lead through some fine goals from Ash, the Uni team stormed ahead to 10-4 by half time. However, slowing down our attacks and reacting quicker to loss of possession meant we pegged back goals to end 10-11 but really this was a friendly with Oxford Uni guys on both sides. Would have been interesting to see what the result would have been had we played a full squad vs theirs?
.
Mon 2 Oct MDL League II Oxford Warley B W 12-11
Oxford won their last game of the Midland League Div 2 in a thrilling encounter vs a strong 7 man team from Brum. Oxford started sharply taking a 3-0 lead courtesy of Sam Wells (who bagged a total of 6) however, they let the visitors climb back and take the lead in the 2nd and 3rd quarter. Norbi did well in goal with some excellent steals off their pit player, and set the team up for a close final quarter. A 11-11 draw seemed likely until birthday boy Simone put away a superb goal (his 4th) with 19 seconds left on the clock. The move to 4th was short-lived as Boldmere B won their final match vs Worcester pushing Oxford back to 5th. A challenge from 2nd place Hinckley in Division 3 has been issued, so a home and away game vs them with aggregate score to decide if Oxford stay up or go down to Division 3.
.
Mon 25 Sept MDL League II Oxford Boldmere B W 29-7
A dramatic finish in the final stages of Midland League II for this year. Oxford it had done enough with the Stafford win to climb above Kettering, but their surprising win in their last game of the season got them level with Oxford on points but significantly ahead on goal difference. Oxford desperately needed points from their final 2 home games. A pleasing win with a team looking confident going into the final match against top of the table Warley B. Goals came from 10 of our 13 players which showed great team effort. The second quarter was a stroke of genius with David G calling 6 men out and six men in allowing 11 goals to be scored in one quarter. Must be a Oxford first!! Hard man to man marking got its rewards in the game allowing Oxford to leapfrog Kettering to safety.
.
Mon 11 Sept MDL League II Oxford Stafford W 10-9
With players turning back from their summer vacations Oxford had a full team for once, giving us a major advantage over the seven travelling players of Stafford. The first quarter saw Oxford pull ahead 4-2 with a full press to work the visitors hard. The second quarter Oxford held back and should have pulled further ahead but missed a crucial penalty. The third quarter also remained level pegging, giving Oxford a 7-5 lead going into the final quarter. The fourth was tense with the score at 9-9 before CaptainDavid called a time-out which allowed the team to get themselves together before getting the final goal. With this winning performance it's going to be hard for Ash, Alberto and Simone to get into the Oxford 13 man line up. The vital two points gets Oxford off the bottom of Division 2 and leapfrog Kettering, hopefully into safety but a win vs Boldmere B would seal that.
.
Mon 4 Sept MDL League II Oxford Worcester L 14-18
Oxford's first home game of the season in the newly refurbed Radley pool ended in a tight game but ultimate loss to 2nd in the league Worcester. The visitors started strongly with the Worcester no.3 scoring 5 of his 9 goals in the first 2 quarters. Oxford saw a gap of 3 goals by the end of 2nd quarter but while keeping that pretty level, never closed that gap in 2nd half of game. Next week's game vs Stafford a must win to climb above Kettering out of the Division 2 relegation zone. Hopefully Sam as much on fire as in this game with his 6 goals for City.
.
Wed 5 July MDL League II Warley B Oxford L 10-5
The last away game of the season Oxford scraped an away team together to fulfil the fixture. First quarter we eased into the game at 4 all. Then Warley used their bench to great effect by bringing on two of their A team players on who played us in the cup earlier in the season to open up a lead. Oxford from 10-5 down after half time couldn't close the gap and with only one sub and Alberto getting two majors we had to put Alberto in goal. Shaun got three majors and had to sit out for last quarter leaving no subs. Disappointing display by Oxford but Warley are unbeaten in the league.
Home fixtures to c.ome, Oxford back at Radley - could they pull off 5 wins?
.
Sun 11 June MDL League II Worcester Oxford L 9-4
This was Oxford's only away win in 2016 and a team of 9 travelled up hoping to repeat the feat again. Oxford trailed 3-0 after the first quarter with the home side attacking the deep, but kept in the running until the start of the 4th quarter with only 5-2 to catch up. Unfortunately too much loss of possession did not give Oxford the quick early goals they needed while the home side pulled ahead to 9-2 before Chris Gurney fired in two late consolation goals in the final minute.
.
Thur 18 May MDL League II Kettering Oxford L 11-9
Oxford played a well discipline 1st quarter attacking the shallow and got them selves 2-1 up. The 2nd quarter we couldn't score which ended up losing us the game as it was evens for the third and fourth quarters. Even though no individual made major mistakes, all players felt they where on the wrong end of the result. Oxford have started 3 games in the league with narrow losses. We have some ideas to work on in training to solve our downfall.Watch this space to see if we can win our next game!
Sun 14 May Southern Counties Div I
Oxford - Southampton Lost
Oxford - Worthing Lost
.
Mon 8 May MDL League II Stafford Oxford L 9-4
Oxford travelled with 10 to Stafford looking for there first win for this season. Iannois had a great first quarter in goal only conceding one goal. It was a shame that we couldn't score more than one the other end! Oxford played some good polo in patches but needed to be aware of supporting players before shooting. Or when it opens up for a quick shot, deciding to pass the ball. Only Sam and Ash got goals. Ed picked up two early majors stopping him playing his normal game by being cautious of getting wrapped with a third major. A lot better performance than last year and hopefully a change of fortune when we travel to Kettering next game.
.
Fri 5 May Town vs Gown 2017 Oxford Uni Oxford City L 12-7
A blitzkrieg start from the Uni caught the town team by surprise as the students romped to a 7-2 lead in the first quarter. After that, City settled down and kept pace with the University, drawing each of the next 3 quarters, but never recovering from the 5 goal gap.
.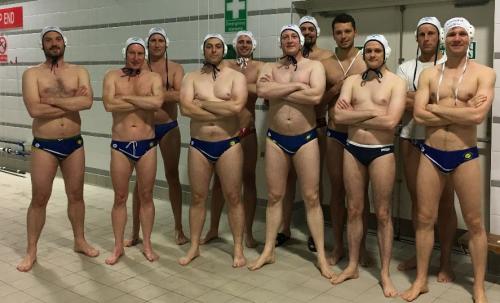 A finer looking mob you will find hard to find! Oxford A at TvG 17
.
.
Sun 23 Apr Midland League II Boldmere B - Oxford L 11-9
Oxford's first league game was lacking that killer instinct. Oxford had chances with two penalties being awarded during the game in Oxford's favour, one being missed and the other being fumbled. The wood work was getting hit but the goals didn't come. On another day this should and would have been a different result. The plus side was that its a good turn out for the team and a fantastic turn out on the supporters front. (Seven) It was a shame we couldn't get the result we where looking for. Goals came from Sam (4), Ash (4) and Norbi.
.
Mon 20 Mar Midland KO Cup Oxford - Warley A L 15-18
Oxford hosted Division One side Warley A with some national league players in the visiting squad. The home team started well in the first quarter only losing it by 1 with a 8 goal handicap start. Things slipped in the 2nd quarter with Alberto gets two majors and Warley getting 5 goals back. Bad boy Alberto went in goal to play a blinder while John Buckley got wrapped for kicking out. The match was stopped for several minutes while Matt got attention for a broken finger. Final quarter saw Oxford only one goal behind with three minutes to play, but in the end Warley were too good to let this one slip from their grasp. Great home support and now to focus on Midland League Div 2.
.
Sun 19 Mar Friendly Dunstable - Oxford W 6-8
Oxford played local team Dunstable for the first time and a good practice game. Attacking the shallow end in the first quarter, Oxford kept it level at 1-1. The deep end attack gave the visitors a 2-4 lead which they maintained in the third quarter to finish 4-7. It should have been a formality to extend the lead in the final quarter but Dunstable gave Oxford a scare with two goals to narrow the lead to 6-7 before a final Oxford goal sealed the result at 6-8. Great friendly and great hospitality after the match.
.
Mon 23 Jan Friendly Oxford - Warwick NLT L 3-11
Oxford's first home game of the season saw a first quarter to be proud of. The team pressed all over the pitch and really defended well. We didn't get any break through in front of goal through out the entire match thanks to good goal keeping from Warwick NL goal keeper. A real good work out for the team and enable us to look at substitutions. Fitness told in the end and a score line of 3-11 didn't reflect on how close the match was. Really good game over all with an excellent first quarter.
.
Sun 22 Jan Friendly Witney - Oxford W 11-9
First game of the New Year saw Oxford play Witney. First quarter Oxford attacked the deep and stamped there mark on the game. 6-2. The second quarter we where held and really struggled in attacking the shallow with to many standing infringements from our new players. The third quarter Oxford attacked the deep and took control and nearly pulled off a set move apart from the finish. The last quarter we undid what was a good first game of the season by not defending. Final score was 11-9 who would of guessed when it was 10-5 after the third!
.
Mon 17 Oct MDL2 Camphill - Oxford L 14-7
Last league game of the season and unfortunately Oxford could not extend the away winning streak to two games but still finish a comfortable mid table in Div 2.
.
Sun 9 Oct MDL2 Worcester - Oxford W 8-9
Oxford do it the hard way to grab first away win of the season. Trailing 5-1 at the start of the second quarter after squandering chances in first quarter attacking deep, the visitors started to claw their way back. However, it was not until deep in the final quarter that Oxford finally took the lead courtesy of comeback-kid Gurney discovering what he could do from the pit. 99kg Golley filled up most of the Oxford goal to hang onto the lead in the final minute.
.
Mon 19 Sept MDL2 Stafford - Oxford L 9-22
A little bit of a hangover for Oxford after 4 of Oxford players took part in British Waterpolo league in Sheffield. With only seven players traveling arguably the longest away game in the Division it was important not to get any early majors. It only took 34 seconds for one player to rack up two majors in the first quarter. David G was assigned between the posts for the first quarter in the deep and Markus took the middle two quarters before David G finished off in the shallow goal in the 4th.
Goals where hard to come from with Ash scoring 4,Geoff 2 & Ed, John C & David G 1 a piece. With the AGM around the corner we need to look at roles within the club and one being Captain who ensure we get a full team to away games.
Mon 15 Aug Friendly Oxford - Coventry L 6-20
Oxford has raw talent but needs to perform better as a team against the likes of strong Coventry, who were in Division 1 last year. A useful exercise especially on man up and man down
.
July fixtures
Sadly two walk overs. Firstly Camphill could only turn up to our pool for a match with 6 men so a friendly with some borrowed players took place, but Oxford getting the 5-0 walkover. Then Oxford's turn to find itself unable to field a team to play HGSOB who get the full points.
.
Sun 19 June MDL2 Boldmere B Oxford D 9-9
Oxford travelled with 8 man team to Boldmere, never an easy game. The visitors started well with a 2 goal lead by half time but Boldmere pegged it back to 7-7 in the final quarter, but goals from Adrian (4 on the night) and Ed ensured Oxford returned home with a point and a move up to 3rd in the league.
.
Mon23 May MDL2 Oxford South Derbyshire L 6-25
Oxford got a spanking at their pool earlier in the league but attributed part of that heavy loss to the small shallow end pool. However, no excuses for the heavy loss in our double deep end pool at Radley with the visitors storming to a 6-0 lead in the first quarter. Two of the opposition scored over 20 of their goals combined and were a handful. The result leaves Oxford in 3rd position, one point behind Camphill and two points ahead of HGSOB who have a game in game.
.
Sun 22 May Southern Counties Worthing Oxford L 15-12
Sun 22 May Southern Counties Southampton Oxford W 6-7
report to follow
.
Wed 11 May TvG Oxford Uni Oxford City L 11-8
Oxford City lost in the Town v Gown A 1st team fixture in a match where 2 of the town's players clocked 3 majors.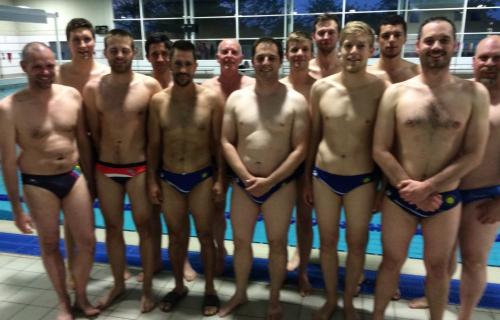 L-R - Geert Mommen, Ashley Keen, Matty Veale, Stuart Winter, Adrian Dorantes, John Cardy, David Golley, Norbi Sinka, Nik Klusmann, Ed Wibberley, Alberto Tallarigo, Simone Lombardini, Brennan Nicholls
.
Mon 9 May MDL2 Oxford HGSOB A D 9-9
Never an easy match against experienced HGSOB, where last season Oxford sneaked a 14-13 win and key to staying up. This time the home side led 9-5 and was on track for another 2 points in the league but the Brummie visitors clawed their way back to share the points. Ash was good for 4 goals with 2 from Nick and other goals from Shaun, Adrian, and Geert. Result does move us into 2nd place (see league tables page).
.
Friday 6 May TvG Oxford City B Oxford Uni B W 16-4
9 man Oxford squad started slowly against the younger fitter students but pulled away in final 2 quarters to show that old age and treachery overcomes youth and skill.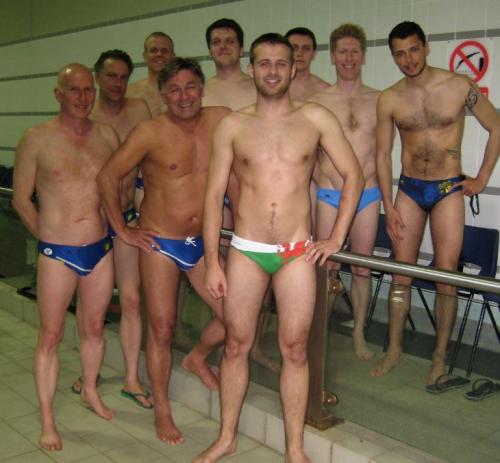 L-R John Cardy Jeff Karoly John Buckley Reg Koster Rob Tate Matt Veale Sam Adamson Andrew Stewart and Alberto Tallarigo
.
Mon 25 April MDL2 Oxford Stafford W 11-10
Oxford showed a mixed performance against Stafford in the Midland League in their third Midland League game of the season. After a close run first quarter, Oxford stormed ahead to lead 8-3 by half time. Job done you would think. And despite leading 10-4 into the 5th minute of the 3rd quarter, Oxford let that 6 goal buffer slip to a single goal win by the final whistle. Ash (4) and Adrian (3) were the main goal providers with John C, Nick, Simone and Matt all getting on the score sheet. 4 points from first 3 games a much better start than the 2015 season.
.
Sun 24 April KO Cup Boldmere Oxford L 23-18
Oxford knocked out of the cup despite valiant effort against a strong Boldmere. A last flurry of goals by Ash was not enough to turn the result around.
.
Mon 11 April MDL2 Oxford Worcester W 19-11
Back to winning ways in Midland League with convincing home win.
.
Wed 23 March MDL2 S. Derby Oxford L 30-8
A long string of wins for Oxford comes to end with first league match of 2016 ending in a thumping by South Derby. This was a strong, fit and fast team who knew how to play their shallow end pool very well, an Achilles heel for Oxford to play in that kind of pool. Goals came from Ash, Matt and Sean with lots of majors for the visitors. Back to the drawing board for next game.
.
Mon 21 March KO Cup Oxford (10) Camphill (8) D 24-24
Ashley Keen scored his 4th and decisive goal with seconds on the clock until the final whistle, with his crucial goal ensuring that Oxford progress to the next round of Handicap KO Cup. Oxford started well with a hattrick from Adrian allowing the home side to keep pace with the visitors from Birmingham at 5-5 at end the first quarter. However, our own Diego Costa clocked 3 majors and was excluded, allowing Camphill to build up a lead despite fine efforts from both Ash and Norbert Sinka. Oxford had a two goal handicap advantage (10-8) over Camphill and with the handicap scores added on to make it 24 each, the Midland League rule is that the lower club goes through on a draw.
.
Mon 7 March Friendly Oxford Warwick W 13-11
Oxford on a 5 match win streak with Warwick being the latest scalp in a friendly match at home pool Radley. A good opportunity for new players to be embedded before the Midland League starts and a chance to put into practice the training drills of the past weeks.
.
Wed 17 Feb Friendly Coventry Oxford W 11-12
A great away result in the large 50m pool up the M40 in Coventry. This Division 1 side was equalled by Oxford, albeit with a scary 3rd quarter where a 7-4 lead was pulled back to 8-8 by the home side due to effective counters following attacks where Oxford need to differentiate between a fast shot goal following change of possession vs more patient build up to increase the percentage of shots converted to goals. Oxford rallied in the final quarter to squeeze out a victory that bodes well for the league in 2016. Final footnote - was it the Dave Golley saved penalty at the start that made the difference between win and draw?
.
Sun 20 Dec Friendly Witney Oxford W 5-16
A good friendly game before Christmas and great opportunity to practice in shallow pool - a new experience for some of our overseas recruits who have never played other than double deep.
Oxford scored 6 goals attacking the Witney deep end both quarters and also got 2 a piece for the quarters attacking shallow end. John Cardy and Sean Pert were top scorers with 4 each while Matty Veale helped the home side with a goal from him.
.
Wed 25 Nov Oxford Army (Signal Corps) W 10-5
A great session for new players to be embedded in the team and also practice in the shallow end pool at Nuneaton.
.
Mon 16 Nov Oxford Aston W 25-7
Fears of relegation to Division III soon overturned after early first leg loss with 3 goal deficit, with a commanding 7-0 first quarter. New captain Geert Mommen was adamant that a full press would product the results, and it did. Top scorer was Ash Keen with no less than 11 goals, followed by Simone Lombardini who was both man of the match and t*t. Ed Wibberley picked up miss but had consolation of beating his brother in the battle of the Wibberleys. Aggregate 33-18 ensures Oxford stay in Division 2 of the Midland League for 2016.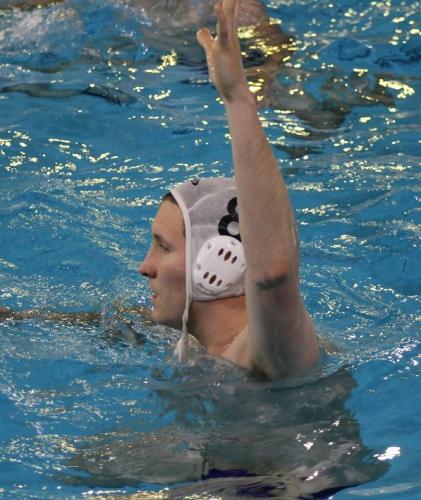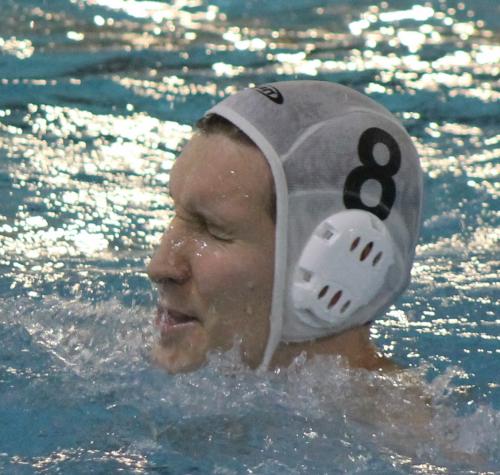 Hands up if you want to stay up in Div 2. Oh no, voted Miss of the Match again!
.
Thur 22 Oct Aston Oxford L 11-8
Oxford always struggle in shallow end pools and the Aston pool par for the course. Pulling back the 3 goal deficit in this home/away aggregate play-off is a challenge but very much do-able on 16 Nov.
.
Mon 21 Sept Oxford Warwick L 7-8
Despite the loss, a terrific performance by Oxford vs league leaders Warwick where the home side narrowly lost by one goal. A clear indication that Oxford belong in Division 2 and hopes now rest on HGSOB beating Warley in final game on 2nd October in a pool where visitors always struggle.
.
Sun 20 Sept Worcester Oxford L 22-6
Oxford like Arsenal in disguise and manage to clock up so many majors that they finish game with just 6 in the water.
.
Mon 7 Sept Oxford HGSOB W 14-13
Do I hear the theme tune of the great escape? Close fought win over HGSOB puts Oxford a point above Warley B with both sides just 2 games left to play. Stuart Winter man of the match.
.
Wed 13 Jul Warley B Oxford L 15-13
Warley B grab a precious 2 points and move up to 5, just one point above Oxford on 4 with a home win. Once again Oxford suffering the harsh end of the whistle with top scoring Ashley Keen and Geert Mommen both clocking 3 majors and exclusion. A tough end to season in September looms.
.
Mon 6 Jul Oxford Camp Hill W 11-9
For the second game in a row, Dutchman Geert Mommen was Oxford's top goalgetter with a tally of 4 edging out hattrick Ash. Camp Hill travelled down with 7 experienced players but have beaten Oxford at Radley in the past with that quality over quantity. It looked to be heading for a repeat snatch and grab from the Birmingham side until Oxford finally laboured to draw level at 8-8 at the end of third. The final quarter saw a marked push by the home side against a tiring Camp Hill and 3 goals put a 11-8 buffer in that which could wear a late visitor goal without jeopardising the precious 2 points.
.
Tues 30 Jun Boldmere Oxford L 9-8
Heart-wrenching not to swim away from Sutton Coldfield with at least 1 deserved point. Oxford started well with a full press and great defending including fine saves from Brennan, and stormed ahead to 1-4 lead. However, Boldmere changed tactics to mirror Oxford's full press and levelled the game in third quarter. It was all poised for 8-8 draw when Boldmere got a surprise goal with seconds left on clock and Oxford's very late man up did not give enough. Geert was Oxford's top scorer.
.
Mon 22 Jun Oxford Boldmere L 9-11
After a close beginning, the visitors opened up a small lead which they never gave up. The return match just 8 days later in Sutton Coldfield.
.
Sun 14 Jun Warwick A Oxford City L 18-2
After the exciting wins in TvG and SEC2, back to the hard slog of MDL 2 and with only 8 man team, a spanking at the Warwick pool.
.
Mon 8 Jun Town v Gown Oxford City Oxford Uni W 18-13
Oxford men's team pick up two trophies in the space of 2 days with the annual Town v Gown trophy following winning SE Counties Div 2. Ash Keen was on form with no less than 7 goals for town followed by Simone (4) and Chris (3). Norbi, Stuart and John C picked up the others for City while solid defending at the back ensured the men's team secured the win and regained the title lost to the students in 2014.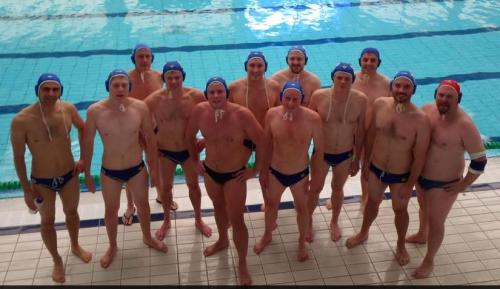 Team at Basingstoke 6 June winning Div 2
.
Sat 6 Jun SE Counties Tournament 2 Dover Oxford W 12-17
In the second and final tournament at Basingstoke, Oxford built on the strong position of the first tournament when it won both games. In the second tournament, Brighton could not raise a team giving Oxford a 5-0 walk over. In the decisive match against Dover, Oxford proved to be too strong and won 17-12. By winning the league, Oxford are promoted to SE Counties Division 1.
.
Thur 4 Jun KO Cup Kettering Oxford L 28-25
A hat trick of goals by Dave Golley was not enough to help in Oxford's goal tally over Kettering in their small narrow pool - always a challenge for the City team used to double deep end pools. The handicap advantage was enough to keep Kettering ahead to progress to the next round.
.
Mon 1 Jun MDL2 Oxford Worcester L 12-18
A wake up alarm could be required for Oxford as they were caught napping in the first quarter going 6-0 down. After that, the team did well and matched Worcester, a much improved side over recent years with one players accounting for the majority of the visitor's goals. Man of the match for Oxford was Norbi with Greg and Dave picking the other awards. Focus on Kettering in Cup on Thursday now the team's priority.
.
Fri 15 Apr MDL 2 HGSOB Oxford L 17-7
Always a struggle to play Handsworth in a small, shallow end pool that the home team know well. Had it been majors rather than goals, Oxford won that element 13-4 with 3 players getting wrapped - bad boys were Ash, Geert and Jeff.
.
Mon 27 Apr MDL 2 Oxford Warley W 11-10
After the poor league start with a loss to Camphill, Oxford's cup win over South Derbyshire has inspired the team back to winning ways in the league with a hard fought 11-10 win over Warley. The team had a 4 goal cushion at 9-5 eroded in the 4th quarter to nearly throw it away, but hung on for the win. Man of the match was young Marcus Karoly while Geert got the Pipo award for being majored out. Chris Gurney was on form with the goal scoring until he joined Geert with 3 majors and Simone topped the tally with 5 goals. Dave Golley got miss of the match.
.
Mon 20 Apr KO Cup Oxford S Derbyshire W 23-21
Oxford started Handicap KO Cup round 1 with a 12-4 advantage start over the Division 1 visitors but scored enough goals (11) to outrun the tally of 17 from the Midland side, edging it by 2 goals to progress to the next round.
.
Mon 23 Mar MDL2 Camphill Oxford L 20-9
Disappointing start to the 2015 Midland League division 2 campaign with a spanking by Birmingham side Camphill who came out of the blocks early in the first quarter. Chris Gurney was man of the match for a fine tally of goal for the Oxford side while Stuart and American John picked up the other awards for being majored out and a good miss respectively. John Cardy's coaching sessions cannot come early enough.
.
Mon 23 Feb Friendly Oxford Witney W 15-10
Game of two halves with an Oxford team comprised of younger and more mature members of the squad faced local team Witney. The visitors took an early lead of 1-3 and were still level after two quarters at 7-7. However, the double deep end pool and better fitness for such pools gave the home side a steady advantage to secure a 15-10 win. Brian and Norbi share man of match award.
.
SEC2 Tournament based league 2015
Oxford - Portsmouth w 11-10
Oxford - Sevenoaks w 17-11
.
In the Portsmouth match, Oxford came out quite rusty and were behind for most of the match. Portsmouth had only seven men and there was no shot clock, which led to a very slow pace. Oxford slowly pulled themselves together and gained a lead in the third quarter and held it to win.
.
Oxford played much better in the second match and with some good teamwork pulled an early lead. The match got close in the third quarter, but Oxford pulled away in the fourth quarter.
.
Simone was man of the match with some excellent goals in the first match, Matt Wardle MotM for the second. Ash got miss for the first, Dave miss for the second match. Dave annihilated the competition in the t*t category with a multi-faceted display in the second match, and landed t*t for the first match for trying to defend his actions.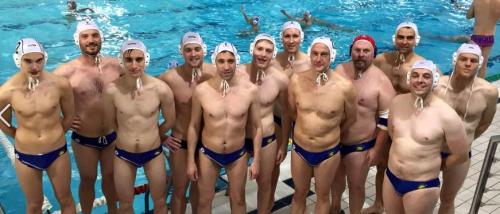 Oxford team, winners of both opening games in Southern Counties Div 2 2015.
.
Mon 19 Jan Oxford - Reading W 11-5
What a difference a week makes. Oxford had a big squad out to play home friendly vs Reading where the match was close in the first quarters but eventually Oxford pulled away for a comfortable first win of 2015.
.
Mon 12 Jan Warwick A vs Oxford A L 18-5
Lacklustre performance by Oxford travelling up the M40 so work cut out to improve for 2015.
.
Mon1 Dec Double Header vs Warwick
Home Oxford A - Warwick A L 12-17
A 7 man team battled well against a strong Warwick outfit in the first round of friendly fixtures. With the score 4-3 and 8-6 in favour of the visitors at the end of the first two quarters, they eventually extended their lead to win 17-12. A game of missed penalties saw Adrian miss one for the home side and stand in keeper Chris save one from Oxford old boy Matt Wardle.
.
Away Warwick B - Oxford B L 13-6
Mirroring the game development back in Radley, Oxford B also kept it close with 3-3 and 4-4 scoreline at the end of the first two quarters, but could not adapt to the shallow end pool to keep the pace. James Law won 4 out of 4 swim offs for the ball and along with Markus Karoly, the teenagers played extremely well in this fixture. First Oxford match experiences for JJ, Brian and Antal with the latter scoring some fine goals for Oxford.
.
Mon 29 Sept Oxford - Warwick w 14-12
After a poor start to Midland League 2014, Oxford finished in style winning 5 of the last 6 games including this final home fixture vs Warwick (lost away 17-10 earlier in year). Oxford took an early lead and never surrendered the 2-3 goal cushion largely thanks to excellent goal keeping by MotM Brennan Nicholls. While Norbi can score with left or right hand, probably left or right foot too, Dave G tried his luck at shooting with his left arm and earned recognition for that one.
.
Mon 15 Sept Oxford - HGSOB W 12-11
Once again Oxford left it very late and made it very tense to seal the win with the narrowest of margins. After a disciplined pre-match team talk by John Cardy, the home side stormed ahead to lead 6-3 after a high tempo first quarter. However, Handsworth reacted to Oxford's tactics and came back to level the game at 6-6 at half time and even took the lead into the last quarter 9-10. Late goals by man of the match Adrian gave Oxford their 4th and vital win of the league season with one game to go. Post match celebrations included a birthday cake for man-of-the-match nominee Dave.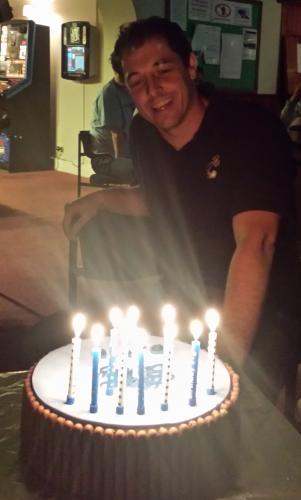 Thurs 11 Sept Walsall - Oxford W 13-14
Two goals from Two-Tone Dave Golley (pictured below) helped the Oxford side get back to winning ways with a hard fought away win at Walsall. City trailed the Birmingham side 10-9 going into the last quarter but rallied late to take the 2 points back down the M40. Ash Keen's tally of 8 goals included the winner with around 1 minute left on the clock. The fight to stay in Div 2 continues
.
Tues 2 Sept Boldmere - Oxford L 14-7
Game of mixed halves. For sure Oxford were the equals of the Sutton Coldfield side in the first and third quarters, but poor spells in the second and final quarter cost us the game. We started off taking the lead and some fine saves by welcome return of Brennan in goal showed the team promise. However, the large and youthful squad of Boldmere were quicker in reactions on the numerous reversals. Man up situations where Oxford put the formation in place always led to goals whereas rushed ones did not.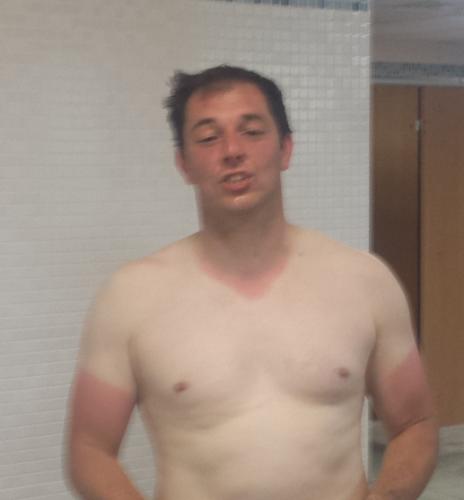 Dave shows his Cricket tan at the Boldmere game
.
Mon 23 Jun Camphill - Oxford W 6-11
Is this a Crystal Palace like climb from the bottom of Division 2 to safety? After 2nd win in 2 days, the signs are looking up thanks to John's coaching sessions.
.
Sun 22 Jun Oxford - Paragon W 20-13
Oxford post first win of the Midland League 2014 campaign with a home win over visitors from Stoke on Trent.
.
Fri 13 Jun Brighton - Oxford L 16-5
With Pedro's car of 4 stuck in traffic, only 6 on the poolside for 9 pm so with a borrowed goalie we started vs Brighton and were 9-2 by half time when reinforcements arrived. A lively evening drink in Brighton after.
.
Wed 28 May Sevenoaks-Oxford L 11-7
Alex Gibson and Gareth Davies come out of hibernation to play for Oxford.
.
Sun 25 May Warwick - Oxford L 17-10
.
Sun 18 May Town v Gown Oxford Uni - Oxford City L 7-6
A tight game but where Oxford Uni's fitness and speed on the counter-attacks caught out the City team. From 7-4 down, City battled back to 7-6 and had a great chance to level the game with 20 seconds left on the clock but not to be. Gown win the men's fixture for first time in a number of years.
.
Mon 12 May MDL2 Oxford - Walsall L 10-12
Oxford so close to taking points here but just slipped away. After a close first quarter with 1-2 down, the visitors stormed ahead 1-6 in the second quarter before the home side woke up and began a heroic comeback. The pre-match board session looked to be producing dividends when Oxford turned the game round to lead 10-9 in the final quarter. Despite a squad of 13, it looked like tiredness kicked in to let the points slip away. MotM was Norbi while Stu (two hands) and Ash (shot hitting Adrian on the head) picked up the other awards.
.
Mon 28 Apr SEC2 Oxford - Sevenoaks L 7-11
Despite taking an early 2-0 lead and keeping it level at 3-3 after 2 quarters, Oxford had the regular one quarter slump where the visitors took the lead and never gave that up. A good game for many new players to get into the team for home game.
.
Mon 14 Apr MDL2 Oxford - Boldmere B L 13-17
What a difference a few weeks make where we had 12-15 players for home games and tonight only a bare 7 to face Boldmere. Kept pace for 2 quarters (9-9) but lost a game we should have won with a bigger squad.
.
Sun 13 Apr Friendly Oxford - Witney W 17-7
Old boys friendly to include ex-member Mark Ashton, back from Oz on a visit, and chance for Dave Eyles to join in. After close first 2 quarters, 8 man Oxford pulled away to win comfortably with Mark getting all 3 awards.
.
Mon 31 Mar MLD2 Oxford - Camphill L 7-12
A 7 man team of experienced too good for Oxford. John Cardy motm.
.
Sun 30 Mar SEC3 Basingstoke -Oxford L 20-7
8 man Oxford faced a much improved Basingstoke side
.
Thur 27 Mar MDL2 Paragon- Oxford L 21-11
8 man Oxford travelled up the M6 to furthest away game in Newcastle-under-Lyme. Narrow and shallow end pools prove a problem for Oxford - despite leading 2-1 in the first quarter and keeping close to home side until halfway, a poor third quarter left the team trailing behind where defensive errors gave Paragon too many counter-attack breaks in numbers.
.
Mon 24 Mar SEC2 Oxford - Portsmouth D 11-11
So close to a win but a two handed block in last minute gave the visitors the peno to level the game.
.
Thu 20 Mar KO Cup Kettering - Oxford L 11-6 (with handicap 16-6)
Oxford started 5 goals behind due to handicap and the 8 man squad had promising first quarter with 2 quick goals to narrow the deficit to 5-2. However, Kettering recovered to widen the gap but Oxford still in contention until a poor 3rd quarter. While Dave Golley was good for 2 of Oxford's 6 goals, MotM was Chris Gurney who also picked up miss. Cardy's stains earned him the other title.
.
Mon 3 Mar SEC2 Oxford - Brighton W 19-6
Two wins oh the trot for Oxford with a strong team beating the south coast visitors. The game started close with only 2-1 up after the first quarter which extended to 6-2 by halfway. However, the 5 subs for Oxford kept providing speed in the home side while 2 sub Brighton tired considerably in the final 2 quarters. Adrian put a solid number away from the pit to get MoTM.
.
Mon 17 Feb SEC2 Oxford - Basingstoke W 12-11
After a delay of an hour due to accident on A34 the game started with Oxford being 2-1 up after the first quarter partly due to Basingstoke starting with only six players.
Rotating keepers each quarter Geoff in the third kept us in the game with some great saves. But it was Ash in the last 2 seconds of the match when Basingstoke equalised at eleven all with 2 seconds left made him man of the match by scoring from the half way line. Adrian ends up with T*t with another Spanish moment with ref decision.
.
Thurs 6 Feb SEC2 Portsmouth - Oxford L 19-8
A 7 man squad turned up for the big pool at Portsmouth. Chris was man of the match with Adrian missing a one on one.
.
Sun 26 Jan Friendly Witney - Oxford W 8-18
A very useful practice game for some players who have never played in shallow end pools. This showed as the hosts kept up with Oxford for the first 2 quarters with Oxford only narrowly 6-4 ahead. However, a third quarter attacking the deep end gave Oxford 9 goals without reply from Witney and secured the solid win. Joint men of the match were James and Kris with a fine goal from James and superb third quarter stint in goal from Kris.
.
Mon 13 Jan Friendly Warwick-Oxford L 21-9
Despite losing a few players prior to the game, still a strong 8 man squad up the M40 for a tough game vs. Warwick. MoTM was newly engaged Dave Golley saving a penalty.
.
Sat 30 November Carmarthen Tournament
Welsh Wanderers L 15-8; Aberystwyth W 19-9; Carmarthen L 16-9
With the men's team entering the Welsh tournament organised by the Keen brothers I watched 9 games played by A and B teams lasting 7 hours! There was plenty of mixed ability waterpolo to
watch at poolside in the rather humid Carmarthen pool along with fellow supporters and a large
picnic hamper to keep us all going!
Ashley and David were first to arrive on the scene refereeing and on the table. Having no subs
the remaining five arrived after a 3 hour long drive with only 10 minutes spare before jumping
into the pool for their first out of three matches.
The first game kicked off with David in the overly sized shallow pool goal, Ashley scoring a
penalty and Adian being kicked which resulted in the oppositions player being wrapped for
brutality. Oxford had plenty of shots on goal, but had no subs and a shallow pool at their disadvantage. Although some great play Oxford were a little late getting into their usually stride
which resulted in a loss.
The second game began an hour later against a mixed gender team and Oxford had now got
into the zone. At half time Oxford were miles ahead on goal difference with some excellent
back flick goals from Adrian supported by John and great saves from Simone. Oxford got a
little too confident in the second half and Aberystwyth had one particular strong player which
shone throughout the tournament which soon reduced the overall goal difference but couldn't
catch up. A win for Oxford!

The 3 hour interval summary!:
2 x Siestas - Simone and Adrain
2 x Economist journals - read by John and Simone
1 x Mathematical report (which no one understood) - read by Greg
1 x Sudden recollection that I was in fact a player for the girls team having not
seen me before with clothes on and not wearing an unflattering cap! - by Jeff
3 x Refereeing - Adrian, Ash and Greg
6 x (mini) Bottles of Prosecco consumed - by spectators Ashley's mum Delia, Lucy,myself.
1 x Consumed container of jelly babies and mini muffins - by all
Entertainment - Swansea vs Carmarthen B - A dispute broke out between two players with
fists and balls being thrown resulting in both players being wrapped for brutality. Within 10 mins
after the testosterone had lowered, hand shakes and smiles had been exchanged and all was well.
The finale against the hosting team was the most pleasurable to watch with some excellent game
play from all the guys. Jeff (his first tournament for Oxford) played in goal for the first half and
was a strong wing for the second. John, Greg and Simone all playing their consistently high
standards. Adrian and Ash the two main goal scorers - with Ash scoring a goal from the halfway
line with seconds to spare having won a foul against his rival brother Chip. All to have been led
by David's team talks and strategy game play. Although not a win the guys could certainly leave
the pool with their heads held high. With more players for next year - watch out Carmarthen -
the shield will be returning back to the Oxford trophy cabinet soon!!
Overall a great day and I would only encourage our girls to get involved next year with a
potential mixed gender B team and an organised stay over!
The fantastic five had to return back to Oxford whilst Ashley and David represented Oxford
at the presentation after drinks with great sportsmanship and a welcomed invitation by all for
next year.
Star Reporter on the ground: Charlene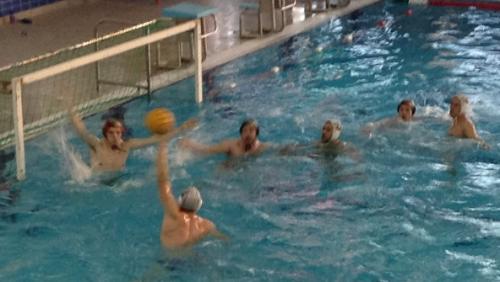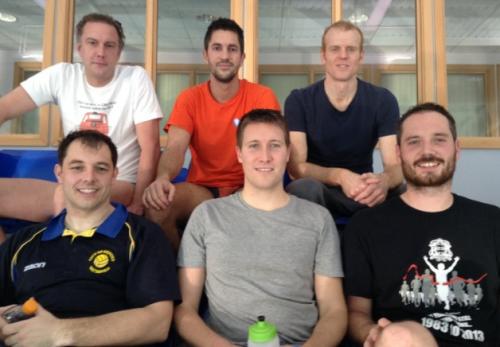 Carmarthen action and team (Greg was reffing at time of photo)
Top: L-R Jeff, Adrian, John. Bottom L-R: Dave, Ash, Simone
Mon 18 Nov Friendly Oxford Oxford Uni 2nd W 21-6
Who said old age and treachery would not overcome youth and speed?
.
Sun 13 Oct Friendly Witney Oxford L 11-8
A friendly to put 3 new players in for first match ever as well as someone's first game for over 20 years. Kris, James, Markus and Jeffrey all performed extremely well against a Witney side that had a few Oxford guest players where Chris Gurney scored more goals for Witney than he does for us normally. A great chance to practice shallow end attack/defence and superb hospitality in pub after. Must do again soon.
.
Mon 23 Sept MDL2 Camp Hill Oxford L 10-12
Oxford caught napping again at the start of this game and trailed 5-0 behind before the team woke up to the job in hand. Once that happened, the visitors took control of the remaining 3 quarters and narrowed the gap to one goal at 10-9 but could not push all the way to take the lead. Goals from our Southern Europeans led the way with Dave Golley doing a heroic effort in goal on the night. The team finished mid-table in Division 2 with this result
.
Mon 16 Sept MDL2 Oxford Warley B W 16-12
Oxford left it very late and needed an inspired spell by Captain Norbert Sinka to secure 2 vital points which seem likely to secure the team's place in Midland League 2 for another year.
Warley turned up with no less than a 13 man squad and the teams were evenly matched until the start of the last quarter when MotM Sinka efforts helped the team turn around a 9-10 position to a comfortable 15-10 lead. Brennan Nicholls was on top form in goal again with Pierre Vila picking up the two other voted awards.
.
Tues 10 Sep MDL2 Boldmere B Oxford L 9-12
Not a great week for Oxford. Firstly we could not get a team together for the away game vs HGSOB on Friday 6 Sept so had to forfeit the points for that game. A small but strong squad of 8 players ventured up the M40 to play bottom of table Boldmere B. While leading 6-7 at the start of the final quarter, the youngsters of Boldmere took charge while the Oxford team ran out of steam, losing the final quarter 6-2 and the game by 3 goals. Stuart and Norbi shared MoTM while Simon and Ash collected the other awards.
.
Mon 15 Jul MDL2 Oxford Boldmere B W 11-10
Oxford finally get back to winning ways and some precious points to move the team closer to the middle of the table. But never the easy way. After a solid start and 4-1 lead, the home side got a bit carried away with that early success and missed countless opportunities to extend the lead with poor finishing, meanwhile the young Boldmere team countered quickly and went ahead. In the final 2 quarters the lead changed hands several times but Oxford just squeaked it - a missed penalty by Boldmere in the final 2 minutes costing them dearly. MotM was John Cardy with Ash eluding the other two awards. Next match is HGSOB in September.
Mon 1 Jul MDL2 Oxford Worcester L 12-24
Oxford truly spanked by a much improved Worcester who seem to have been injected with some new younger talent and looks like they are destined for Div 1 next year. A 9 man Oxford side struggled to keep up and constantly caught on the breaks - even losing 4 goals from our own man ups on loss of possession. No real misses and Ash did fire enough in to help us into double figures at least and earned MoTM for that. Those who did not reply to TEAMER got the T award.
.
Mon 10 Jun MDL2 Oxford CampHill L 12-13
A game of many missed opportunities - Oxford had a fine spell in the third quarter to not only draw level but take a lead. But an undisciplined last quarter and too many majors, too many missed changes meant they narrowly missed taking any points from this game.
.
Thu 6 Jun MDL2 Paragon Oxford L 19-9
A depleted 7 man team carried out the long trip up the M6 to play a much stronger Paragon side than earlier in the season. After a first quarter of 6-2 down, the Oxford team always chasing the game despite Spanish injection of talent.
.
Thu 16 May SEC2 Guildford Oxford not played
After carnage in the pool on the Wednesday night, this time it was carnage on the M40 - see Dave's car below after aquaplaning in heavy rain. Thankfully no one injured and the 5 who made it to the Surrey pool were able to play a makeshift friendly.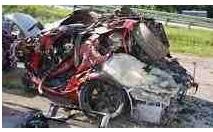 Wed 15 May MDL2 Warley B Oxford W 10-11
Simon Almond's first Midland League game for Oxford was described by him as being "rather agricultural". A polite way of saying it was extremely rough and tumble physical! With only a 8 man squad, Oxford started a goal down before slowly building a 4 goal lead with some great possession of ball and only shooting (and scoring!) in the last seconds of 30 seconds. Top scorer was Simone (4) but he suffered for his work with broken toe being diagnosed late night at A&E. See below the shiner and gash we picked up with unseen challenge. With injured players in the water, both Reg and Gergely wrapped so finished game nervously with 6 in the pool and saw 7-11 lead whittled down to 10-11 but hung in for the win with nail-biting last minute. Man of the Match shared by Chris and Simon with Simon also picking up Miss for an open goal while Reg's misreading of the ref's signal and jumping in thinking it was a goal meant he was first to be wrapped and gets t*t for that.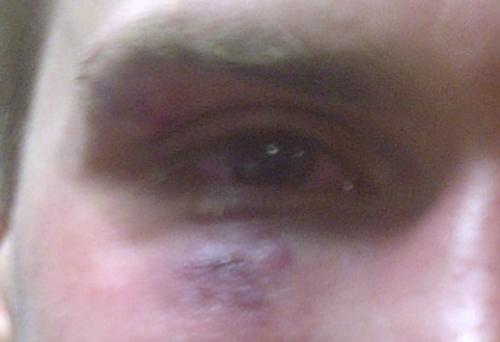 Shiner star at Warley
.
Mon 29 Apr KO Cup Oxford Warwick L 11-15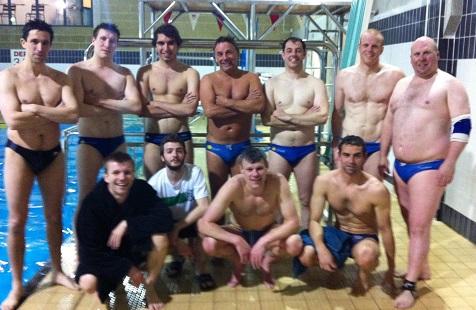 Oxford team with guest coach Eduardo between Norbi and Chris
Oxford hung on till the start of the last quarter with the score 10-10 but too many missed chances during the game and too many errors left the vistors with the chance to progress to the next round. Guest coach Eduardo from Bilbao felt the team played better than the previous week.Hungarian clean sweep of the 3 awards for the night.
.
Mon 22 Apr MDL 2 Oxford HGSOB D 12-12
Oxford snatched a draw from the jaws of defeat in their third game of the season. Trailing HGSOB for a large parts of the match, some times by as much as four goals, the home side managed to narrow the gap and draw level in the final quarter to grab a precious point.
.
Mon 8 Apr MDL 2 Oxford Paragon W 14-9
Oxford get vital first points in a tough Midland League 2 game in first home game of the season.
.
Thurs 14 Mar MDL 2 Worcester Oxford L 19-9
A squad of a bare 7 players travelled west to face Worcester in the first game of the 2013 Midland league. In a mirror image of the home game a few days earlier, Oxford kept the game close (12-9 after 3 quarters) but a final quarter collapse flattered the home side. Man: Simone Other awards: Both to Ash
.
Mon 11 Mar SECL 2 Oxford Guildford L 5-10
Oxford lost this top of the table clash with Guildford to see who would pull away to take Division 2 title. While keeping the game close in the first half (only trailing 5-6), the home side let the visitors run away with it in the final 2 quarters to lose 5-10. Man: Norbi Tit: John B.
.
Sat 23 Feb Town v Gown Oxford Uni vs Oxford City W 12-13
City extend string of runs over University but do it the hardway after trailing for first 3 quarters to come from behind with 4th quarter rally.
.
Sun 27 Jan SEC2 Basingstoke Oxford W 9-10
Simone Lombardini man of the match as Oxford's division 2 streak of unbeaten continues with just Guildford home and away to follow.
Adam scrubs up well for wedding photo with Ornella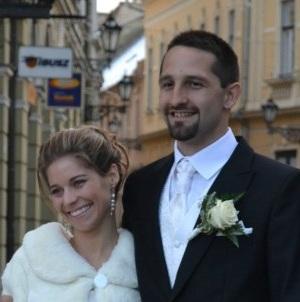 .
Mon 14 Jan Friendly Oxford v Southampton L 6-14
A tough lesson for Oxford in how to handle a team that does a proper full-press. While we kept in touch initially (1-3 for first quarter), poor passing under pressure led to far too much change in ball possession without even a shot on goal. Other Oxford weakness areas exposed by a strong, physical and fast Southampton side included too static an Oxford attack, lack of reaction when ball lost and slow to set up man-up situations. Brennan made some excellent saves to restrict the visitors from an even larger tally and was voted MoTM.
.
Mon 7 Jan SEC2 Oxford v Sevenoaks W 12-8
A good start to 2013 for Oxford mens team as they won the home fixture vs Sevenoaks. However, still sloppy defence allowed far too many goals and something to be worked on for the future. Simone Lombardini picks up his 2nd MoTM award for some fine play.
.
Wed 12 Dec SEC2 Sevenoaks v Oxford W 6-8
After two consecutive years of losses down in Kent, this time the 8 man Oxford team managed to come up trumps with Player of the Year 2012 Ashley Keen opening up his bid for retaining the trophy with Man of the Match, while Dave G got the miss and Chris G the other coveted award.
.
Mon 6 Dec SEC2 Oxford v Basingstoke D 9-9
The Southern Counties league will give Oxford vital essential practice in preparation of the 2013 Midland Leauge Div 2 season - and judging by the team performance this is badly needed. Only 1 goal from 6 man up situations plus a dire goal-shot ratio means the attack needs urgent fine tuning and 101 in passing the ball, while we got caught on the break by not responding immediately on change of possession. Next game at Sevenoaks to put some of this right. John B man of the match while Ash got miss for taking 100 shots to net 5 goals.
.
Sat 24 Nov Tournament Oxford lose final 6-7
Oxford returned to Carmarthen in Wales in an attempt to retake the winner's shield which it won in 2010 and 2011. It was not easy for the host team to book the pool on the right date which led to a small but strong squad heading west. Oxford won its group rounds 9-5 and 16-1 but the lack of subs on the bench meant that the team just lost out in the final 7-6 but a credible second place. New man Simone voted Oxford's player of the tournament.

Above and left - Oxford team in Carmarthen
.
Mon 12 Nov Friendly Oxford City Oxford Uni L 9-11
Town had not learnt the lesson from the last game vs the local students which was to start focused and press the oppostion. As result, the home team were once again 4-1 down after the first quarter before slowly fighting back to level terms. However, while the last game ended in a draw, this time Town let a 9-9 position in the last quarter slip to a narrow win by uni.
.
Mon 29 Oct Friendly Oxford City Oxford Uni D 8-8
A welcome friendly as the City side were caught napping in the opening quarter with the University team taking a deserved 4-0 lead. This continued into the 2nd quarter with a 6-2 score line until the town side finally remembered the useful tactic called "passing the ball" to fellow player in a better position to score. Remembering this strategy enabled the home team to draw level to 6-6 at the halfway mark. The final two shorter quarters were much tighter defended by both sides to finish up with a scoreline that accurately the difference between the sides.
.
Tues 18 Sep MDL 2 Solihull Oxford L 18-7
Oxford finished the Midland League Division 2 with a heavy loss to a young Solihull side. The visitors started well attacking the deep and led 3-1 before sloppy defence allowed the home side to draw level 3-3. However, the second half when Oxford attacked the wide shallow end, the tactics on attacking a shallow goal once again sadly lacking and Solihull opened a big lead they never gave up. With Worcester getting a lucky walkover on Warley B this put them on 8 points and one point up on Oxford who may be challenged by second place finishers of Div 3.
.
Thur 13 Sept MLD2 Worcester Oxford L 15-14
Oxford were caught napping for the start of this game and only woke up half way through the second quarter, by which time there was a mountain to climb. When they eventually got their act in gear the team performed well - winning the last quarter 5-1 but the home side on to possession in the last minute to hold on to win. A great start by MoTM Matt Whiteley.
.
Wed 25 July MDL2 Warley B Oxford L 10-8
Once again Oxford struggled to come out of the blocks looking sharp and this ultimately cost us the game. Lossing the toss and attacking deep end first, we should have piled on the goals at the start but no, we went 4-1 down and missed chances and man ups. Once we recovered and got into the game, we drew level and in fact took the lead. Going 7-7 into final quarter, we did tire with only 8 players and Warley ran out winners in a tough, physical, fast and well matched game. Dave Golley won MoTM for interception, storming swim and fine goal in single solo move in third quarter. Was it drugs or were we imaging this? Ash gets Miss and special mention for good food after.
.
Mon 23 Jul Friendly Oxford Milton Keynes L 10-15
Clearly Oxford underestimated the strength of recently formed Milton Keynes who had a few experienced players in the side who were both tough to mark and accurate with shooting - unlike Oxford's shots on goal. While the revised defence play arranged by Norbi improved the situation at the back, our finishing up front was not good enough to close the gap.
.
Mon 9 Jul MDL2 Oxford Walsall W 5-0
Unfortuntately Walsall could not get a team to travel down and cried off. Oxford offered to replay the match in September but the league decided this was not possible and awarded points to Oxford.
.
Mon 2 Jul MDL2 Oxford Worcester W 18-17
Oxford's luck returns - or is it more, the harder you try, the luckier you get? Oxford have struggled in the last year or two against arch rivals Worcester and with 2 minutes to go and 15-17 down it appeared as if that run was to continue. However, the home side put in a tremendous rally in the final minutes to take the important 2 points with Dave Golley's man-up equaliser getting him Man of the Match, while club stalwart John Cardy netted the other two awards. Dave shows below what true MotM eat to stay on top of their game - John C, take note!
Wed 20 Jun MDL2 Coventry Oxford L 18-10
Normally Oxford play a match well with just one poor quarter to lose the game. This time it was the first and last 2 minutes of the match which cost them dearly. Ashley Keen was on form to show that we can avoid the woodwork and scored 8 of our goals.
.
Mon 18 Jun KO Cup Camphill Oxford L 11-8
A game of missed chances. Our prolific goal scorer Adam had a strategy of breaking the goalposts and crossbar of Camphill rather than scoring and others followed his lead. If only a fraction of our woodwork shots had gone in, we could have progressed to the next round. Norbi was awarded best scars of the night.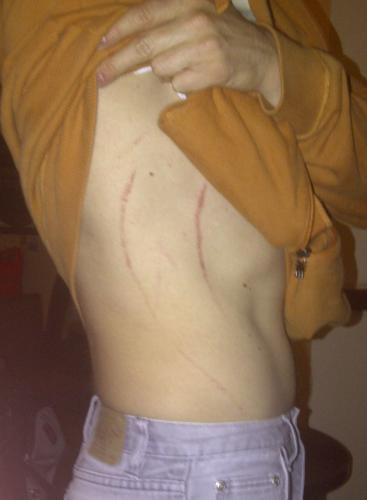 Thurs 24 May MDL2 Walsall Oxford W 10-11
A hard earned 2 points away could be vital in the battle to stay in division 2 as 8 man team travelled up to Walsall. Oxford started well with a 0-2 lead but poor marking let the home team turn this round to 5-2 to them. Oxford regrouped and got level and then 6-8 lead before once again counters by Walsall getting the game back to 8-8 with one quarter to go. Oxford had a good spell in last quarter to lead 9-11 into final minute and then a nail biting last 30 seconds with the score at 10-11 but still managed to see the game out (just)and secure the vital win. American John was voted MotM.
.
Mon 21 May MDL2 Oxford Camp Hill L 7-11
Gergely Berczi man of the match in this home defeat. Oxford were on equal terms with teh visitors with exception of the second quarter which they lost 6-2 and cost them the points.
.
Mon 14 May MDL2 Oxford Solihull L 5-11
Clearly Arsene Wenger needs to come over to Oxford to put the team on a true athletes diet in order to improve results,
.
Wed 2 May Town v Gown Oxford Uni Oxford City W 6-8
.
Mon 30 Apr MDL2 Oxford Warley B L 17-21
A game of missed opportunities for Oxford. If 50% of the easy chances had been converted, we could have won this game. Rushing to take shots when a better man was free or holding up was the right answer cost the home team the points. Oxford were good in spells and several times closed the gap from a few goals down to level or one up, only to follow by a spell allowing Warley to regain the initiative. One point fom three league games - more is needed to stay up in Div 2.
.
Wed 25 Apr KO Cup Warley A Oxford w 17-18
8 man Oxford travelled up the pouring M40 to face Div 1 Warley A in the Midland KO Cup. A strong opening quarter by the visitors surprised both Warley and Oxford and was critical to the win. Warley came back strong in the 2nd quarter and things started to look grim when stand in captain for the night John Buckley was majored out in the 3rd leaving the team with no substitutes. However, the defence was ChelseasvsBarcelona-style doggedly determined including some key stops from Man of the Match Brennan Nicholls. A late goal by John Cardy was the icing on the cake as Oxford progress to the next round.
.
16 April MDL 2 Camp Hill Oxford D 10-10
A good away result vs Camp Hill with John Buckley MoTM.
.
1 April Friendly Reading Oxford D 14-14
An extremely nice fixture vs a friendly yet challenging Reading side. Alex Gibson came out of retirement to make the team up to 7 players and vowed to start coming back to training. John Buckley had an excellent game and was nominated for MoTM along with Alex and Norbi, but it was the Hungarian Captain whose great goalkeeping got him the votes. We were comfortably 14-10 ahead in the final quarter but tiredness set in on the swim back/Reading breaks that allowed them to equalise in the last minute.
.
26 Mar SERL2 Oxford Crawley L 11-15
Once again Oxford started off well (3-1 lead) but let this one slip away. Both sides seemed well matched and the scores went up evenly with the game level or only 1-2 goals in it...until the last quarter. Oxford squandered chances with poor shots although the Crawley goalkeeper was up to Bren's standard with both making very good saves. Greater creativity in attack needed by the home side when the ball in the pit play was getting us neither goals or free throws. SERL2 provided 8 excellent league games to keep Oxford with regular play before the start of Midland League 2.
.
12 Mar MDL 2 Oxford Coventry L 7-14
A bright start to Oxford's return to Division 2 Midland League soon fizzked out. Oxford came out of the blocks taking a 5-2 lead in the first quarter and at the half way mark were still in control 6-4. However, in the second half of the game Coventry put 10 goals away vs only one from the home side. It's going to be a tough season back in Division II although if Oxford can play as well as they started this game and continue for the whole of the game...
.
8 Mar SERL 2 Guildford Oxford L 20-11
Many thanks to all who turned up to make this game happen - we had cried off as we could not raise a team by 6.30 pm on the night before the game but Norbi roped in a guest player and our Moldovan player was able make it an 8 man team. Looks like Guildford drafted in some ringers as this was not the same side we played earlier in the season. One game to go in Southern League and Midland League kicks off Monday vs Coventry.
.
27 Feb SERL 2 Oxford Basingstoke W 11-8
Once again Oxford made hard work of a match it should have won more comfortably earlier on. A 4-2 lead in the 2nd quarter looked like the springboard but the young Basingstoke side fought back to take a 6-7 lead. The home side dug in and laboured to take back the lead with some fine goals (but also superb misses) from Ashley. JC was man of the match.
.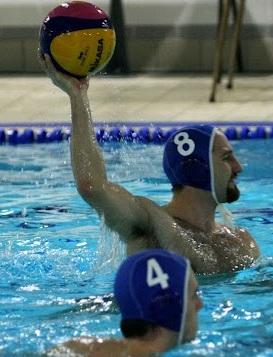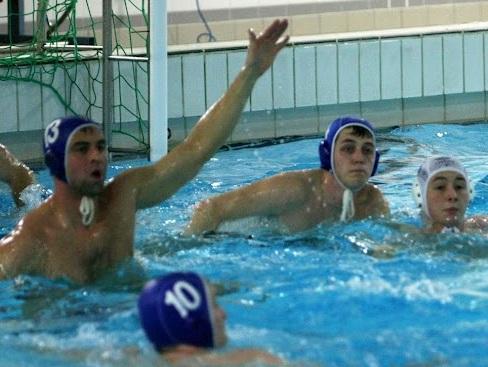 Adam on the ball Gergely blocking, Javier marking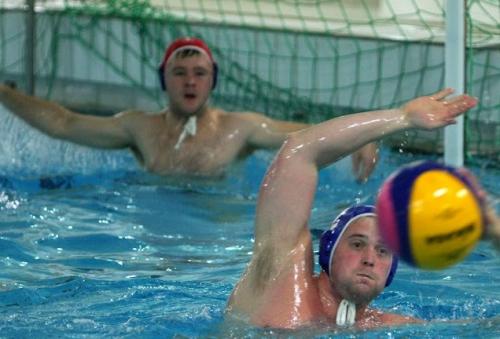 Matt blocking and Jordache raising arms out to stop the shot in goal
.
22 Feb Friendly Oxford Uni Oxford City W 9-10
A bare 7 man team from Oxford overcame early set back, trailing 4-1, to sneak past Oxford Uni in friendly at the Rosenblatt.
.
20 Feb SERL2 Oxford Sevenoaks L 11-12
Oxford battled with this season's turnaround side Sevenoaks - bottom of table last year and very much on top this year. Home side started off behind but came back late in the game to take the lead even into final quarter but could not hold on to take full points. John Buckley added colour to the pool and Ash was nominated for a fine miss towards the end.
.
1 Feb SERL2 Crawley Oxford L 15-9
A match which clearly indicated a wake up call to Oxford if the team wants to hold its position in Midland League Div 2 this year. While we kept level with Crawley in their large K2 pool in the early stages and lead 4-3 into the second quarter, it was poor accuracy in our shooting and slow reaction to their breaks that let Crawley take 10-5 lead at half time. Oxford looked to be coming back into the game in the third quarter with 3 quick goals to narrow the gap to 10-8, but then the hosts slowly increased their lead. Jan (T), American John (M), and Adam (Man) got the awards for the game.
.
15 Jan SERL2 Basingstoke Oxford W 12-14
A 9 man Oxford team did well to secure the win against a Basingstoke side where we could never really pull away. The game remained close throughout and was only 13-12 in the final quarter when Basingstoke missed going level but hit the crossbar on a penalty. Chris had a fine stint in goal in the last quarter but MoTM went to Gergely.
.
14 Dec SERL 2 Sevenoaks Oxford L 14-7
8 man Oxford did well to keep up with the Kent team enriched by students back for Christmas - the first quarter 2-2 and the second half 5-5. However, a poor 2nd quarter where we leaked in 7 goals without reply was the killer. MoTM John Cardy left his M&A paperwork to join the team along with Brett tempted out of retirement for the night and Gaz swinging by to guest as well.
.
28 Nov SERL 2 Oxford Guildford W 13-9
Just as in the Oxford uni and Camarthen games, Oxford City left it late to seal the win. The first game of South East Counties Div 2 was a hard fought fixture against Guildford, where the score was level 8-8 going into the last quarter. Once again Ashley had the double honour of both Man of the Match as well as Miss of the Match.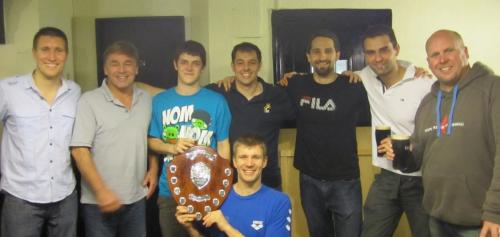 26 Nov Dyffed Tournament Camarthen Oxford win tournament
The 9 man Oxford team retained the Graham Walters Dyffed Challenge Shield after seeing off the opposition in the 4 team tournament. After an early win against Pembroke where Oxford managed a comfortable 17-3 win, the crunch game was the middle one vs Camarthen where Ashley was to face both his brothers playing in a family feud match.. In that decider, the home side took a 2-0 lead but Captain Norbi assured the team that calm play, stamina and experience would see them through, which it did. Oxford started the fourth quarter with a 9-5 lead. While the hosts narrowed this to 9-7 they were never able to close the gap which Oxford had created for themselves (including a fine goal at the last gasp of a 30 second possession by Dave Golley - his shot was simply too hard for the goalie to control). In the final game vs Aberystwyth University, Oxford cruised to a 14-3 win to take the trophy. Man of the tournament was the club's TJ Javier Oloriz who laboured tirelessly to ensure the defence was tight, with Brennan also making some excellent saves. Oxford will be back in 2012 to defend the trophy.
.
23 Nov Friendly Oxford Uni Oxford City W 7-8
Norbi had enough players to do ice-hockey changes of 5 players per quarter, leaving just Gareth and the goalie for the whole game. Oxford started sluggishly in the first quarter and trailed 2-0 before the second string showed the way and turned this into a 3-4 lead by HT. From there, we managed to hold the lead until the end.
.
13 Nov Friendly Witney Oxford W 7-15
.
29 Sept MLD3 Worcester Oxford W 7-27
Oxford's 8 man team completed the Divsion 3 fixture list for 2011 with a convincing win at the Worcester pool, going 10-0 up in the first quarter. Ash and Chris got the votes for the minor awards with Jan getting MoTM for a fine performance in goal - and a stand out performance in man up.
.
12 Sept MLD3 Oxford HGSOB W 15-4
What a difference to have a full and fit squad and compare the final result vs away game 10 days earlier. A good start with 3-0 up followed by a slight wobble letting the visitors back to 4-2, but from then on it looked like it was always going to be Oxford's game. Ash was nominated by Norbi for both minor awards before the game started and, sure enough, he was voted for both after. Adam got MoTM for defending and passing as well as scoring some fine goals.
.
2 Sept MLD3 HGSOB Oxford L 15-11
Luckily Oxford was already assured of promotion before this game, however, a chance to keep the 100% win record was lost. A team of just 8 players, some not 100% on fitness and health, made the trip to Handsworth. While Oxford took an early lead and several times came back to within one goal of the Brummies, in the end the errors of standing, exclusions and missed goals cost the team and the first MDL3 loss of the season. It will be a different story when Oxford host the return fixture on 12 September.
.
12 Jul MLD3 Aston Oxford W 6-11
A tight squad of 9 players turned up for a challenging match vs the Aston team. The home side kept the game close with some excellent goals and Oxford led only by a narrow 5-7 margin in the third quarter. Oxford did well on the counter-attacks and the final quarter attacking the deep gave a few extra goals to fix the result at 6-11. There is a stewards enquiry over alleged vote rigging after and NotW and FiNA officials to investigate irregulaties between votes from those who actually made it to the pub after vs those in a certain car with dodgy satnav.
.
4 Jul MLD3 Oxford Worcester B pts awarded
Worcester could not get a team for this game but the MDL would not allow any replay which we wanted, and awarded the points to Oxford.
.
29 Jun SC2 Sevenoaks Oxford L 5-4
An 11 game winning streak stretching back some 3 months came to close with Oxford narrowly losing their last southern counties Div 2 game to bottom of the table Sevenoaks. The weakened side of 8 players struggled once again in a shallow pool but the key reason for the loss was inability to find the back of the net with shots, while Bren did his bit in goal and was MoTM.
.
27 Jun MDL3 Oxford Wednesbury w 28-4
What a difference a week makes. Against Wednesbury a week ago, Oxford were 1-0 down after Q1 and only got into the lead in the final quarter. This week Oxford lead 9-0 in Q1 and never gave up that lead - although to be fair the result was only put beyond doubt with Dave Golley's fine goal in the 4th quarter to make it 28 for the home side. Gergely was MoTM.
.
20 Jun MDL3 Wednesbury Oxford W 3-5
Oxford had a long string of misses from all players to allow Wednesbury to take the lead with 1-0 at half time with the home side shutting out Oxford from scoring attacking the deep end with clever double pit marking. Things looked grim at the started of last quarter with Oxford trailing 3-1 but Adam decided to show the rest of the Oxford side how to score and we just edged out by a 2 goal lead. Captain Norbert got unanimous vote for miss of the match with his lob attempt.
.
13 Jun MDL3 Oxford Warwick B w 17-6
A long game but lots of goals and good action from both sides. Ash picked up the minor awards with Norby taking MoTM.
.
6 Jun MDL3 Oxford Boldmere B w 22-8
First triathlon at Blenheim does not wear out John Cardy who is man of the match.
26 May MDL3 Warwick B Oxford w 7-12
The win makes it 7 wins in a row for Oxford, but the City side made hard work of this. Starting the final quarter with a 9-5 lead, the home side got two early goals to narrow the gap to 9-7. Goals the prolific Adam gave the security buffer back and he was voted MoTM.
.
23 May SC2 Oxford Crawley w 10-8
A game of two halves. Crawley started very strongly and took a 5-2 lead at half time. However, the visitors tired in the third quarter and allowed Oxford back into the game and start the last quarter 9-5 in front. As in the game before, Oxford nearly choked on the lead in the last quarter, allowing the lead to slip to 9-8 before a final Oxford goal gave the home side the 2 goal safety margin to see out the last 36 seconds. Adam was man of the match.
.
19 May SC2 Cranleigh/Guildford Oxford w 10-11
After winning the first match 18-1, Oxford turned up to the superb pool at Guildford expecting an easy win. With a 3-0 start, it seemed to be heading that way. However, the team never got more than a 3 goal advantage which was the start of the final quarter 10-7 to Oxford. Some great plays from the home side levelled the game at 10-10 but captain Norby steadied the troops and we scored a final goal to secure the game and keep possession until the clock ran down. Karlis got MoTM for some superb saves.
.
17 May MDL3 Boldmere B Oxford w 12-21
After a poor start with the home side winning, Oxford's 8 man team turned it round to win with a comfortable margin. Jan Gehrman was man of the match with John Cardy's 6 goals also worth noting.
.
6 May Town v Gown Oxford Uni Oxford City w 7 - 12
That makes it 4 in a row for City in TvG stakes, altough still a long way off the run Uni had from 1996-2004. City started bright with a 3-1 lead but the younger, fitter Uni players were quick to react on breaks when possession changed while City players were caught napping. Uni were 5-4 up and at the start of the final quarter it was finely poised at 7-7. However, Oxford were inspired by broken-armed coach Chris Gurney to a great last quarter with 5 unanswered goals. Man of the match was Matt Wardle.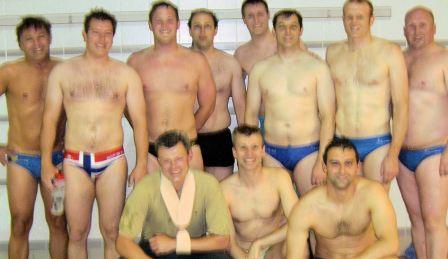 .
17 Apr SC2 Oxford Sevenoaks W 20-7
Match report to follow. John Buckley and the Oxford away supporters voted MoTM.
.
11 Apr MDL 3 Oxford Aston W 20-4
After a string of defeats it was good to get back to winning was with a strong performance by Oxford. 5 goals per quarter and top scorer Ashley Keen with 8 to his tally. Man of the Match was John Cardy with 4 goals to show there is plenty of life in the old boy still. Thug of the Match was Dave Golley who clocked 3 majors in the game.
.
1 Apr SC2 Brighton Oxford L 13-10
A scoreline that flattered Oxford as we never really got into this game and our late surge (won last quarter 4-2) could be down to Brighton putting in some substitutes in knowledge the 2 points were safe. Score lines of 3-1 7-3 and 11-6 reflect the widening gap as the game progressed. Oxford's error of crowding the hole man were finally resolved in the last quarter and Ash (man of the match) was able to find the back of the net with the open space. If only we'd started the game like that.
28 Mar KO Cup Oxford Worcester L 8-12
Oxford team total is less than the sum of its parts again. On paper and on the poolside we had a strong side of individual talent which we were not able to convert into a team performance. A telling sign was 9 man up opportunities in the game with only 2 of these converted to goals. Oxford missed 4 early man up opportunities in a row at the start of the game before taking a small 2-0 lead which was soon pegged back. A poor second quarter saw the visitors take a 3-7 lead with an Oxford resurge in Q3 bringing it back to 7-8. However, any thoughts of Worcester tiring in the hot pool water soon disappeared as they knocked Oxford out of the cup with 4 goals in the final quarter. At least the focus can now be on getting out of Division 3
.
26 Mar Oxford Mini Tournament results
Oxford A Oxford B W 5-4
Oxford A Witney W 10-3
Oxford B Witney W 10-0
The mini tournament wo by Team Gurney with comeback in the 2nd half of the deciding game vs Team Sinka. Norby's team lead by a score line of 4-1 at half time and were set to cruise to victory until Chris's boys found the strength to overcome the spa-like heat of the pool and score 4 goals without reply to sneak a 5-4 win. There was blood in the pool in the second game when Oxford A took on Witney with Killer Golley always a force to be reckoned with.
.
20 Mar SE2 Oxford Cranleigh W 18-1
.
12 Mar SE2 Oxford Brighton L 12-14
.
2 Feb SEC2 Crawley Oxford 14-14
Norbert man of match in game of missed opportunites and vital penalty save by Karlis Atvar.
.
4 Dec Tournament Camarthen, Wales Oxford win
City of Oxford finished a year of mixed results with a uplifting tournament win in Wales. The 6 team tournament had 2 pools of 3 teams in preliminaries. Oxford started against University of Aberystwyth and won this comfortably 12-5. The next game was against the more experienced Aberystwyth Old Boys and this proved to be a tough match, with Oxford trailing at half time. However, the team pulled together and ran out to 8-6 match and pool winners. In the final they faced Bath University who had won their pool on goal difference. Once again Oxford started the game trailing from behind but ran out to win the match and tournament 7-5.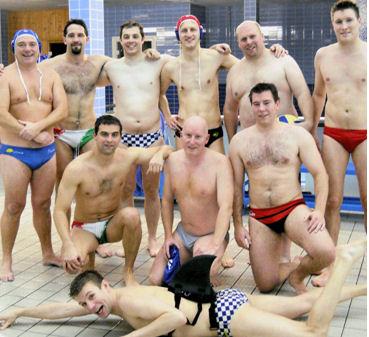 Dangerous Shark found in Camarthen pool - 5 teams suffer.
.
22 Nov Friendly Oxford Southampton L 11-16
A welcome friendly vs a strong squad from down the A34. Although we were missing Norbert and John Buckley, we still managed a team of 12 players including new youth player Freddie Scheckter. Oxford performed reasonably well in the first 2 quarters and kept level at 3-3 and 6-6 and were leading 7-6 in the third when the collapse came. Southampton ran out to 14-7 by the end of 4 quarters with the home side tiring and losing concentration. An extra quarter was agreed with the final score a more respectable 11-16. Greg showed how easy it is to miss the entire goal when on 2m alone and unmarked, Dave G tried to get the ball past a defender by bouncing it off the pool wall like a 5-a-side football player, the red mist came down over Gabor twice and not fair on the very good refereeing from the 2 Oxford uni guys, and Freddie scored his first goal for the club. Some great saves by both Bren and Karlis taking turns in goal and hopefully team lessons to be learnt for the game vs Bournemouth next. Adam was MoTM.
.
30 Sept MLD2 Walsall Oxford L 17-14
An extremely early start time to this fixture meant that we kicked off with only 7 in the water with 4 good players still travelling to the pool. After a poor Q1 with 5 goal deficit, the team rallied to 2 goals each in Q2 and then with a full strength side fought back to get within 2 goals in last quarter.
Mark scored a goal in his last game but did get award for one last po-or pass and grumpy moan. Gareth and Adam shared men of match award and Karlis showed he wasn't to be messed around with.
.
25 Sept Mark Testimonial Mark Old Boys Norby Youth 8-13
Old age and treachery did not overcome youth and skill this time. Norby's team took a solid 4-0 lead in Q1 before the old boys fought back in Q2 with 2 goals each to make it 6-2. Mark doing a stint on the side reffing inspired his team to come out the blocks quickly in Q3 with 4 goals to level the game at 6-6. However, they were not able to sustain this effort and the youngsters pulled away to finish the game 13-8 in an enjoyable last game at Radley for Australian bound Mark.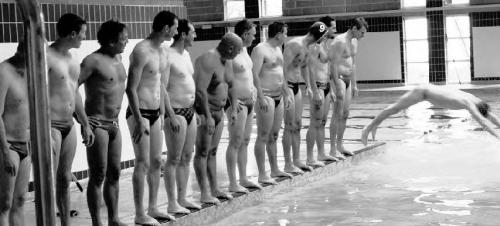 Mexican Wave
click here for the video link of the wave in motion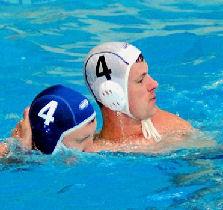 Chris pushes Ash's face in water. Adam fishes ball out of back of net as old boys score.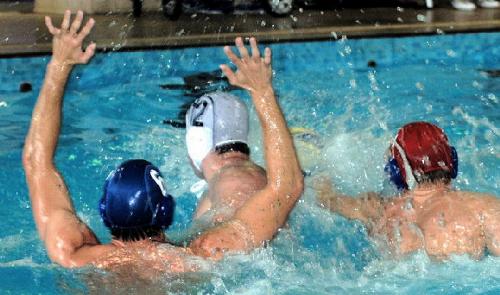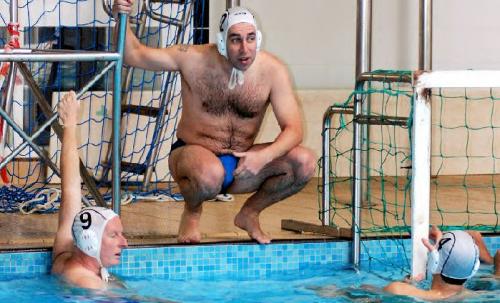 Norby steals off Mark while defender is innocent. Trying to inspire tired old men.
.
Click here to see all of Karen Gurney's excellent pix of the game
Click here to see Leisa Ashton's pix of BBQ after
.
20 Sept MDL2 Stafford Oxford D 10-10
Oxford's failure to find the back of the net in the final quarter was the difference between winning this game and the draw. The visitors were 7-9 up in the third quarter and still maintained a 8-9 lead at the start of the last quarter with Oxford attacking the deep. Against the run of play for the first 3 quarters, Stafford were the team scoring and lead 10-9 before Oxford levelled 10-10. A time out in the last minute did not inspire to put away the winning goal. Division 3 looms for 2011
.
13 Sept MDL2 Oxford Camp Hill L 7-20
Not the result we wanted. Started off with 5 goals from the visitors without reply. Man of the match was top scorer John Cardy, scoring 2 in the last minute of the game. All to do in the away game at Stafford on Monday 13th.
.
6 Sept MDL2 Oxford Warwick W 7-5
Do we hear the theme tune of "The Great Escape" in the background? Oxford were on 2 points and 4 behind second from bottom Stafford on 6 points before the tough game against Warwick, who had already beaten us twice this year, once in the cup and once in the league. A must win game started with 13 players under Captain Norbert's command. Initially the team could not convert superior possession into goals, and trailed 0-1 and then 1-3. But the strength in numbers, stamina and patience paid off as the team pulled level and then headed into a 6-4 lead at the start of the final quarter. The team kept their cool and finished the job 7-5. This leaves us on 4 points, 2 behind Stafford with 3 games to play including key game away at Stafford. Man of the match was shared between Adam and Goalkeepers (newbie Karlis Atvars and stalwart Brennan Nicholls). The club said farewell, hopefully temporarily, to Iago Nova returning to Spain.
.
7 Aug Tournament Faversham Oxford 2nd
This is the third year Oxford have taken part in the Faversham outdoor tournament. While the club won the event in 2009, this year we had to settle for 2nd overall. Oxford beat hosts Faversham, Canterbury Old-Boys, and Monsoon but lost 4-2 in the deciding game against Ealing, the tournament winners in 2008. Norby was man of the match with Ash and Chris picking up the other awards.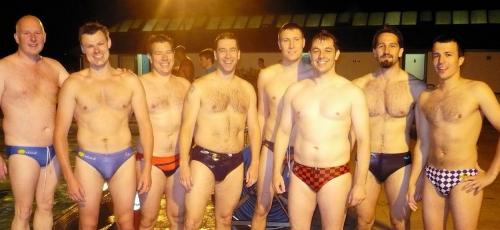 .
28 Jul MDL2 Warley B Oxford L 14-7
Very disappointing. A game of 2 halves – at half time it was 5-4 to us and looking like we could win in a tight game. Second half of game we folded and lost ~10-2 (losing the last quarter 6-1 after starting it at 8-6 and still being in with a chance). They played with more discipline, playing a good 7m drop which meant that we were forced in to speculative shots or bad/missed passes. We were also playing a 7m drop but were ineffective as discipline was not there and we did not get back as a team. Very disappointing and really a game that we should have won. Iago was Man of the Match for second game in a row.
.
23 Jul MDL2 HGSOB Oxford L 20-3
A squad of only 8 players travelled up to Birmingham for a tough fixture in a small pool. Adam clocked his 3rd major halfway through the game and Reg decided it was time for his 3rd at the start of the last quarter, leaving the team to see out the game with just 6 in the water. Iago played a blinder in goal with some athletic steals, while Mark picked up both Miss and T*T awards which he accepted graciously. Okay, he didn't, but that is part of the fun.
Missing report is home 5-0 walk over vs Stafford on 12 July when the visitors did not turn up. Our first points and Stafford are on 6 so we need at least 4-5 points from last 5 games to stay up.
.
28 Jun MDL2 Oxford Walsall L 6-13
Oxford had a reasonable game, except for Q3, against one of the stronger sides in Div2.
.
21 Jun MDL2 Camp Hill Oxford L 13-11
An Oxford side without a win in the league so far started well leaving seasoned veteran Mark on the side for most of the 1st Q. The Q finished 3 all. Q2 saw a lot of goals both ends with Brennan (MoTM) saving a fantastic penalty stop in the shallow end. Oxford conceded a total of 4 penalties this quarter. David G also popped up with a cheeky lob over the keeper to keep the scores level at seven all. Q3 started off badly with Greg being wrapped for his 3rd major but the scores level at 9 all with everything to play in Q4. Q4 we went two goals down before John B got wrapped for his 3rd major. Oxford only having 8 players and two players wrapped played the rest of the quarter with six men. Oxford lost the quarter 4-2 and the match 13-11, overall great performance but an extra player or two could have avoided having to play 3 minutes with 6 men. Report by D Golley Mark Ashton adds "best food ever from an away team"
.
14 Jun MDL2 Oxford HGSOB L 5-12

With the World Cup under way it was time for Oxford to start to win in the league. Q1 we started slow with a 5-0 deficit, full bath press was not working. Q2 we found some form and won the Q 3-2 with alternative tactics. Q3 7-3 down we had to put some chances into the back of the net, which never came. So ended up 2-3 down in the Q. With it being even in Q2 & Q3 all we had to do was win the final Q by 6 which wasn't going to happen. Q4 We applied full bath press but it never really worked and ended up losing 12-5. MoTM was Iago with Brennan and Norby picking up other awards. Match report by the Gollster
.
6 Jun MDL2 Warwick Oxford L 10-1
Oxford were down to the bare seven which shocked Warwick as we have been up to 17 players in training. The first 1/4 was a tight affair with only one goal being scored in the shallow end by Warwick. Second 1/4 we trail 4-1 and very much in the game, however two of our players were on two majors which we could ill afford. The third 1/4 we changed keeper to limit a player being sent out and ending up only 6-1 down going into the final 1/4. The final 1/4 we lost concentration and stamina with two of the seven players either doing a triathlon before the game and the other playing for the first time after 2 months of injury. The final score 10-1 to Warwick. We look forward to seeing Warwick at our pool later in the season to compete with Warwick's hospitality with great food after the game .
.
6 June Blenheim Tri
J Buckley 1.18.57 Swim 11.31 Bike 37.24 Run 24.19
C Gurney 1.27.35 Swim 13.24 Bike 41.34 Run 25.27
R Koster 1.28.31 Swim 11.36 Bike 43.01 Run 27.51
M Ashton 1.31.25 Swim 12.07 Bike 45.32 Run 26.34
D. Toomey 1.142.10 Swim 12.19 Bike 48.14 Run 34.09 (2009 result)
.
20 May MDL2 Kettering Oxford L 15-11
While the weather has at least changed from the poor start to the spring, no sign of change with Oxford mens polo team in Midland League 2010. Although leading 3-4 after Q1 and close to Kettering at the halfway point, the all-too-frequent collapse in one quarter came in Q3 which allowed the home side to build a lead which was too much to close in the final quarter. Ashley is looking like a dead cert for season's Miss of the Match award, while Chris Gurney beat some good candidates for T*t award. Dave Golley scored impressively to get Man of the Match. Some of the fan club mentioned below travelling away now as well but will this last if we don't start winning?
17 May MDL2 Oxford Warley L 12-14
After a great comeback in TvG, Oxford followed the Kettering game pattern and let the game slip in the last quarter. After a good start in Q1, the team had a howler in Q2 and trailed 4-9 at the half way point. A rally call from the captain and vice captain got the team motivated in Q3 and we pulled level to 10-10. However, a poor start to the final quarter allowed the visitors to establish a 3 goal lead which we never could close back down. For once Ashley did not get Miss of the Match and this went to Nick Boaz while Mr Buckley was voted City's best player.
Special mention to our "international" supporters and fan club: Renata (no Rene); Grade "A", Olga and UART.
.
9 May Town vs Gown Oxford Uni Oxford City W 7-9
Into unchartered waters with 3 wins vs Oxford uni on the trot for Oxford City. It didn't look promising in early stages at City missed loads of chances which Uni did not - the students taking a 4-1 lead. City closed the gap mid-game only for University to take another 3 goal lead again in the third quarter 7-4. City closed the gap to 7-6 as the final quarter started and managed 3 goals without reply to win the game. Brennan Nicholls in goal was man of the match, saving a vital penalty in the last quarter as well as numerous other fine stops. Other nominations went to captain Norbert Sinka with superb all round play and 5 goals and Chris Gurney with sharp defending and 2 goals.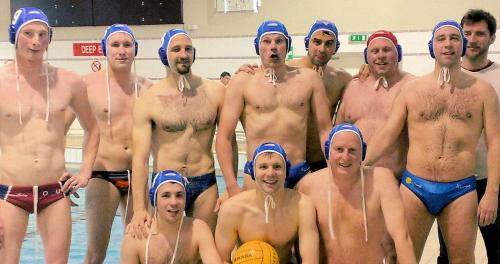 Oxford City TvG 2010 team: Back L-R Nick Boaz, Ashley Keen, Adam Novak, Chris Gurney,
Gergely Berzci, Brennan Nicholls, Mark Ashton, Gabor Aliban. Front row L-R Iago Novoa,
Norbert Sinka, John Cardy. Obscured from view: Reg Koster (probably doing something
to Chris Gurney)
.
26 Apr MDL 2 Oxford Kettering L 12-13
Always a tight fixture vs Kettering with draws or decisions by one goal, and this game no different. Oxford led 11-8 at the start of the 4th quarter but Kettering responded with 2 quick goals to narrow the gap and cause the home team to wobble. Oxford lacked the powerful shots on the Kettering goal in the last quarter and Kettering ran out leaders by a goal.
.
12 Apr KO Cup Oxford Warwick L 11-16
Despite nearly 19 players on the roster, we had only 10 available for this first Midland League fixture of the season. With the appointed referee crying off on the afternoon of the game, we had to provide our own referees to reduce the Oxford squad further. A rusty, disjointed performance against a Warwick side that played far more as a team. Gergely was Oxford's man of the match and Norby's pass to the hole man, marked by 3 players when Oxford had a man up, got a special mention. Dave Golley's blistering shot provided a stunning goal in the 4th quarter.
.
21 Mar Southern Counties Tournament
Day 2 of the tournament started with a tired and slightly hung over Oxford team starting poorly against Basingstoke. John Cardy's pep talk to stop the rot improved matters but still our worst result of the weekend losing 17-5 with Ashley majored out early in third quarter.
Our last game was against East Invicta and Oxford started much better, taking the lead and keeping pace with the East Kent side, trailing only 8-6 in the third quarter. The weekend's pace took its toll in the final quarter for Invicta to win 14-7, with Sunday's man of the match Dave Golley making some excellent saves in goal.
20 Mar
8 man Oxford squad faced previous tournament winners Worthing but did not disgrace themselves, losing 12-5 after being close up to half way. In the second game against a strong host side Jersey, Oxford were up to 7-7 in the scecond and only trailed 10-8 at the start of the final quarter, losing 16-11 in the end. Saturday's man of the match was Nick Boaz with some fine goals, Ashley got miss and Dave Golley received the other coveted award for nomimating himself. The team were introduced to the potent Hungarian Unicum drink by captain Norbert Sinka to boost morale.
.
14 Mar Friendly Witney Oxford W 2-20
9 man team out for Sunday evening friendly vs local neighbours and chance for shallow end pool experience. Miss of match shared between Ashley (lob that never quite made it) and Adam (hit crossbar with open goal).
.
31 Jan Southern Counties
Worthing Oxford L 11-15
One of our better performances against the Worthing side full of talent, especially after they took apart Jersey with close to 20 goal differential. Only trailing by 2 goals at halfway, the team kept going. Man of the tournament was captain Norbert Sinka, who also picked up Miss after his penalty on the Saturday was not even close to on-target. Sam joined us for this game and he was an extremely welcome addition to the team. A great learning curve for Jersey and Midlands.
Jersey Oxford L 5 - 15
Our worst performance over the 2 days and this was probably the team we had the best chance of beating. Once again we kept in touch with a slower but more physical game, trailing 5-7 at half time but then sloppy defending led to string of unanswered Jersey goals. Mohammed scored a lovely solo goal and Brennan took a point blank shot in the face - a bleeding nose was worth saving the goal and luckily his television career will not be impacted.
30 Jan Southampton Oxford L 10-12
A close game and level at 9-9. Oxford will rue being awarded 3 penalties and missing all 3 (Ash, Nick and Norby). Also some tired and sloppy defence not swimming back to assist Brennan's fine performances in goal - saving some 1-1 shots is one thing but if no one is there to defend the simple rebounds.... Sadly Andrew Johnston had his shoulder dislocated in the second quarter and had to be rushed to hospital in great pain. We wish a speedy recovery for him.
East Invicta Oxford L 13-20
The East Invicta side of young but experienced players had earlier trounced Jersey so an 8 man Oxford were staring at a possible trashing. However, the team pulled together a terrific performance and held Invicta to close contest in first 2 quarters. Ashley was particularly on fire with goals and Brennan pulled off some "top drawer" saves.
.
.
2009 Results
20 Dec Friendly Witney Oxford W 9-12
Once again a laboured start in shallow end pool, only gaining the lead in 3rd quarter.
.
15 Nov COSC swim championships
100m FreeStyle Ashley Keen 57.23 John Cardy 1.03.54 Dave Golley 1.06.03
50m Butterfly Ashley Keen 28.67 John Cardy 30.75 Dave Golley 33.86
.
2 Nov Friendly Oxford City Oxford University L 13-20
Old age and treachery were not able to overcome youth and skill. A full squad of 13 Uni players put a high pace on the game. Initially, City were able to respond and actually led 4-2 in the first quarter. However, the students recovered and ended the quarter with a 2 goal lead and they maintainted the differential per quarter for the rest of the match. Oxford's highlight was Norbert's goalie save with his foot!

.
11 Oct Friendly Witney Oxford W 8-13
A 7 man team laboured in the shallow end pool of Witney - something we need to practice more. The game went up evenly, partly down to poor finishing and Ashley picking up award for miss and t*t of the game. Only in the last quarter was Oxford able to utilise breaks and better finishing to put some distance between the sides.
.
29 Sept KO Cup Semi Final Oxford Boldmere L 10-14
Oxford lost this match by a team clearly fitter, faster and better than the home side. Oxford crowded the attack with static players, which led to lots of possession loss and the inevitable rapid counter from the youthful Boldmere side. Sam and Gabor were joint man of the match with some fine goals, but a large tally of missed chances from the team also added to the defeat.
.
22 Sept MDL Div 2 Solihull B Oxford W 11-15
How do you get a great 7 man team to play for Oxford? Easy, start with 13 available to play a few days before, see the numbers dwindle to 8 on the night and get the 8th majored out in the second quarter! Oxford made hard work of finally defeating the basement club of Division 2 and there was too much to chose from for Miss of the Match. Victory only really secured in the last quarter and on final whistle we heard Oxford would probably get walk over anyway as one of the Solihull players was first team and not eligible to play. We end season on 15 points, currently putting us on joint 2nd along with Warwick but results of other games still to come in could push us down a bit, but hopefully we finish top half of Div 2.
.
14 Sept MDL Div 2 Oxford Camp Hill W 5-0
Walk over as Camp Hill could not get team to play on the night.
7 Sept MDL Div 2 Oxford Warwick W 8-6
A welcome return to winning ways with a good result against Warwick. Man of the Match Norbert Sinka had a superb game in goal with plenty of fine saves and steals. Newbies Ed Allsopp and Andy Ewing got their first league game with the club. Oxford trailed 1-3 early on, and it was 5-5 going into the last quarter, but goals by Brett, Andy and Ed secured the 2 points.
.
24 Jul MDL Div 2 HGSOB Oxford L 18-7
Handsworth maintained their 100% home record in their very shallow pool against Oxford, who kept the pace in the beginning but the depleted squad could not last the distance.
.
18 Jul Tournament Faversham Oxford 1st
A new piece of silverware for the trophy cabinet is the first place in the Faversham Waterpolo outdoor tournament. An 8 man squad of Brett, John C, Mark, Chris, Norbert, John B, Ashley and Oxford old-boy Luke Williams nabbed the trophy by beating Warwick Uni 5-4 in the final. In the preliminary rounds, Oxford beat host Faversham 5-4 and Monson Tunbridge Wells 7-2 but lost to Warwick Uni 4-6. The Oxford team got better as the evening progressed and beat Warwick in 1-2 place final to take first place. In the other play-off, Faversham beat Monson to take 3rd place.
Pix to be posted soon.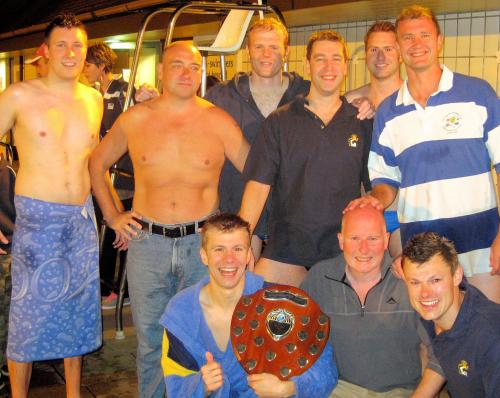 Faversham Tournament winners
.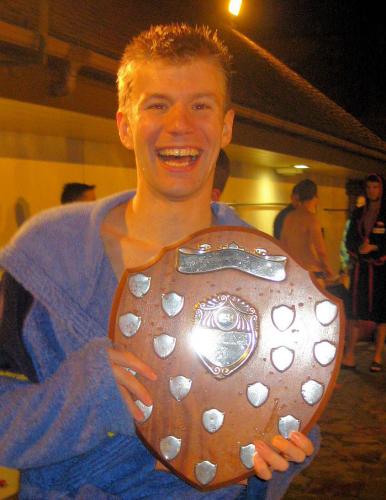 .
29 Jun MDL Div Oxford Walsall L 12-15
A string of 2 wins in a row now followed by 2 defeats in a row. This time a poor result vs a 7 man experienced side from the Midlands. Oxford always chased the game with Walsall maintaining a 1-3 goal lead throughout the game until Oxford closed the gap to one goal in the last quarter. However, both our South Africans got excluded - first Darren for throwing a wobbly at the referee and then mild-mannered Sam for alleged kicking when he was only trying to escape being squeezed by the trunks. The visitors ran out to 15-12 and overturned the home defeat they suffered to Oxford earlier in the season. Man of the match for Oxford was Hungarian boy-wonder Gabor, suprisingly still in the water at final whistle and 6 goals, while Brett clocked an award for an Appollo 11 pass across the pool in a man up. We await more match bans which is not good preparation for cup semi final.
.
22 Jun MDL Div 2 Camp Hill Oxford L 12-11
Oxford left it just a little to late to close the gap on Camp Hill - the home team lead 12-8 with less than 3 minutes to go before a late surge by Oxford closed the gap to 12-11. City will rue missed chances earlier on in the game which could have led to shared points or even a win. Sam Wells was man of the match with Chris Gurney and Reg Koster easily winning Miss and Tt of the game.
15 Jun MDL Div 2 Oxford HGSOB W 12-7
Important 2 points secured against HGSOB in a very physical game with 3 exclusions. Oxford struggled to find the target in the first 3 quarters and were chasing the game, trailing 2-4 at one point and the game level at 5-5 at the start of the final quarter. However, fitness and shot accuracy finally paid off with the home side taking the final quarter 7-2 to secure the victory. Men of the match honours shared between Brennan Nichollas (2 penalties saved!) and Chris Gurney on form with 3 crucial goals. Darren excluded in last quarter for tussle with their pit defender and Mark was on the receiving end of a punch from their holeman in the dying minutes - the latter resulted in HGSOB's second exclusion and Mark converting the penalty.
.
7 Jun MDL Div 2 Warwick Oxford W 13-14
An extremely useful 2 points in an excellent away game, but where we let a 7 goal lead in the third quarter slip to make it a nail-biting last 17 seconds when Warwick reduced our lead to one.
Darren De Bruyn, man of the match, was on fire with some great goals, but also adding to the tally with a string of goals was Sam. Brennan had a superb game in goal and saved a crucial penalty. From 4-2 and 7-3 at the end of the first and second quarter, we ran out to a 12-5 lead before the Warwick fight back. Oxford once again on the receiving end of majors (18 to us vs 5 to Warwick) which led to John B, Chris and Brett all being excluded. A great team effort with so many contributing to the one goal difference including Norby's cheeky long shot and Ashley's first quarter goal in dying second which was allowed as the whistle went with the ball in flight.
1 Jun MDL Div 2 Oxford Solihull B W 15-5
A complete turnout of all registered players, with captain Norbert kindly offering to put on his coaching cap instead of a white waterpolo one. After a reasonable start, the home side lost its way a bit with squandered chances and making hard work of it, with only a 6-4 lead by the halfway. However, improved accuracy and overall advantage of 13 players continually putting fresh players in the water lengthened the lead to a comfortable 15-5 win.
21 May MDL Div 2 Kettering Oxford L 11-5
A weakened side without some of the big shooters and without Brennan travelled up to Kettering with a 9 man squad. Oxford trailed 7-3 at half-time but steadied the defence in the second half to keep their scores down with the last quarter level. Brett was voted man of the match, Reg missed a sitter and a circus double-act with John B and Chris got them the other award.
.
18 May KO Cup Nottingham Oxford W 25-22
A great team performance by a 9 man Oxford squad making the long trek up the M1 to play a strong Division 1 Nottingham. Norbert Sinka made a guest appearance in goal with some cunning steals and fast, accurate long balls on the counter. The defence held strong in the first two quarters such that by the half way mark Nottingham had only scored 2 more goals than Oxford. Man of the Match Darren de Bruyn was on terrific accuracy and scored 7 goals, each time knocking the confidence of the home team. A shaky third quarter but some strong ball possession and 2 goals by Sam in the final quarter to give us the 3 goal lead, taking the team to the semi-final stage.
.
11 May MDL Div 2 Oxford Boldmere L 8-12
Another game where we received the lion's share of majors (17 vs 6) and ended up with 3 players wrapped. Man of the match for Oxford Chris Gurney with John Buckley getting miss of the match and Darren got the other award.
.
20 Apr MDL Div 2 Oxford Kettering D 12-12
A close game with Oxford chasing Kettering for nearly the entire game, at one point 2-5 down.
Oxford finally took the lead 12-11 with 2 minutes to go only for Kettering to equalise from a man up. Oxford had a chance to take 2 points with a man up in the last 40 seconds of the game but couldn't convert the advantage. Man of the match shared between Norbert and Chris with Miss to Darren (despite his 8 goals) and Tt to Gabor for getting majored out in his first league appearance for the club.
7 Apr MDL Div 2 Boldmere A Oxford L 13-12
A frustrating game and a missed opportunity, not helped by a lop-sided share of majors (Oxford 12, Boldmere 4) which even their coach agreed was skewed. Back to the drawing board for the next home fixture vs Kettering on Monday 20 April, where we also need to address a greater spread of goal-scorers - Darren scored 9 of our 12 goals which is a great tally but makes the team too reliant on a single Plan A. On the plus side, a hospitable pub welcome after game.
.
19 Mar MDL Div 2 Walsall Oxford W 13-15
A superb last quarter effort gave Oxford the victory by 2 late goals to secure a win in the first game in Division 2.
.
12 Mar MDL KO Cup Kettering Oxford W 15-16
Darren De Bruyn, with 8 goals and Mark Ashton men of the match and putting Oxford through to the next round of the Midland League Knock Out Cup.
.
2 March Town v Gown (mens) Oxford City Oxford Uni W 14-9
For the first time ever, City retained the Town vs Gown mens trophy with a victory over Oxford Uni at Radley pool. The game got off to a lightning start with John Cardy putting City 1-0 up 10 seconds from start, and by 2nd minute six goals had been scored and teams level at 3-3. However, a good spell in the final minutes of the first quarter and 2 goals by captain Norbert Sinka gave the home team a 7-4 lead. By half time, the lead was increased to 10-6 and it was all over by the end of the third quarter with 14-7. Uni put on a good show for the last quarter to narrow the scoreline, but a clean-shaven Sean Hotchkiss with 6 goals could not match the City boys. South Africans De Bruyn (5 goals) and Wells (2) were good for half of City's goals while newbie Ashley Keen got his first hat trick for the club. Vice captain Brennan Nicholls pulled off some "top-drawer" saves but man of the match award went to Sinka (also good for a shot that went through the "pane" barrier). Thanks to Ian Porter of Brookes for reffing the game.
SW League Tournament Weekend 24-25 Jan & 21 - 22 Mar
See League Tables page for results and final league table for SW Region 2009
12 Jan Friendly Oxford Warwick W 9-8
Achievements
2010 & 2011 Camarthen Waterpolo tournament winners
2011 Division 3 Winners Midland League
2008-11 Oxford Town vs Gown Mens Winner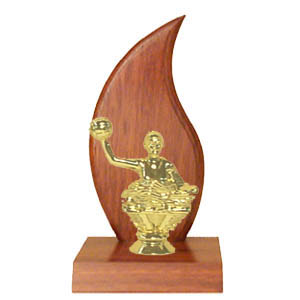 2009 Faversham Tournament Winners
2008 Midland League Div 3 Champions
2008 Southern Counties League 3rd
2008 Faversham Tournament 2nd
2005 Oxford Town vs Gown Champions
2002 Midland League Knockout Winners
2001 Midland League Knockout Winners
1997 Midland League Div 3 Champions
1995 Midland League Knockout Winners
1995 Oxford Town vs Gown Champions
1991 Birmingham League Div 2 Champions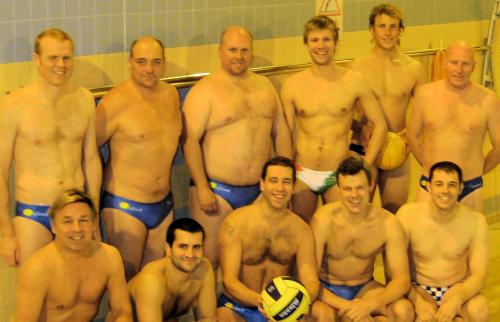 Mens Team 2008
Back Row L to R John Buckley, Brett Phipps, Brennan Nicholls, Norbert Sinka, Samuel Wells, John Cardy. Front Row Reg Koster, Jonathon Rivlin, Mark Ashton, Chris Gurney, Dave Golley.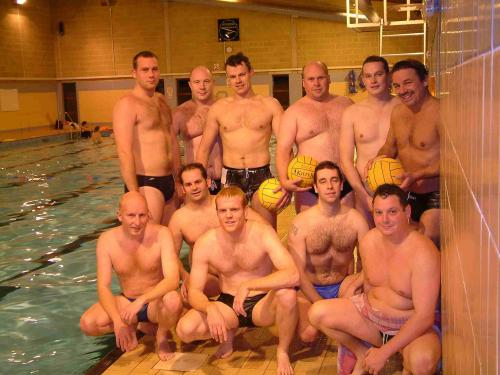 Mens Team 2004
Back L-R: Reuben Hunter, Richard Harris, Chris Gurney, Brennan Nicholls, Dean Toomey, Reg Koster Front L-R: John Cardy, Dave Eyles, John Buckley, Mark Ashton, Zsolt Kovacs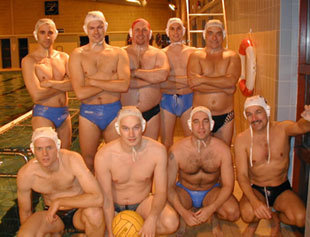 Mens Team 2001
Back Row L to R Stuart Winter, Chris Gurney, Brennan Nicholls, James Cooper, Brett Phipps Front Row: John Buckley, Dean Toomey, Mark Ashton, Reg Koster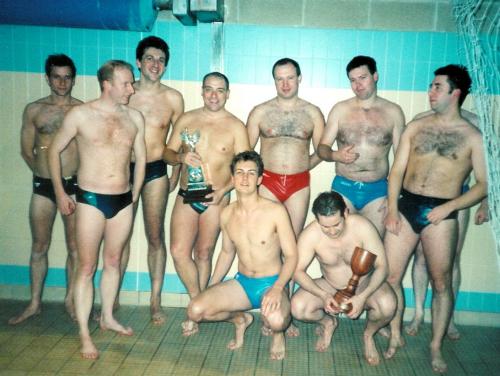 Mens team 1997
Back Row L to R Stuart Cardy, Ian Lakeman, Brett Phipps, Bob Bradley, Keith Musgrave, Mark Ashton. Front Row L to R John Cardy, Luke Schubert, Dave Eyles