Ladies Results
.
1 July Friendly Oxford City 2 - UK Army 9
Oxford ladies played a home friendly vs the Army team who ended up being just too strong for the City ladies.
.
Town v Gown Oxford Uni 18 - Oxford City 3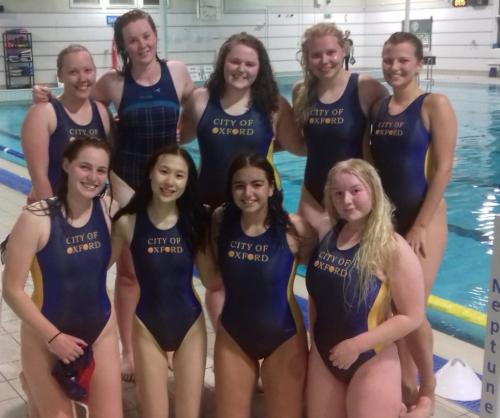 Oxford Ladies team before Town v Gown at Rosenblatt pool, Students clock their second ever win in this fixture and first one since 2009, with town taking all the rest of the game. Normal service will return in 2020.
.
Friendly 11 March 2019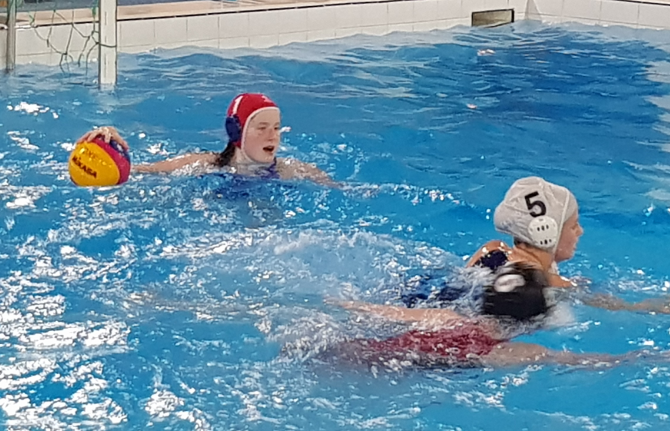 Oxford Ladies fielded a side of a bare 7 vs Basingstoke with the luxury of a sub for the first 2 quarters. The team played well and lots of encouraging moves both in attack and defence - greater accuracy of shots to the corners instead of straight to the Basingstoke goalkeeper would have increased the tally of Oxford goals significantly. Oxford got back into the game as it progressed with only one goal against in the final quarter, underlining Jess's team has the fitness and stamina. A few short clips of the game on the Oxford Water Polo FB site.
Oxford 1 - Basingstoke 9
.
Friendly 3 Feb 2019
Away friendly to Basingstoke has Oxford closing the gap compared to last fixture vs Basingstoke a few months ago.
Basingtoke 10 - Oxford 3
.
London League 2019 - second weekend (27 January)
A welcome win by the Oxford ladies in the 2 fixtures of weekend 2 of London league.
Oxford - Enfield W 8-7
Oxford - Worthing L 4-6
.
London League 2019 - first weekend (13 January)
Oxford ladies gave a good account of themselves in the first two games of 2019, losing both opening games but by a narrow margin in both.
Oxford - Watford 5-7
Oxford - Worthing 5-8
.
Oxford vs Basingstoke L 5-14 (home friendly)
Oxford ladies made use of the free pool with the men's team playing away, to host a well drilled Basingstoke team travelling up the A34. Oxford kept up with the early pace with the match level at 1-1 but shooting power of the visitors gave them a 1-5 lead to finish the first quarter. Oxford played extremely well at times and had they taken more shots on goal, the score line would have been much closer. Fitness not an issue as Oxford's best quarter was the last one, keeping that to a 2-3 margin. Goals came from Salter (not getting much of the ref's whistle in the pit), Barry and Bell with the rest of the team (Richards, Routledge, Bissiachi, Reid, Tan, Jervis and Peake-Smylie) clearly showing potential that this team can go much further as it progresses.
.
Oxford vs British Army
A rare but welcome and enjoyable double header where the ladies played their fixture before the men's on the same night, with both sides able to spectate and do the table. Oxford started well, took the lead and were level 2-2 in an evenly matched first quarter. However, the speed and shooting power of some of the Army players led to them steadily taking the lead with 3-6, 6-14 and a final 7-19 scoreline. Oxford played well against a strong physical Army team and there were some peaches of goals amongst the 7 Oxford fired into their net.
.
Town vs Gown 2018
Oxford City beat University 11-7
The town ladies avenged the thumping their male counterparts got at the hands of the students a week earlier with a resounding victory in the ladies fixture. The match was evenly contested in the early stages with Emma finding the back of the net 4 times to keep the pressure on. However, it was in the middle part of the game that Katie found her scoring arm with no less than 6 goals, and with Catherine on the score sheet as well, finishing with a 4 goal margin.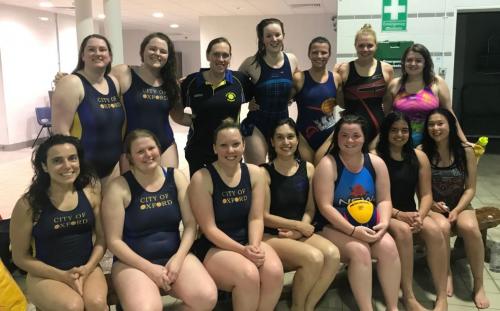 Oxford Ladies at recent TvG game.
.
.
London League 2018
.
Summer League Round 1, 29 April
Oxford - Orca L 4 - 8
Oxford - Bexley L 6 - 12
While the Oxford ladies lost both of their opening games in the summer London league, the encouraging news is that in both matches, Oxford were stronger and won the second half. Just need to start the games in the same style we finish in round 2.
.
Round 3 - Sunday 8 April
Unfortunately we lost to Enfield 9-4 (their team seemed to acquire some strong players compared to the last two sessions) and we also lost against league winners Croydon 12-1. Sadly that means we're bottom of the league despite some closely fought matches.
However, a HUGE well done to Weiyi, Libby, Ari, Maliko and Chrissie for playing brilliantly in these games. There's no better way to learn than getting stuck in and they all improved so much as the games progressed.
Ladies Summer League starts soon and can build on this.
Round 2 - Sunday 18 March @ Whitgift Pool Croydon
.
Oxford - Orca L 5-6
Oxford - Penguins D 8-8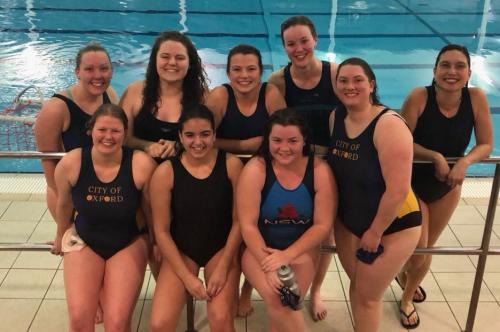 .
Round 1 Sunday 18 February @ Whitgift Pool Croydon
.
Beckenham - Oxford L 4-12
Unfortunately the traffic was so bad that Oxford ladies got there 10mins before the match and heads weren't in the first quarter. The new players played really well and Maddy was great in goal.
.
Bexley - Oxford D 5-5
Much better match where everyone played well.
.
Sunday 17 December - Friendly
Basingstoke - Oxford L 17-4
The home fixture against Basingstoke in November was a tight game - in fact one that Oxford had lead for nearly the whole match until the last minute when a late penalty cost them the win. However, the return fixture at the Aquadrome in Basingstoke a different affair with the Basingstoke student players home from university to strengthen the side. While goals from Reid and Jackson in the first quarter kept it relatively close, the home side steamed ahead from the 2nd quarter, with only goals from Richards and Williams adding to the visitor tally. Looking at the number of majors Oxford incurred (8 vs only 2 for Basingstoke), either the Oxford ladies got the wrong end of the ref's whistle or they have been copying Alberto's moves!
.
Monday 27 November - Friendly
Oxford - Basingstoke L 9-10
A 12 woman-team turned up for our first friendly game of the season. It was a tight game and the teams were very equally matched. Oxford city lead the score until an unfortunate penalty 50 seconds before the end of the match. It was a good opportunity to get used to playing as a team as we have five new members, three of which had never played a water polo match before. All new members did a great job, and it will be nice to grow as a team over the rest of the season. The goals were scored by Ceri (5), Emma (3) and Jess (1). Weiyi did an amazing job in the defence; especially in light of it being her first ever game of water polo.
.
.
Sunday 16 July London League
Oxford - Bexley 5-8
Oxford - Croydon 4-17
.
Wed 24 May Town v Gown Oxford University - Oxford City W 9-13
A closely fought game where the students pressurised hard throughout but town won.
.
Sunday 21 May London League
Oxford - Orca Won 10-8
Oxford - Bexley Won 13-4 (but officially draw as agreed to draw as no ref)
.
Saturday 29 April 17 - Oxford Ladies win Matlock Tournament
Oxford - Leander 11-6
Oxford - Matlock 13-2
Oxford - Sheffield 9-5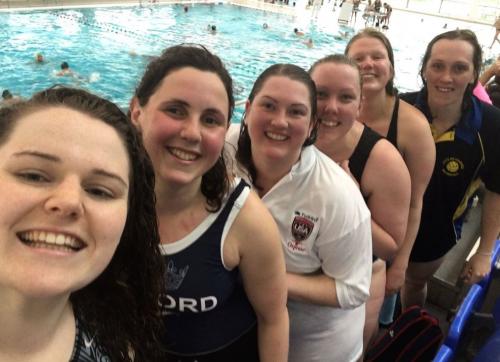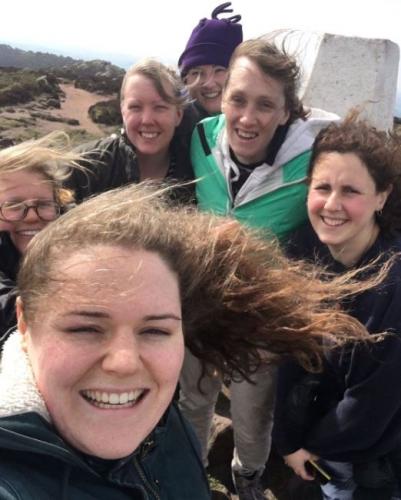 Victorious team poolside in Matlock Windswept walk in Derby Dales on Sunday
.
Sunday 12 March 17 - London League #3
Oxford beat Orca 11-6 and finish 3rd overall in London League 2017
.
Sunday 22 January 17 London League Tournament #1
Oxford - Bexley WIN
Oxford - Orca WIN
Oxford - Beckenham LOST
.
Monday 28 November Friendly Oxford City - Oxford University W 11-5
match report to follow
.
Monday 17 October Friendly Oxford - Basingstoke W 11-10
A wonderful experience for the Oxford Ladies in a friendly match against Basingstoke, with final score 11-10 for Oxford. The ladies started by winning the first quarter, with good attack and tight press defence. They lost the second quarter but they never lost confidence and kept giving it all throughout the game, with a winning high-intensity final quarter. The alternating goal keepers Nora, Emma, Salome and Kate did an excellent job, and we witnessed some spectacular goals from Ceri (with a perfect lob) , Emma, Salome and others. Special mention goes to Catherine for a really good goal! This victory leaves the Oxford ladies inspired and motivated for the season to come. Well done ladies!
.
Sunday 12 June London League
Well played to the Oxford ladies at the London League tournament. The first match was a tough one against Croydon which ended with a 15-6 loss for Oxford. Nora did a great job in goal, with Emma and Lianne scoring amazing long distance goals, and Kate elegantly scoring from short distance. Emma's goal from half way at the last second of the first half was something spectacular. Great work from Catherine in pit!
The ladies won the second match against the Orchas 4-3 with Lianne and Emma scoring the goals, and lost the last match 10-1 against the much stronger team Beckenham, although the team played well, especially in defence.
A great experience overall!
.
Friday 13 May Town vs Gown Oxford City - Oxford University W 6-5
match report and pix to follow
.
Sunday 24 April
.
Oxford - Croydon W 12-4
Oxford - London Orcas W 10-3
Two victories for the ladies at the first day of the London summer league against Croydon and London Orcas with final scores 12-4 and 10-3. The ladies showed skill, commitment and determination. The games were dynamic with lots of drives and strong press defence. Special mention for Cecily's first goal for city of Oxford and Nora for saving two penalties as goalkeeper.
.
Mon 7 Dec Oxford - Ealing L 6-19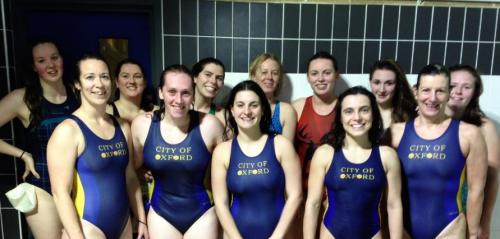 Back row L-R: Emma, Catherine, Ana, Ruth, Vicky, Abby, Cecily
Front row L-R: Lianne, Ceri, Charlene, Paola, Antonia
.
A spirited performance by Oxford with lots of new recruits against an experienced and well-drilled Ealing. The visitors stormed to a 0-5 lead but Oxford responded well with their best spell at the end of first quarter and early second quarter coming back to 3-5. After that Ealing slowly put distance between them and Oxford. Captain Ceri got a hattrick for the home team with other goals coming from Antonia, Catherine and Lianne. Oxford missed a few experienced players such as Alicia, Kate and Phoebe but the 2016m season looks promising in terms of quality and quantity of players.
.
Tues 1 Dec Ealing - Oxford L 14-4
.
Mon 23 Nov 2015 Oxford - Basingstoke L 6-11
A fantastic turnout by the rejuvenated ladies team fielding no less than 13 players vs the experienced Basingstoke team. Some wonderful goals by the Oxford ladies and good marking limiting the goals against by Basingstoke. A promising return to form by Oxford Ladies with new additions.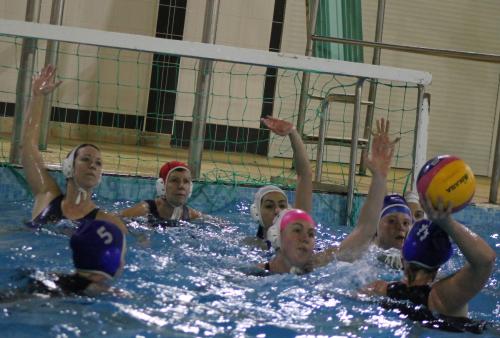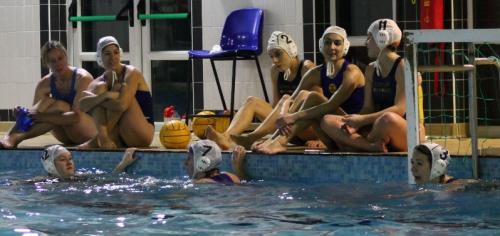 Action shots from Ladies Game v Basingstoke. More pix on City of Oxford Waterpolo FB site
.
Mon 8 Jun 2015 Oxford City - Oxford University W 8-5
match report to follow
.
Mon 2 Mar 2015 Oxford - South Derbyshire W 9-3
report to follow
.
Mon 9 Feb 2015 Oxford - Coventry L 3-14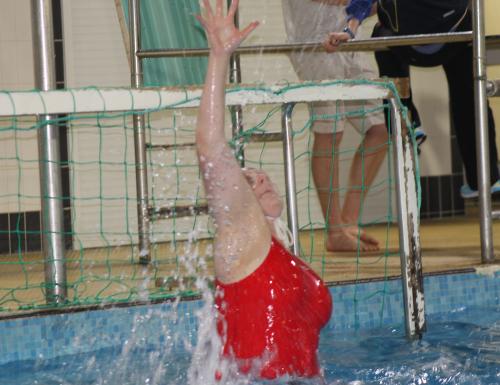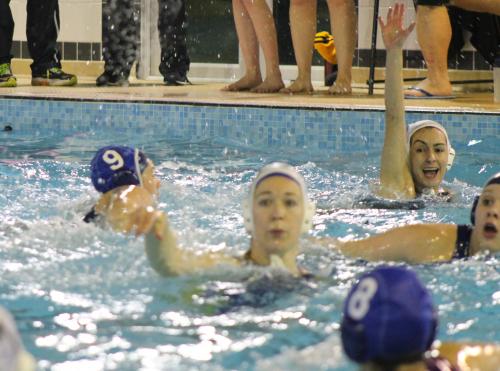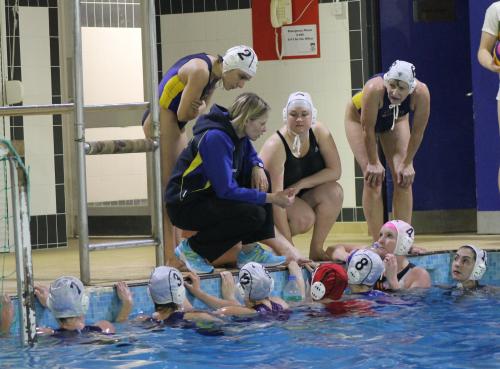 Super save from Lou Who is free? Latino Jo! Mac gives the team instructions
.
More action pix on club Facebook site
.
Mon 5 Jan 2015 - South Derby v Oxford L 11-9
Oxford did the long trek up the motorway to play South Derby with a bare 7 (well, you know what I mean). The visitors played extremely well matching the strong Derby side with 4 substitutes right to the last quarter when the effort without subs took its toll. Still a strong performance from Oxford.
.
Mon 15 Dec 2014 Oxford - Boldmere L 3-6
Oxford ladies played an experience but small squad of just 7 players from Boldmere. The home side kept pace with the visitors for the first half with the game level at 3-3 after 2 quarters and only a 3-4 lead for the Boldmere ladies going into the 4th quarter. However, the experience of the Birmingham ladies just gave them the edge, but overall good performance from Oxford with many new players in the squad.
.
Mon 10 Nov 2014 Oxford - Warley L 8-15
match report to follow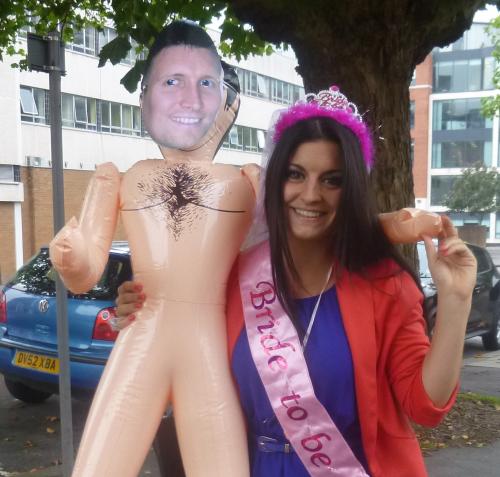 Charlene with "Ash" on Ladies WP hen night
London League- 13th July, Croydon

Basingstoke 4 Oxford 4

Oxford started their London League campaign against Basingstoke. Oxford were a bit slow out of the blocks and hadn't quite woken up from the hot journey around the M25. The 1st quarter saw Basingstoke take a 3-1 lead. After waking up and tightening up defence Oxford led 4-3 at half time after some nice goals in pit from Ceri and a man-up scored from the post. Due to poor scheduling the Refs then announced there would only be one more quarter! A final tight "3rd"ended the match at 4-4.
Goals- Ceri-2, Lianne-1, Ant-1
Swim offs won- Alicia-2
Majors- Lianne-1, Rose-1

Penguin 8 Oxford 3

The second match of the tournament was against Penguin who look like the strongest and most experienced team in the division. After all our super coaching from Mac in training, we decided we would play a drop on pit and despite the score line it paved off. Kate, under instruction from Ceri, did a super job in pit defence against a couple of very good centre forwards and Lou, consistent as ever, made some great saves. Oxford managed to sneak in some cheeky goals from Ceri in pit and a shot off 5m. Whilst the score line was never that close, we kept to our game plan and put into practice all that training. Special mentions for Charlene losing her Major cherry and Ceri stunning the opposition with a her speed in the swim off.

Goals- Ceri-2 Lianne-1
Swim offs won- Ceri- 1
Majors- Charlene

Players of the Matches- Lou "Super Goalie" Fuller, Kate"I am a wall in defence" Walters
Special Thanks - to Phil"Mr Ant"Smith and Ant for helping with the Refereeing.
Sun 18 May 2014 Town v Gown Uni -City W 4-9
Oxford ladies started like Arsenal in the FA Cup final i.e. slowly but eventually turned it round to win comfortably 9-4. Report to follow.
.
Sun 2 March 2014 Hucknall - Oxford L 22-4
Rose's summary was entirely accurate. We were slightly trounced by a much better team!
Final Score was 22-4. Goal scorers were Alicia-2, Jonesy-1 and Paola-1. Major Queens were Alicia-3 , Lianne-2 and Nats-2.
Joint players of the match were Rose and Paola. Rose did a fab job on her debut in goal for Oxford! Paola scored a cracking goal from a nice drive.
Tit of the match was decided by remains anonymous. Final home game is Mon 10th March.
Some pix below from recent ladies game!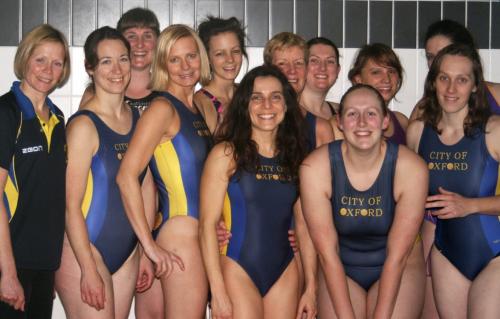 .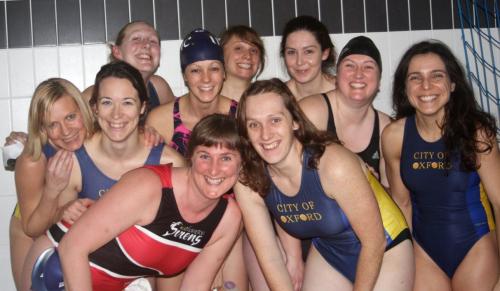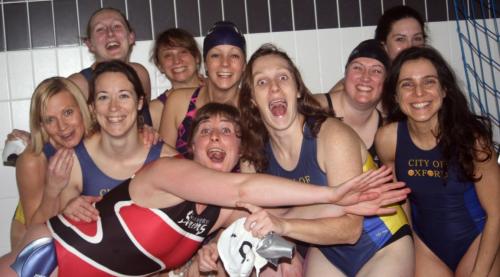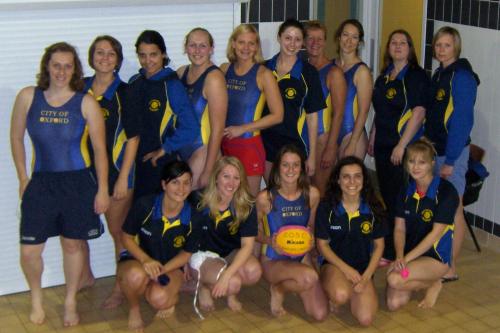 Back row, L to R: Ceri Williams, Laura Highton, Gaby Porter, Louise Fuller, Nats Smith, Kate Walters, Ant Glynne-Jones, Lianne Castle, Catherine Routledge, Mac Smith
Front row, L to R: Charlene Harris, Helen Cook, Jo Sage, Paola Bisicchia, Natalie Betteridge
Missing: Charlotte Jones, Becky Farrands
Mon 24 February 2014 Oxford - Boldmere L 3-10
Oxford ladies kept it close with Boldmere until late in the 3rd period with the score at 3-4. However,
the tiredness set in and Boldmere had a late spell of scoring on the break and pulled away to win comfortably. Goals from Oxford came from Phoebe and "Go-go Latinojo" (2)
.
Mon 3 February 2014 Oxford - Coventry L 7-15
A massive improvement for the Oxford ladies in their home match against Coventry. The final score line was 15-7 to Coventry, which are much better numbers compared to the previous match at Coventry. Most importantly, the quality of the game has stepped up, with the ladies keeping an effective press defence throughout the game, and a determined attitude in attack. After suffering a few goals in the first quarter because of fast breaks from Coventry, the ladies gained awareness thanks to Mac's guidance and focused on fast defence as well as a more dynamic game in attack. 3 goals were scored by Alicia, 3 by Ceri and one by Ant. Well played Oxford ladies!
Wed 29 January 2014 Warley - Oxford L 21-6
A very tough game for the Oxford ladies in Warley. Despite the final score of 21-6 for Warley, the ladies returned home pleased at the quality of their game, at the team spirit, and at the effort shown by all players, who gave their best from the first quarter until the end.
The ladies had to face a much more experienced team, having no substitutes and playing in an unfamiliar narrow pool with a shallow end, which they are not used to. With these conditions, the ladies played a good first quarter, with a 1st quarter score of 5-3 for Warley, and maintained a very good quality game throughout the match. The 6 goals were scored by Alicia (3 goals) and Natalie (3 goals of which one was a penalty). Player of the game is Paola for having played a good full match, and Tit of the game goes to Becky for a hospital pass during a two-man up. Well played Oxford ladies!
.
Mon 20 January 2014 South Derbyshire - Oxford W 3-7
Exceptionally well played by everyone - a thoroughly brilliant game and an even better score!!
Putting into practice lots of stuff we've been doing in training recently: drop on the pit, press no foul in defence (despite Nats getting 3 majors.....so violent a streak), lots of good wings, some lovely shots, excellent speedy swimming to avoid any counters, superb man-up and man-down play & generally lots of dedication and determination.
Monday 13 January 2014 Oxford-Worcester W 9-6
Big turnaround from the earlier match when Oxford lost 13-1 to Worcester. This time the marking of the pit players was spot on and shared by all including Antonia and Lianne. Goals came from many on the counter with long distance goals from Lianne and Nats while Latino Jo showed the team found a replacement to fill the loss of Lancashire Jo's scoring ability.
.
Wednesday 13 November Coventry - Oxford L 18-1
Another challenging game for the Oxford ladies against the feisty Coventry team!
With 9 players on the team, the ladies played a good match, keeping their cool through the game despite the rather aggressive and often "grabby" attitude of the opponents.
Although the defence was challenging, with many of the goals conceded on fast breaks, the attack improved throughout the match, with the ladies determined to play their game regardless of the score line.
Mac's hard work in coaching the team during the weeks preceding the match paid off when the ladies applied the tactics learned during training while setting up the arc and when playing man up and man down, with at least 2 goals saved defending man down.
The team also won all the swim offs, quite an achievement against a generally much faster team.
The final score was 18-1, with Alicia Perez, our newest team member, scoring a beautiful goal, earning her "player of the match".
Tit of the match goes to Antonia for a lob that did not quite reach the target.
Well played Oxford ladies!!
Sunday 3rd Nov Worcester 13- City of Oxford 1

Oxford started their Midland League season with an away match at Worcester. The match started well- with Lou turning up on time. She cunningly adverted a repeat of last seasons 1st half "missing in action" crisis by travelling to the pool with the opposition.
Oxford were a bit low on team members with precisely 0 substitutes which led to everyone getting plenty of swimming practice. Despite defending well, lack of experience with a shallow end goal meant that Oxford had trouble getting goals in the back of the net. Special mention for Phoebe for scoring a lovely goal despite suffering a hangover and Lou for saving a dodgy penalty awarded to the opposition.

Match Stats
Goal Grabbers: Phoebe 1
Man of the Match: Phoebe for the only goal…
Tit of the Match: Alicia for never really getting used to the shallow end and those standing shots
Portions of Chips eaten on the way home: 3 (although Ash and Charlene went for "posh dinner" at the golden arches…)
Mary Berry award for best cake: Louise

Monday 4th Nov City of Oxford 8- Warley 16

Oxford started well in their second match of the season. A rejuvenated team faced Warley after only playing Worcester the previous day.
With a full squad Oxford took advantage of early scoring opportunities to end the 1st quarter on 6-8. Warley were a strong team with some excellent shooters and the 2nd and 3rd quarters saw Oxford shots go a little off target before a final rally to score 2 more goals in the last quarter.
Particular highlights were Alicia scoring her first goal for the team, Phoebe scoring a sneaky man-up goal and Ant confusing the 30 second bell for the last minute bell, letting rip with a fantastic shot only to be sent out….
Despite losing, some good play and lots to work on for the season.

Match Stats
Goal Grabbers: Antonia 2, Lianne 2, Phoebe 2, Nats 1, Alicia 1
Man of the Match: Louise for top class saves
Tit of the match: Ant for being convinced the last minute bell had sounded in the 3rd quarter.
Mon 28 October Friendly Oxford City vs Oxford Uni W 17-2
A confidence booster for the ladies team before the start of the Midland League.
.
London League Tournament #3 2013 - 21 July
Oxford v Southampton 4-3, Oxford v Chelmsford 0-2, Oxford v Iceni 5-0
A meagre 7.5 players made it down to Croydon for the last of the London Summer League tournaments. 7.5 as injured coach Mac wasn't sure about her injured back holding out for all the matches...
Oxfords first match was versus Southampton, Oxford were reassured by Southampton's similar lack of players but knew they were in for a tough match against a team that had played in last season's national league. Oxford opened the scoring with a nice goal straight off from Mac "ow my back" Smith. From then on the teams were evenly matched with Oxford leading 2-1 at half time. The second half saw a nice penalty from Nats and a goal from Ant but Southampton managed to even things up with the score 3-3 going into the last minute. Oxford had one last attack at goal and a rebound from the post saw Phoebe rush at goal and manage a last minute flick into the back of the net just before the whistle to give Oxford a 4-3 win.
Next up were Chelmsford who were currently topping the division. In a tough match Oxford defended well. Chelmsford made all their play off a strong centre forward, Oxford quickly adapted to this and dropped well on to pit to quickly shut down a lot of attacks. Lou made some great saves off outside shots, however, Chelmsford's centre forward was a bit too strong and Oxford lost 0-2.
Oxford's final match was against Iceni with Kate Walters treacherously playing for the opposition. A poor choice on Kate's part as Oxford thumped Iceni 5-0. Highlights were: Charlene scoring a storming goal from outside 5m (only to have it disallowed due to prolonged faffing from Mac running the clock down...), Phoebe and Lianne nailing all that 4-2 man up practice to score off a post shot and Nats scoring off a nice break.
Match Stats
Man of the Matches- Phoebe- nice last gasp goal, Catherine- good work in defence, Charlene- cracking goal
Goal Grabbers- Nats-3, Lianne-2, Mac-2, Phoebe-1, Ant-1
Traitors-1(Kate Walters), Supporters-1, Swim offs won- 4/6- not as good as Mrs Ibbotson....
Oxford finish the league 3rd in the division.
London League Tournament #1 2013 - 12 May
A positive experience for the ladies on the first day of the London League Tournament.
With only one sub and missing some of the strongest players of the team and an official goalie, the ladies kept a fast pace throughout the day, which consisted of only 2 of the 3 scheduled matches, since the game against Ealing was cancelled (and hence won on paper!).
On the first match against Iceni, Oxford lost 2-4, with Helen and Jo scoring the 2 goals during a well balanced game. More challenging was the match against Southampton, with Oxford losing 1-9 (jo scored again for us!).
Despite the challenging matches against stronger teams, the ladies never lost spirit and stayed determined to give their best, thanks to the encouraging words and positive attitude of our coach for the day, Ashley Keen (thank you Ash!!)
Special praise goes to Laura and Emma, who did a very good job standing as goalies, to Jo winning every single swim off, to Phoebe and Emma for excellent play in attack on the match against Southampton, and to Laura and Jo, players of the match for the first and second match respectively.
Special thanks to Ash for coaching and lots of love to Laura who came to play with us from her new home in Nottingham!
.
Monday 25 March Oxford - Worcester 7-7
The final Midland League match for Oxford Ladies turned out to be a nail biter. Oxford played Worcester at home hoping that a home game and a pool with two deep ends would give them an advantage in their last match. It was a tightly matched contest with Oxford failing to convert their early Extra-Man opportunities leaving them trailing at half time. There certainly plenty of shots on goal but unfortunately a lot of them hit the woodwork.
The start of the second half saw Oxford defending well by dropping onto Worcester's pit player and two nice Man up goals from Ant and Jo. Oxford went into the final quarter a goal down and after an inspiring talk from Coach Mac scored two goals to take a 7-6 lead with 2 minutes remaining. It wasn't enough, however, with Worcester sneaking a last minute goal to end the game on a draw.
.
Match Stats:
Goal Grabbers: Jo-3, Lianne-2, Nats-1, Ant-1
Man of the Match: Charlene- good play and a nice shot on goal.
Swim Offs won: 4/4 by Mrs Ibbotson again!
.

Thursday 7th March Hucknall v Oxford 9-2

After Monday's battering a slightly fatigued Oxford took on Hucknall. The drive up to Nottingham certainly showed with a sluggish Oxford starting slowly. Hucknall took full advantage and scored off counter attacks easily to take the lead at half time 6-1. Oxford's first goal came off another lovely assist from Catherine. There were plenty more attempts at goal from Oxford but unfortunately, with a scoring rate worse than Dave Golley's with the women's team, not many of them were converted onto paper.The second half saw some fantastic saves from Lou in goal and one further goal from Lianne. Mrs Laura Highton also made special appearance, turning out for City and putting in a fine performance.

Match Stats:
Goal Grabbers: Lianne-1, Nats-1
Man of the Match- Lou- awesome saves in goal
Tit of the Match: Ant and Helen for showing the crowd theirs
Number of eyes gouged: 2
Portions of Chips on way home: 3
.
Mon 4 Mar MDL Oxford-Coventry B L 5-15
Oxford took on Coventry B in a tough and sometimes bruising home match. All of Oxford's Coventry matches this year have been hard work against a side which finished 4th in the UK National League. Coventry led from the start with better reaction times allowing them to counter attack and work Lou hard in goal. At half-time the score was 7-2 to Coventry with Oxfords goals coming from Lianne and Helen. The third quarter saw Oxford put a few more on the score sheet with a lovely goal set up by Catherine. There were multiple exclusions for both sides as things got a bit feisty but Oxford failed to take advantage of their man-up opportunities.
Final score was 15-5, which is an improved score line from our last meeting.

Match Stats
Goal Grabbers: Helen-2, Lianne-2, Antonia-1
Swim Offs won- 4/4- Mrs Ibbotson continues her clean sweep- can she make it 3 matches in a row?
Man of the Match- Catherine for her assist on goal
Bruises sustained- too many to count - Images to follow...
.
Tues 26 Feb MDL Boldmere - Oxford W 6-13
Oxford traveled to face Boldmere away. In what is becoming standard protocol, Oxford got off to a sluggish start. The half time score was 5-4 to Oxford, which included 2 nice goals from Charlotte, returning to the fold from her sabbatical op north, and a penalty from Lianne. Mac decided to come out of retirement in the third quarter helping Oxford score 7 goals in one quarter and turn the match around. The final score is up for debate. Boldmere's table couldn't quite get the match sheet to add up and seemed reluctant to count penalties as goals but Oxford were happy with a win.

Match Stats
Goal Grabbers: Mac 4, Charlotte 3, Jo 3, Lianne 2, Phoebe 1
Major Queens: Jo 1, Phoebe 1
Swim offs won- Jo 4/4 (Mrs Ibbotson finally achieves a clean sweep)
Tit of the match: (self selected) Nats contender for "SpecSavers Goal Misser of the Year Award"
.
Sat 23 Feb Towv v Gown Oxford University v Oxford City W 4-5
Oxford City put on a steady display to continue their run of Town v Gown wins. City took an early lead, with the score 4-1 at the end of the first quarter, and then struggled to beat Oxford Uni's excellent goalkeeper to extend the score line. Despite multiple shots at goal, the City team couldn't find the back of the net and allowed the University team to almost level the score. Thankfully steady defending allowed City a slightly laboured win.

Match Stats
Goal Grabbers: Mac-3, Lianne-1, Phoebe-1.
Man of the Match- Phoebe for turning up to play before a night shift.
Goal Keepers lost to "cheerleading contest": 1
Portions of G&D ice-cream consumed post match: >6
.
Sun 10 Feb Worcester - Oxford L 11-5
Oxford visited Worcester away at their shallow end pool. A bit of a sluggish start from Oxford allowed Worcester to make a head start scoring 4 goals against the deep end, whilst Oxford struggled to get the hang of attacking a shallow end. Oxford managed to wake up in the second quarter with a sneaky lob from Lianne on the arc and Ant pulling off a few gazelle like leaps to save shots in the shallow end. The momentum continued with Mac coming out of retirement in the 3rd quarter to assist in defence and Jo scoring a nice goal in the shallow end. Sadly it wasn't enough and, despite a goal from nearly newbie Phoebe, Worcester were eventual 11-5 winners.
Match Stats:
Goal Grabbers: Ant-1, Phoebe-1, Nat-1, Lianne-1, Jo-1
Major Queens: Jo-2 (all in the 1st quarter!), Phoebe- 1
Swim offs won: Jo 3/4 (allegedly distracted by Ant faffing)
Man of the Match: Mac for coming out of retirement and surviving with dodgy shoulder intact
Portions of Chips eaten in snow on way home: 3
Lost Players: 1
.
Mon 28 Jan Oxford 3 - Coventry A 18
Oxford hosted Coventry A at home for what was predicted to be a tough match. Coventry are a strong side that recently finished forth nationally and a previous away match in Coventry had been hard work!
Oxford tried hard but Coventry were the more experienced side and easily led through out the match. The team improved from their previous meeting shutting down Coventry on some of the breaks with some nice covering. Dropping on pit led to some nice steals.
Coventry were run away winners at 18-3 but Oxford were pleased with an improved score line compared to their last meeting,
Match Stats
Top Scorers: Antonia 1, Jo 1, Nats 1
Man of the Match: Jo- 3/3 on the swim offs and a sneaky goal
.
Mon 21 Jan Oxfordy City 12 - Oxford University 3
Oxford City ventured out into the snow and ice to take on the University girls and secure their first win of 2013 with a decisive 12-3 victory.
Despite Jo uncharacteristically losing the swim-off, City took the lead from the outset and never looked back. Goals came from several players with Nats, freshly off her crutches, putting 6 past the goalie. Jo also took some powerful shots and claimed 4, whilst new player Paola completed a fantastic swim up the pool to get on the score sheet.
There was also a very welcome return to the water for coach Mac, jumping in and almost immediately demonstrating how it should be done – scoring an excellent goal.
The Uni team had their share of attacks and shots, but were unlucky in their shooting, and prevented from scoring further by some fine saves from Louise.
This friendly match was a good opportunity to practice some of the core tactics needed for our on-going leagues matches, and City's new recruits enjoyed an excellent game and good defensive play, demonstrating the improvements we are making as a team.
Player of the Match was awarded jointly to Mac (for getting in the water) and Charlotte (for turning up). Tit went to Lianne for choosing to play for the opposition.
It looks good for the Town v Gown taking place next month, can the City girls claim victory 4 years in a row?
.
Mon 14 Jan South Derbyshire v Oxford L 11-5
10 players braved the snow for a trip to South Derbyshire without top coach Mac. It was a good match for Oxford against one of the more experienced teams in the League. The first 2 quarters were a little slow with oxford struggling to score on a shallow end goal that the home team were obviously well used to. Things livened up in the second half with Antonia showing us all how it should be done. After all, if you want to score you've got to shoot at the goal! Derby were a bit slow to spot this tactic so she repeated it a few more times just for good measure.
Other highlights were a fantastic underwater shot from Helen, Jo winning 3 out of 4 swim offs again (when will she manage a clean sweep?) and Lou continuing to keep her mojo intact with a fantastic lob save- a save so good even the opposing coach congratulated her after the game on her fine match performance!
Oxford were eventual 11-5 losers but a much improved score line than our previous meeting.

Match Stats:
Top Goal Scorers: Antonia-3, Helen-1, Nats-1
Major Queens: Nats-1, Kate-1, Paola-1
Man of the match: Antonia- cracking hat-trick....
Tit of the match: Nats for once again trying to lull the opposition into a false sense of security by turning up on pool side on crutches, in a swimming costume....
.
Wed 9 Jan Coventry B v Oxford L 21-9
A team of ten Oxford Ladies made it through the fog to take on Coventry for a second time this season. The last match featured a high score line and a lot of bruising from a team who are currently ranked 4th nationally and Oxford were keen to improve the scores a little.

The game started well with Jo"speedy"Sage winning the swim off. Oxford then quickly forced Coventry onto the backfoot by almost immediately winning a man-up which was converted by Jo (with the assistance of a Coventry defenders arm) to put Oxford on the score sheet first.

It was a tough match against a side with 7 GB junior players. All the team played well but Coventry had the better speed and reaction time forcing Louise to work hard in goal making some fantastic one on one saves. The team managed some good play in front of the goal drawing 2 penalties and 6 exclusions setting up some nice goals but it wasn't quite enough to match Coventry's speed and the final score was 21-9

Match Stats
Top Goal Scorers: Jo-3, Helen-3, Nats-2, Lianne-1
Major Queens: Nats and Catherine
Penalties: 2 out of 2 (better than an England Football team)
Man of Match: Lou for finally getting her Mojo back and saving a lob
Tit of the Match: Natalie's Tit for making an unscheduled appearance (repeat appearance at next home match on request)
.
Mon 3 Dec Oxford vs Boldmere W 9-8
So good, it deserved two match reports!
Today I watched a seriously good match at the Radley pool. Oxford dominated from the beginning with 4 goals to 1 after the first quarter. Jo Sage's two goals were exquisite, Natalie Smith (3) and Helen Cook (1) both scored fabulous goals that made the girls on the bench cheer with excitement. In the second quarter Oxford continued to give a masterclass scoring 3 more goals while preventing Boldmedere from scoring any. The defence was impeccable. The three goals of Oxford were scored by a merciless Helen Cook who looked on fire today, one goal was scored by Lianne Castle with one of her witty shots and the third goal of the second quarter came from the hands of our Italian import Paola Bisicchia. In the third and fourth quarter Oxford didn't look as organised and productive as they only scored two goals in the whole of the second half. Meanwhile the brave and sub-less Boldmere ladies didn't give up and perseverance paid off as they made a scary recovery scoring 6 goals, 3 in each remaining quarter. It was nerve-wrecking to watch as the Oxford ladies fought to win 9 - 8. It was a pretty clean match. However, Oxford ladies had 7 major fouls. Joe Sage didn't seem to have enough just scoring goals, she defended with rigour but her passion took the best of her twice when she was sent out. Laura Highton was also prolific in the major fouls department with two of her own. Three more major happened at the hands of Helen Cook, Lianne (pointy elbows) Castle and our Venezuelan, Gabriela Porter.
I would like to praise Oxford's brilliant goalie Louise Fuller, she was always very focused and keeping the ladies on their toes. Also, there are some really interesting new players who seem very hands on and I know they will be a great asset for the Oxford team.
At the end of the match, I heard the highly regarded coach Mac Smith giving her ladies many compliments I haven't heard her use before. She looked proud and relieved. Well done Oxford! I look forward to seeing you play again soon.
G. Porter
In preparation for Sunday's Santa sprint Oxford ladies fielded a full team of crack Santa trainees against the might of Boldmere. The team featuring a few old Santa water polo hands, some budding new Santa water polo wannabes and a one legged Santa on crutches started well with an exclusion from Lianne 'drown em' Castle. Things quickly improved from here on with the Oxford Santas scoring 7 goals to Boldmeres 2 by half time. After an inspiring half time talk from top Santa coach Mac the team decided to rest a little in preparation for Sundays sprint and Christmas meal. Highlights during the 2nd half were Paola swimming into the goal post and Nats 'hoppity' Smith swimming the entire length of the pool and scoring a lovely push shot goal only for it to be disallowed.
Final score: 9-8 to Oxford.
Man ups scored: 3 out of 3
Man and Tit of the match: Nats
Tit 2: Paula
L. Castle
.
Wed 14 Nov Coventry v Oxford City L 2-24
This was the second match for the season for the Oxford Ladies - a very tough game against very experienced and aggressive side. The final score was 24-2 to Coventry, but the Oxford ladies played a good game, giving 100% and sparing no effort in a pool which was much larger than the one they are used to. Our goalie Louise saved a number of very hard shots, and the amazing Antonia, player of the match, scored our two goals. An impressive performance from the beginner players, who after only 6 training sessions played a full game with good awareness. Encouraging words from coach Mac kept the ladies focused and strong in defense, and although they lacked confidence in attack, it was a good opportunity to practice and grow as a team. Player of the match: Antonia for scoring two beautiful goals and for an excellent game. Tit of the match: Paola for kindly passing the ball right to the opponents. Well played everyone!!
.
Mon 22 Oct Oxford City v South Derbyshire L 5-16
.
The ladies had their first match of the season. The final score was 16-5 to SD but, by no means, this score is shadowing the great enthusiasm and team work of the Oxford Ladies. They were proud to introduce to the league their latest recruits who all gave it their all to help to make a good start to the season. The five goals were beautifully converted by Antonia who scored two seriously crafty goals, Jo who scored another two majestic goals and Ceri who, on a rather unsuccessful night (for her standards, of course!), scored one of her unstoppable goals. It was a tough and experienced opponent for the Oxford young team but it seems the hard work of their inspiring coach Mac Smith and their multi-talented captain Nats Smith will pay dividends this season. As usual, on match days, Oxford City had the always welcome support of Ash Keen, new Oxford Uni's ladies coach. Overall, the team looked harmonious and it is pretty hard to believe how good those ladies look with the ever so unflattering water polo hats. I am looking forward to seeing this team progress and giving some surprises this season. G. Porter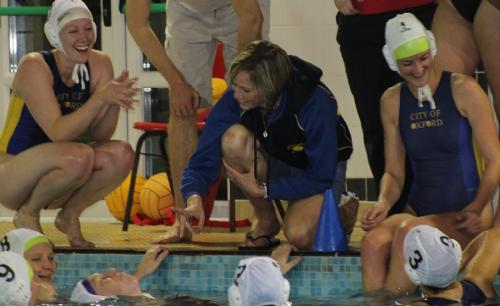 .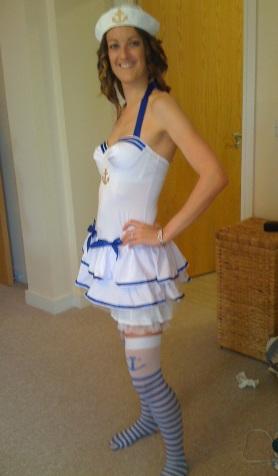 Hello Sailor! - Jo Sage models latest Oxford Waterpolo ladies cozzy for new season.
Mon 11 May Oxford vs Worcester L 6-13
A friendly match at Oxford. Oxford kept the pace with Worcester for 2 quarters but the quicker breaks and better shooting of the visitors let them run out to an easy win.
.
Wed 9 May - Oxford City vs Radley Boys L 8-12
In a close-run game where Oxford were unfortunately only able to field 6 players due to illness and other commitments, we lost 8-12 to a very feisty 13-strong Radley schoolboys team (although they were mostly more men than boys!). It was a very physical match & tested our strength and endurance. With some superb goals from a confident Ceri and consistent solid play from all Oxford girls, we were able to hold our own and keep the scoreline respectable. Good practice for some of our more physical Midland league games.
.
Wed 2nd May Town vs Gown Oxford University - Oxford City W 1-14
Oxford City held onto a convincing lead right from the start, with brilliant and inspired play from all players. The gown team were no match for the town's fitness and awareness and only snuck in a cheeky goal towards the end of the final quarter. Thanks again to our superb coach, Ash for leading us to this emphatic victory. Oxford City hold on to the Town vs Gown trophy for the 3rd year in a row.
.
Mon 16th Mar Friendly Oxford-Southampton L 4-10
A tough game vs a skillful Southampton side who gave a true full bath press leaving no luxury of any time on the ball without pressure for the home side. Oxford were without Killer Jo or Savvy Mac due to injuries, but they showed they could match the visitors at times with both the 1st and 3rd quarters level. Shooting let Oxford down with far too many clear chances hitting woodwork or simply not converted to goals. The man up (woman up?) set ups looked good for Oxford and a useful session before TvG.
.
Sun 4th Mar MDL Worcester - Oxford D 6-6
Oxford ladies completed their last Midland League fixture for 2011-12 at Worcester with a hard fought draw. The team were missing their top scorers Nats and Mac (Mac currently ranked 4th in Midland league tables for top scorers in the division) but saw goals coming from other players such as Antonia (always good for at least one goal a game) and Killer Cook (a fine brace of goals). The team will now focus on friendles, TvG and tournaments until the start of next Midland League season in the autumn.
.
Mon 27th Feb MDL South Derbyshire-Oxford L 10-5
The score line doesn't do justice to tremendous play from our 8 players - in fact, had the game finished at half-time it would have been a 3-3 draw. However, we lost out to the longer and stronger South Derbyshire side with 6 subs compared to our only 1, and this took its toll in the second half. Great play from everyone from Oxford though and bodes well for our final Midland league game against Worcester on Sunday.
.
Mon 30 Jan MDL Oxford-Coventry L 6-10
Oxford ladies lose to league leaders Coventry.
.

No, this is not Movember month initiative which went on too long, but 4 of our
ladies waterpolo team on the latest Oxford Santa Run. See if you can guess
which of the Ladies Waterpolo team are hiding behind the beards.
.
Wed 23 Nov Friendly Oxford Uni vs Oxford City W 0-7
City's engine was in desperate need of some oil at the start of this game before it finally go going. After 0-0 and 0-1 for the first 2 quarters, the Oxford City ladies finally started finding the back of the Uni net with goals from a range of players including Nats, Antonia, Helen, Ceri and Jo.
.
Mon 14 Nov Oxford vs Worcester W 12-9
An exciting game of waterpolo at Radley pool with Oxford ladies grabbing their first win of the season. The full squad of 13 players with coach Ashley started off strongly and took a 2-0 lead. However, poor finishing and some slow responses to breaks when Worcester regained possession lead to the visitors taking a commanding 3-6 lead at half-time. Inspiring words from Ashley and captain Nats must have had their effect, together with Mac's fitness training regime, as Oxford responded well in the third quarter with goals coming from a wide range of players. Worcester ladies looked slightly exhausted in the final quarter as Mac strung together some final individual goals to secure the victory for the home side.
.
Wed 2 Nov Coventry vs Oxford L 5-14
Despite giving it our all, Oxford were out-played by a 13-strong Coventry who had the advantage of their home pool and many of their National League Division One team (not to be making excuses). 4 of Oxford's goals were scored by Mac, including an awesome back shot from the pit and Ceri scored 1, but credit must also go to the whole team of 10 who played well together both defensively and in attack, and will have everything to play for when we meet Coventry again at home in the New Year.
.
Mon 10 Oct Oxford vs South Derbyshire L 10-11
In an inspiring and nail-biting start to the Midland League season, Oxford Ladies set the pace and only narrowly lost to last year's Division-winning side, South Derbyshire. The score-line was close throughout, with both teams winning two quarters, and the final score could have gone either way, but South Derby girls snuck in an extra goal in the final minute to sneak ahead. Oxford looked strong and played probably some of their best polo yet, with 4 goals from Mac, two apiece from Ceri and Becky, and one each from Mel and Nats. With some brilliant saves from new goalie, Louise and strong team play from everyone on the side, this was a great start to the season, and a sign of some good matches ahead! To put this great result in context, scroll down and look at the result of this fixture 2 years ago (S Derbyshire won 15-2!)
.
Sun 10 July Oxford Ladies finish 3rd in Midland Tournament
After a win of 11-3 over Worcester but then losing 8-1 and 6-1 to Coventry and Solihull, Oxford ladies finish a respectable third in tournament.
.
Mon 20 June Oxford vs Worcester w 9-8
Oxford started off promising but clung onto the lead as Worcester closed them down as the game progressed. Lots of excellent long distance goals from the home making the difference.
.
Mon 23 May Oxford Ladies vs Radley w 12-8
A sound performance from the ladies team, although Radley pulled it back in the final 2 quarters to make the game closer than it should have been.
.
Fri 6 May Town v Gown Oxford Uni 2 - Oxford City 5
Oxford City ladies made it two TvG wins in a row with a fine performance against the students at the Rosenblatt. The City players started well and took a 2-0 lead, but Uni came back into the game with a long distance shot with just seconds left on the clock for the 2nd quarter to narrow the gap. Controversy in the 3rd quarter with a uni shot hitting the goalpost - given as a goal by one of the referees but over-ruled by the other referee as only hitting the woodwork. From what could have been a 2-2 position, Oxford stormed ahead with a fine goal by Nats to make it 3-1. Oxford Uni's goalie made some very impressive saves including a one on one break to keep them in the game. In the end, further goals by Mac and Charlotte put the result beyond doubt.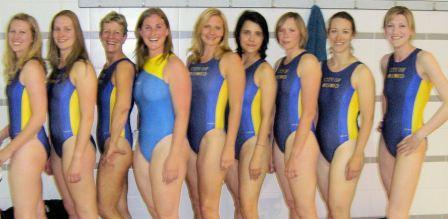 .
Tues 5 April Walsall - Oxford L 12-8
Oxford ladies final match of the season was an away game at Walsall. Oxford's inability to cope with Walsall's star player (scoring 9 of their 12 goals) was a decisive factor. Still, the team has gathered much valuable experience from the Midland League and will start the next competition in the autumn as a much stronger team.
.
Sat 26 March Oxford mini tournament
Results
Oxford - Southampton 5-3
Oxford - Worcester 5-3
Southampton - Worcester 3-4
An impressive performance from the Oxford ladies team to win both matches and take the tournament title in very close matches vs both Southampton and Worcester.
.
Tues 15 March Boldmere - Oxford W 7 – 16
A superb performance by Oxford saw a young Boldmere team brushed aside with ease. In what turned out to be a high scoring first quarter, the home side four goals - all from free throws outside the 5 meters. Oxford, however, responded by scoring 7 well worked goals themselves with captain Nat leading by example and scoring 3 goals despite carrying an injury. A strong defence allowed Oxford to break well and score 4 unanswered counter attack goals in the second quarter, including 2 from Mac and one apiece from Ant & Becky. Although Boldmere launched a mini comeback after the break, putting away 3 shots, Oxford kept their composure, trading goals to end the third quarter with a 14-7 lead. With the home side well and truly beaten heading into the final quarter Lianne swapped the red cap for a blue one and managed to get herself on the score sheet, adding to yet another well taken goal by Mac. The 7-16 victory was well deserved by the whole team who worked incredibly hard for each other, and is a reflection on just how far the team have come this season. Goal scorers were Nat (3), Mac (3), Ant (3), Helen (2), Laura W (2), Jo, Becky and Lianne.
.
Mon 28 Feb Oxford - Worcester L 2-6
Oxford ladies were caught napping early on as Worcester stormed to a 0-4 lead in the first quarter. Shame as after that 4 goal spurt, the rest of the match was level at 2 goals each. First Natalie replied with a goal late in the first quarter to make it 1-4. The second and third quarters the defence was tighter and Worcester only got one goal per quarter. In the final quarter, it was only Oxford who scored with Mac scoring a fine goal to end the game at 2-6.
.
Mon 7 Feb Oxford - Solihull MDL L 4-17
Solihull were about to cancel this game due to lack of players but managed to muster a team of 7 players who made up in quality what they lacked in quantity. Oxford defended reasonably well and pushed the ball forward but the end-product was lacking with balls going into a crowded pit area. A final quarter of 3 goals each proved the Oxford ladies are capable of better.
.
Sun 30 Jan Worcester - Oxford MDL L 6-3
Oxford struggled in a shallow pool but kept level at 3-3 to last quarter when the home side put in three quick goals to take the lead.
.
Mon 17 Jan Oxford - Coventry MDL L 1-15
Shots on target were roughly evenly shared - only 15 of Coventry's turned into goals vs only one from Oxford. Good spells from Oxford (e.g. third quarter 1-1) which shows the team are capable of better. More shooting practice and man-up conversion training on the cards.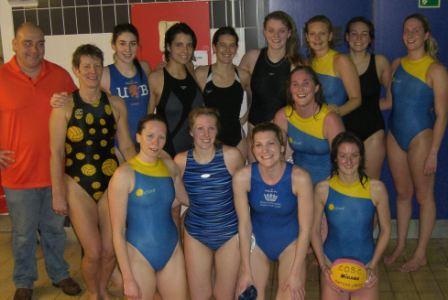 .
Mon 22 Nov S Derbyshire - Oxford MDL League L 7-15
Match report to follow but again, compare that to 1 year ago and same fixture was 14-2 so improvements all round.
.
Tues 9 Nov Solihull - Oxford MDL League L 7-5
If you scroll further down the page you will see that a year ago the scoreline vs Solihull was 24-2 so the Oxford ladies have come a long way to narrowing the gap to make this a very close game. The strength of the Oxford ladies team is in the depth of the squad as goals come from all players: Natalie, Jo, Laura S, Antonia and Charlotte all scoring for City. As in goalscoring, picking up the majors is shared by the whole team with nearly all sinbinned at least once and bad girls Antonia, Charlotte and Laura S. getting 2 majors each.
.
Wed 27 Oct Coventry - Oxford MDL League L 19-6
Oxford ladies played a physical game in the large 50m pool at Coventry. While taking an early 2-3 lead in the first quarter, the visitors tired in the 2nd and 3rd quarters allowing Coventry to regain and extend the lead. Some excellent saves from a number of rotating Oxford goalies; sound man up moves converted to goals and a resilient last quarter were highlights of the game.
.
Mon 18 Oct Oxford - Worcester MDL League W 8-5
A solid start to the second year Oxford ladies have entered the Midland Ladies league. The Worcester side, much improved since earlier friendlies where Oxford dominated, started off stronger and took a 1-2 lead at the end of the first quarter. However, it was Antonia who lead the fight back with a hat trick in the second quarter to put Oxford back in the lead 5-3 at the halfway point. Worcester kept the pressure on and narrowed the lead to one goal at the start of the 3rd quarter before goals by "The Smiths" (heaven knows Oxford weren't miserable any more) put the game in safety at 8-5. The final quarter saw no goals but good defending including excellent saves from Lianne in goal.
.
Oxford WP answer to Abba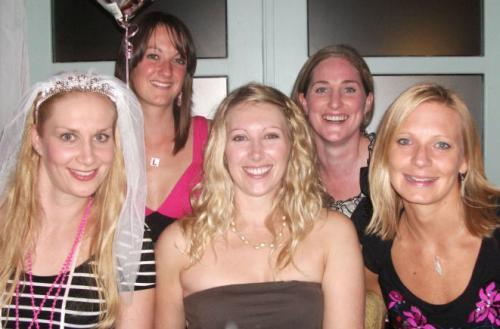 Laura's Hen Night
.
Mon 21 Jun Oxford - Warwick W 10-2
Match report to follow
.
Sun 23 May Oxford Uni - Oxford City W 3-9
In the third ever Town vs Gown ladies waterpolo, Oxford City returned to winning form after winning the first match in 2008, but losing to the students in 2009. Under the guidance of coach Brett Phipps, the team stormed to a confident win by a 6 goal margin. Player of the match was captain Charlotte Jones, the "Stevie Gerrard" of the team inspiring and driving the rest forward. Antonia Glynn Jones scored a stunning goal that was voted Oxford City's best goal of the night.
.
Thurs 22 Apr Worcester - Oxford W 5-10
Oxford ladies travelled to Worcester for away friendly game where excellent defence in the shallow end section of the pool was key to success. Some superb goal-keeping from stand ins Liane, Laura S and Kirsty while "newbie" Claire scored her first goal for the club. Return fixture at Oxford on 22nd June.
.
Click Here for link to Ladies Midland League Tables 2009-10
.
Tues 9 Mar Loughborough - Oxford L 2-11
A third night of waterpolo on the trot for the Oxford ladies team of 8, travelling long distance to a huge 8 lane wide pool with 12 Loughborough ladies. Oxford kept level in second and third quarters (1-1 and 2-1 resp with goals by Natalie and Charlotte) but the team ran out of steam in final quarter.
.
Sun 7 Mar Coventry - Oxford L 14-4
A bare 7 turned up to Coventry's large 50m pool to take on 11 player home team. The Coventry scoreline would have been much greater had it not been for heroic efforts by goalkeeper Lianne, saving 2 penalties in the process. Natalie was top scorer for Oxford and whereas the third quarter is often when Oxford ladies see the opposition pull away, this time they pegged Coventry to 1-1 in Q3.
.
Mon 1 Mar Oxford - Solihull L 5-12
A spirited performance by a 8 woman home team missing skipper Charlotte and a few other key players. Oxford took the lead and kept in touch until the dreaded third quarter. Some long distance goals at the end got cheers from the crowds.
.
Thurs 11 Feb Walsall - Oxford L 20-3
Excellent goalkeeping by the Walsall home team kept the Oxford ladies from a goal tally higher than three.
.
Tues 2 Feb Boldmere - Oxford W 6-13
Yes, you are reading this right - Oxford ladies post their first Midland League competition win with a resounding victory over Boldmere. Hot shots on the night were Charlotte (5 goals) and Nathalie (4) but woman of the match was Lianne with a stunning performance in goal. Having lost to Boldemere earlier in the league at home, to win away by 7 goals underlines the improvement - Here comes the girls!
.
Mon 25 Jan Oxford - S. Derbyshire L 6 - 15
For many spells, Oxford ladies play extremely well with great goals, superb defending and overall solid team performance. If only these spells could be knitted together for a whole 4 quarters. Also on the positive side is that goals are coming from many players, not just one or two. Charlotte, Antonia, Jo, Kirsty and Leanne all getting on the score sheet.
.
Mon 18 Dec Oxford - Warley L 7-18
Similar pattern emerging - Oxford Ladies clearly matching the opposition in the first quarter and then not able to match their performance in the subsequent. Oxford took an early lead and look equal to the Warley team in the first quarter, trailing 2-3 after 7 minutes. However, the Warley ladies used their physcial supieroriorty to grind out an increasing lead. On the plus side, goals from Oxford were coming from a range of players and some impressive goals from long distance.
.
Mon 8 Dec Oxford - Loughborough L 4-15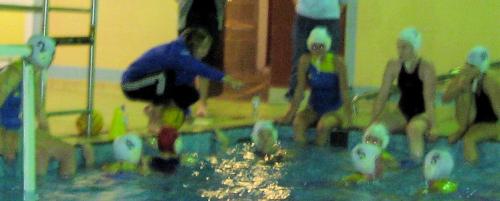 Mac addresses the team after a good first quarter by Oxford
.

Start of 2nd quarter
.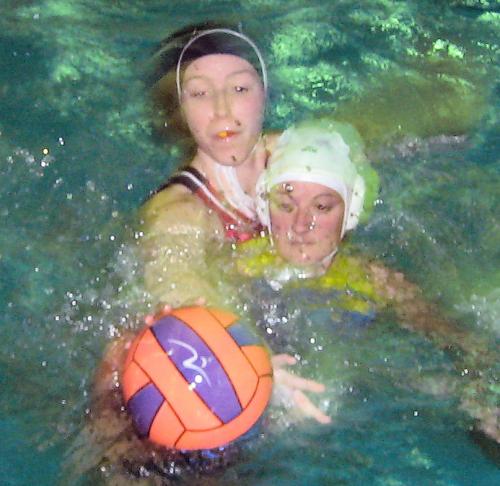 Jo battles with Loughborough defender
.
Tues 1 Dec Solihull - Oxford L 24-2
Lianne and Natalie joint players of the match for Oxford.
.
Mon 16 Nov Oxford - Wallsall L 3-7
Spirited performance by bare 7 player squad - but for 2 missed penalties, less shots hitting the woodwork and this could have been a different result. Report to follow.
.
Mon 9 Nov Oxford - Boldmere L 6-10
A fine stand-in goalkeeper performance, promising start and finish to the game. Report to follow.
.
Mon 2 Nov South Derbyshire - Oxford L 14-2
Match report to follow with full details of Hannah Kitchen's 3 majors!
.
Mon 12 Oct Oxford - Coventry L 8-15 (Half-time 3-4)
Oxford were not gently eased into the Midland league when the first team they faced were a strong Coventry side. Equalising or just falling behind on goals in each quarter, Oxford played well only really lagging in the third quarter when they seemed to temporarily run out of steam. But they fought back and only conceded two goals in the last quarter.
Oxford had lots of shots on goal but unfortunately most were spectacular misses. In particular Natalie Smith's, which earned her Miss of the Match. Lady of the Match went to Melanie Beckett and T*t of the Match went to Katie Broomhead.

.
London League Weekend 3 (7th June)
Oxford vs Penguin W 6-5 (HT 3-3)
Oxford vs Worthing L 1-10 (HT 0-3)
Oxford vs Beckenham L 1-7 (HT 0-4)
.
London League Weekend 2 (17th May)
Oxford vs Penguin 2-9 L (HT 0-4)
Oxford vs Worthing 1-10 L (HT 0-6)
Oxford vs Beckenham 2-5 L (HT 0-2)
A solid performance from a squad with a bare 7 players, so no subs. Most goals against came from counter attacks. Much learnt and will come to use in the final tournament on 7th June.
.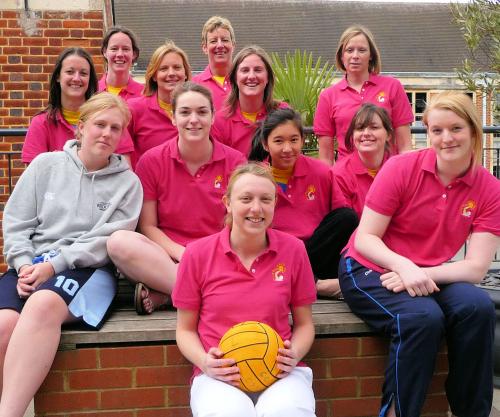 Team photo first London League tournament
.
London League Weekend 1 (3rd May)
Oxford vs Penguin 5-2 W
Oxford vs Worthing 1-5 L
Oxford vs Beckenham 4-9 L
.
9 Mar Town v Gown Oxford City Oxford Uni 5-8 Lost
Match report to follow
.
2 Feb Friendly Oxford Oxford Uni 8-8 Draw
Report Monday 2nd February 2009
Women's match vs. Oxford University
There was an exciting atmosphere at this match, which served as a warm-up match for Oxford Uni before the Varsity match at the weekend, and a friendly preamble to the Town vs, Gown match in March. Despite having fewer players, the City girls played an excellent hard and fast-paced match.

There was action right from that start, with two goals being scored within the first minute – first from Sarah Taylor of Uni, who scored a quick shot from a free throw, but this was quickly answered by a successful shot from Katie Broomhead. The Uni girls were initially overwhelmed by the tight press and quick reactions of the City team, who scored three more goals in the first quarter: a second from Katie, and one each from Jo Sage and Captain Charlotte Jones. The Uni team had their share of attacks and shots, but were unlucky in their shooting, and repeatedly lost out on the counter-attack. The City girls continued their strong lead into the second quarter, with two more goals from Laura Middleton and Natalie Smith. The Uni team seemed overwhelmed and despite Uni's Lena Zuchowski managing to grab a quick goal the score at the end of the first half was 6-2 to City.

Feeling confident, the City team started the second half expecting to continue their lead, but were met with a strong attack from the Uni team, who had obviously regrouped during the half-time break. Seemingly a different team, they quickly won the ball from the swim-off and scored. Two more goals followed, but the Uni's onslaught was not yet over. Looking tired but still optimistic, City took possession and this time the attack resulted in a second goal for Laura, then a third for Katie. Each goal was answered by another from the Uni, though, and by the end of the third quarter the score was a much closer 8-7 to City.

In the final quarter the Uni team continued to look strong and refused to allow the more experienced City girls to dominate. However, by now City had put their tiredness aside and increased their defence to press closely and make some good steals. Despite City's defence, the Uni scored one more goal, which City could not answer, leaving the final score as an 8-8 draw. A good result for a strong City performance.
Ladies Results 2008
| | | | | | | |
| --- | --- | --- | --- | --- | --- | --- |
| Date | Fixture | Time | Home Team | Away Team | Result | |
| 20 Jan | Friendly | | Oxford University | Oxford | 9-12 | Lost |
16 Apr League Southampton Uni Oxford 11-6 Lost
5 May League Oxford Soton Uni 7-6 Won
10 May Town vs Gown Oxford Uni Oxford 14-4 Won
1 Dec Friendly Oxford Soton Uni 11-7 Won
Ladies Achievements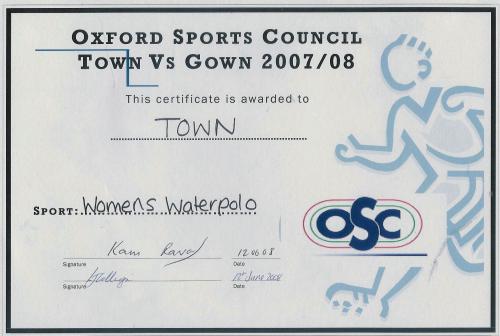 2008 Town vs Gown Winner
2007 Oxford Tournament 2nd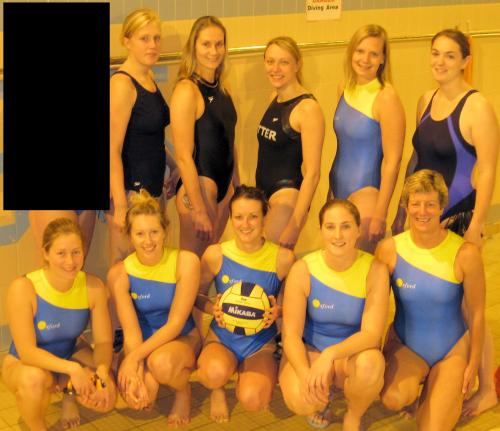 Ladies team 2008
Back Row L to R Sarah Coopey, Laura Middleton, Paula Croxson, Natalie Smith, Rebecca Smith
Front Row L to R Katie Broomhead, Helen Cook, Jo Sage, Charlotte Jones, Antonia Glynn Jones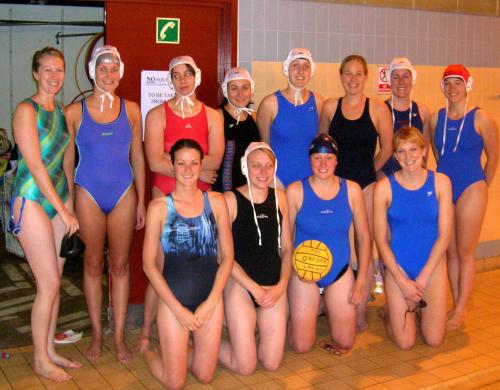 Ladies team 2007